Michael Obafemi: Southampton starlet commits to the Republic of Ireland
Last updated on .From the section Republic of Ireland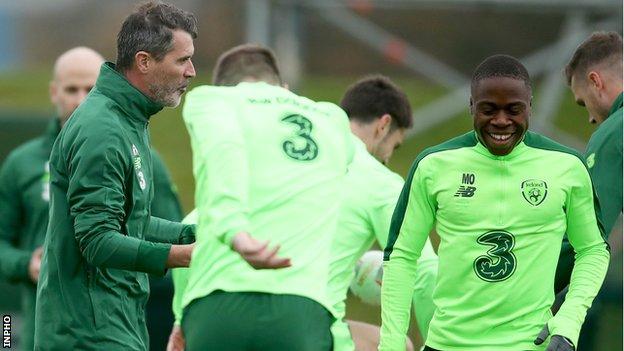 Michael Obafemi has ended speculation over his international future by declaring for the Republic of Ireland.
The Southampton striker is training with the Republic squad this week and could make his international debut tonight against Northern Ireland.
Manager Martin O'Neill had indicated he would not pick Obafemi in a competitive match until he had decided his future.
But the 18-year-old, who can also play for England or Nigeria, has pledged his commitment to playing for the Republic.
Obafemi was born in Dublin to Nigerian parents and moved to London as a child but used social media to confirm that he wants to play for the country of his birth.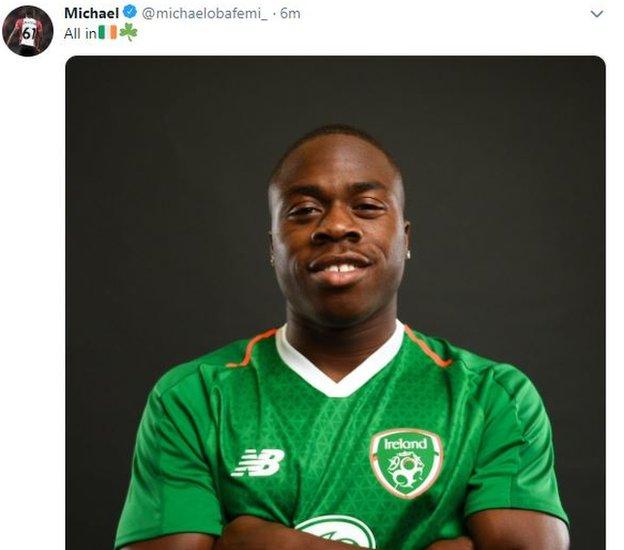 The Playerworks CSM agency that represents Obafemi also issued a statement to confirm their client's decision: "Due to current speculation surrounding Michael Obafemi and as Michael's representatives, we would like to go on record to say that we are not in talks with either Nigeria or England, nor is it something we have ever pursued.
"Since Mark O'Toole spotted Michael early on, he, along with the other staff at Ireland, have given Michael a great opportunity, which he has enjoyed immensely.
"Michael was born in Ireland, so this is the country he naturally wants to play for.
"Martin O'Neill has shown great faith in Michael and he wants to repay that faith by helping the team achieve success.
"Michael is 100 per cent committed to Ireland and is looking forward to an exciting future with the national team."
Speaking earlier in the week, Martin O'Neill had signalled that he would not select the teenager for his side's final Uefa Nations League match against Denmark and did not want to force the player to make a decision.
"He has things to think about and he should certainly not be rushing it. That was my point to him," said O'Neill on Wednesday.
"If he rushed in a few days ago saying 'this is exactly what I want to do', then that's a different issue. I want people to want to play for us and I want that decision to be right for the rest of the time."
Obafemi, who made his Premier League debut for Southampton against Tottenham in January 2018, has previously represented the Republic of Ireland at Under-19 level.