Kevin Harper: Albion Rovers manager is Scotland's first black boss in 15 years
By Richard Winton
BBC Sport Scotland
Last updated on .From the section Albion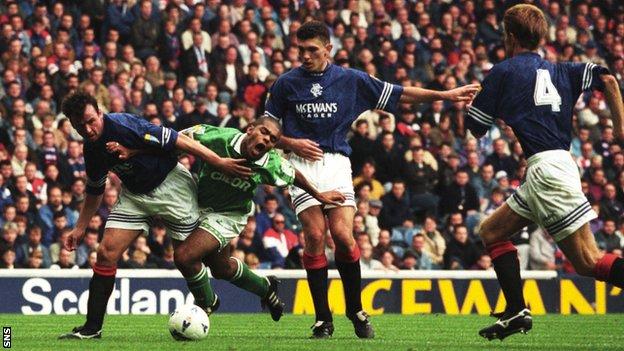 Is there still a problem with racism in Scottish football?
Kevin Harper thinks so. Earlier this month, the 42-year-old was appointed manager of Albion Rovers, the club currently bottom of Scotland's League Two. It made him the first black, Asian or minority ethnic boss of a Scottish club since Marcio Maximo left Livingston in October 2003.
"In any other walk of life, if there wasn't a black or ethnic minority in a particular industry or company for 15 years, there would be uproar," Harper says. "Should football be different?"
In this interview with BBC Sport Scotland, the former Hibernian, Derby and Portsmouth winger talks about being rejected for "30 or 40" jobs, being racially abused as a teenager and the pressure of being a black manager.
'Maybe they think there's no point'
Before Brazilian Maximo's four-month tenure, the only black, Asian or minority ethnic managers to have taken charge of Scottish teams were Dave Smith at Montrose, John Barnes at Celtic and Claude Anelka - who appointed himself at Raith Rovers.
The last Scottish government census in 2011 found that 4% of the population are non-white. Yet, at the last count, 6% of the 10,000 registered Scottish FA coaches fell into that category.
Harper, though, remains unconvinced. He estimates that he has applied for between 30 and 40 coaching jobs at all levels of the Scottish game in the past five years but has not once been invited for interview. Only three clubs extended him the courtesy of a rejection letter.
"I imagine a lot of people would get disheartened," says Harper, who has been working as a recruitment consultant for the past five months. "And maybe that's it. Maybe black and ethnic coaches think 'what's the point?'.
"I'm not for a minute saying black or ethnic coaches deserve an interview purely because of their colour. And I wasn't the best candidate in all of those cases.
"But, when you look at CVs, there's a least half of those jobs, in my opinion, that I should have been interviewed for."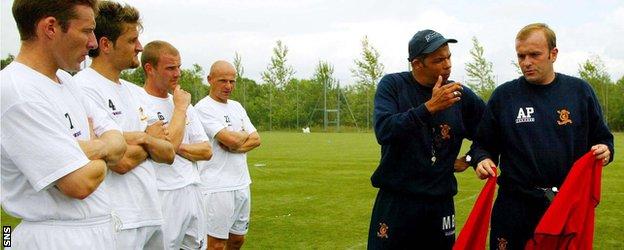 'Players are still racially abused'
The most recent accusation of racism in Scottish football was anti-Irish against Hibernian head coach Neil Lennon at the Edinburgh derby last month.
Harper has huge sympathy for the former Celtic boss and insists racial abuse from the stands in Scotland still happens far too often.
"Players still get it. That's a fact," he says. "It's changed a hell of a lot, but we've not come far enough. Are we ever going to have a time when there is nobody in a stand or on the side of a pitch who is going to say something? I don't think so."
Harper speaks from bitter experience. He says he was racially abused by opponents in the professional game but can also vividly recall the bile spat at him from the sidelines in his formative years in the game.
"Any game I went to, I'd be racially abused as a 10, 11, 12, 13 year old," he says. "But I don't believe everyone who says something like that is racist - it's the easy word to come out with. We need to educate people and make them understand that it's unacceptable and I don't think we do that enough."
'This isn't going to open the floodgates'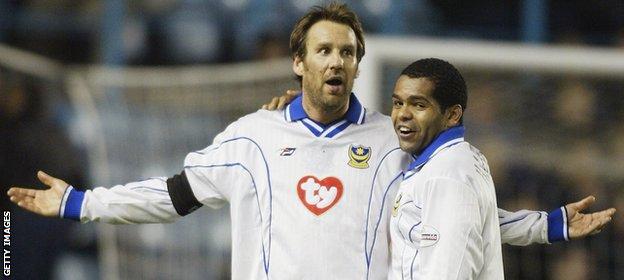 Harper has done plenty of learning himself over the past 20-odd years.
The explosive, dreadlocked talent who broke through at Hibs, went on to spend nine years in the English second-tier with Derby County, Portsmouth and Stoke City.
He claimed three championship medals in the process and played under managers such as Tony Pulis, Steve McClaren and Harry Redknapp - and alongside the likes of Teddy Sheringham, Robert Prosinecki and Paul Merson.
Those relationships and experiences will inform his managerial style, which Harper describes as "methodical, calm... but I can lose the head at times".
So too will a short stint in the Australian third tier, where he was technical director of a club as well as first-team and under-18s manager - a set up that is likely to mirror the all-encompassing nature of his role with Albion Rovers.
But few of his contemporaries in Scotland's League Two will have the same attention and expectation on them as Harper does. Not that he feels it.
"If Albion Rovers had appointed a white manager, I don't think there would have been the interest. But do I feel more pressure because I'm black? No. The pressure for me is to keep the club in the league," says Harper, who lost his first game in charge against Berwick Rangers on Saturday.
"If I do well, it might help others, but I don't think me being at Albion Rovers or keeping them up is going to open the floodgates for black and ethnic managers to take over, so to speak.
"That said, if one person wants to become a coach or a manager because of me, that's perfect."