Bayern's Evina inspired by Samuel Eto'o to play for Cameroon
Last updated on .From the section African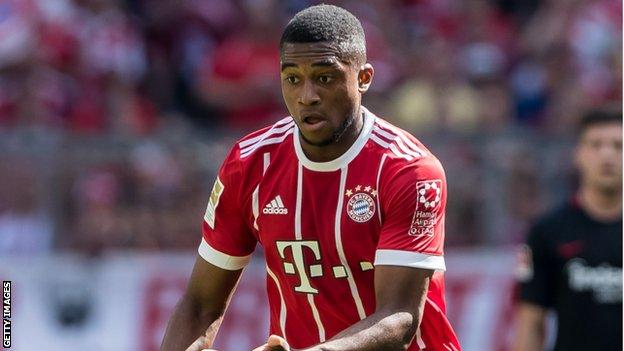 Bayern Munich forward Franck Evina says his decision to commit to Cameroon over Germany at international level was inspired by his 'love' for former Indomitable Lions captain and goalscorer, Samuel Eto'o.
Evina, 18, is set for his Cameroon debut against neighbours Chad in a 2019 Africa Cup of Nations qualifier on Friday.
Born in Yaoundé, the Bayern player had previously featured for Germany's Under-18 side but has pledged his allegiance to his country of birth.
"It is my love for Samuel Eto'o that spurred me to play for Cameroon. I've always admired him, he is a wonderful striker and I wanted to play like him," Evina told BBC Sport.
"The thought of playing for Cameroon just like my role-model was too attractive to ignore.
"Watching Eto'o play for Cameroon was exceptional and getting to know that I can play for the Lions like him is incredible," Evina said.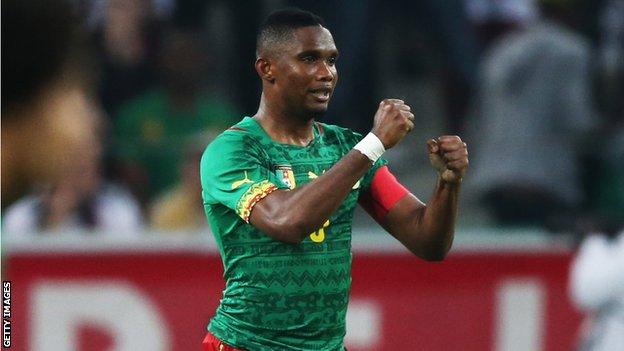 The Bayern Munich teenage prodigy admits, he thought hard about committing to Cameroon over Germany.
"It was never an easy decision choosing because both nations have very competitive and talented teams. But I believe joining Cameroon was the best choice for my career.
"Germany means a lot to me. I'm in one of the best clubs in the world and there's a part of me that feels German.
"I spoke with my parents extensively on this and also spoke to Coach Kovac in Munich. They understood my worry and the coach (Kovac) asked me to make the best decision and I think this is the best choice for my career.
"The moment Coach Rigobert Song called me, my mind was settled on playing for Cameroon. He is a former captain of the national team.
"I grew up watching him with a lot of passion and he told me he wants to help me grow as a player.
"I believe I can offer something special to this team and I just want to give my best but obviously playing the 2019 Africa Cup of Nations with Cameroon at home will be a very exciting adventure and I'm going to work extra hard to see this dream come to fruition," Evina added.
The teenager is set to join a long list of former German youth internationals who have gone on to play for the four-times former African champions with the most prominent being Paris Saint Germain striker Eric Maxim Choupo-Moting and Liverpool defender Joel Matip.
Evina made his debut for Bayern Munich in their 4-1 victory over Eintracht Frankfurt on 28 April, and having appeared for them twice last season, Evina is now hoping to establish himself in the German giants' first team.
"Bayern is a very competitive team, blessed in all compartments with talented players. For a youngster it's never easy breaking into the first team. The training sessions are very demanding but you always have to stay focused.
"I am working very hard on my weaknesses, trying to be better and hoping to play my way into the senior squad. I know it won't be easy but with a lot of determination, I'm upbeat about being able to get a spot in the first team."