Richard Scudamore: Departing Premier League chief to receive £5m farewell gift
Last updated on .From the section Football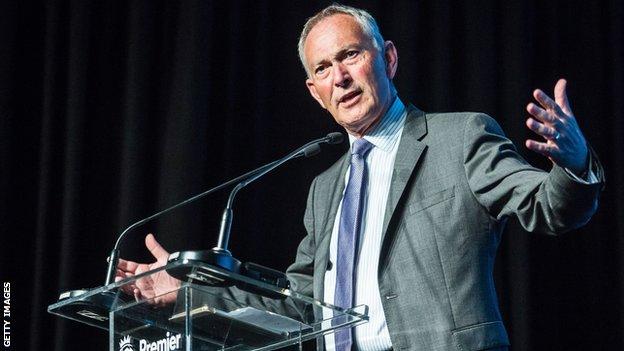 Outgoing executive chairman Richard Scudamore will receive a £5m farewell bonus paid by clubs, the Premier League has confirmed.
Scudamore will receive the payment over a three-year period "in recognition of his outstanding work".
He will remain with the Premier League in an advisory capacity.
It comes after football fans urged clubs not to "stick their hands down the back of the sofa" and contribute to Scudamore's departing gift.
Scudamore - who reportedly earns £2.5m per season - is stepping down in December after 19 years at the organisation.
The Premier League's UK television rights were valued at about £670m when Scudamore joined the organisation in 1999, while the most recent deal was worth £5.14bn.
All 20 Premier League clubs were asked by Chelsea chairman Bruce Buck for a £250,000 contribution - something which fans "strongly opposed".
"Premier League clubs have always told fan groups that budgets are planned in advance and there's not a surplus of cash lying around from their extremely lucrative TV deal," said the Football Supporters' Federation (FSF).
"In the meantime, loyal football supporters continue to be inconvenienced by fixture changes to fit TV schedules, often losing out on travel costs or struggling to get to and from games in the first place.
"Now it appears clubs can stick their hands down the back of the sofa and find £250,000 at a moment's notice."
Speaking outside the meeting of all Premier League clubs on Thursday, Tottenham chairman Daniel Levy said: "We are all very supportive [of the payment].
"He has unique knowledge and experience which is going to be of ongoing benefit to the Premier League. It's absolutely a fair payment and all the clubs were behind it."
West Ham co-chairman David Gold said he backed the payment to Scudamore.
"He deserves everything he gets," Gold said. "This is all very appropriate and we're all very pleased."
On Tuesday, the Premier League announced that Susanna Dinnage will be its new chief executive.
Analysis
Dan Roan, BBC sports editor
With the vast amounts of TV money swilling around Premier League football, the game has often been accused of a culture of greed. Whether it is the rising amounts spent on player wages, agents' fees, and managerial pay-offs, and controversy over a possible 'Big Six' breakaway, the proposed 39th game, ticket prices for away supporters, and clubs not paying staff a living-wage, to some the game resides in a bubble.
But rarely before has there been outrage from fans quite like the one sparked by Scudamore's £5m pay-off.
Perhaps that is partly down to the timing. The recent collapse of the sale of Wembley highlighted the poor state of the country's grassroots facilities, and the Football Leaks allegations last week against Manchester City were also damaging for the league's reputation.
The majority of the clubs feel Scudamore's long and commercially successful tenure deserves to be rewarded, and point out that he will continue to advise them.
But the bonus (and the fact that there was no vote called to give dissenting clubs a chance to oppose the payment) will still be viewed by many as a PR own-goal. One which overshadows the positive news of the appointment of the league's first female CEO this week, and which undermines public awareness of the clubs' investment in good causes, and it's global popularity.