Len Johnrose: Motor neurone disease diagnosis reaction 'overwhelming'
Last updated on .From the section Football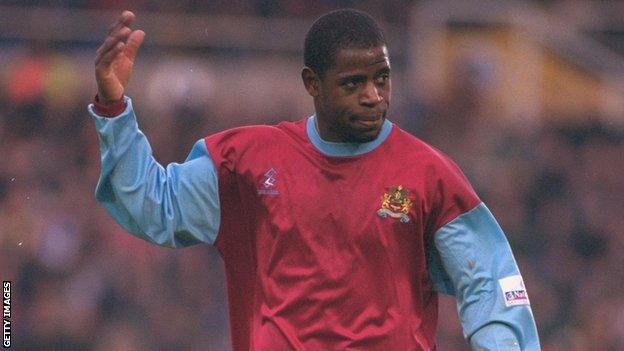 By his own admission, Len Johnrose likes a private life.
He's a schoolteacher who also happened to be a former professional footballer, having made more than 400 Football League appearances for six clubs, including Bury, Blackburn Rovers, Swansea and Burnley.
But then came the motor neurone disease (MND). In March 2017, little over 10 years after retiring from football, the 48-year-old Englishman was diagnosed with the debilitating illness for which there is no cure.
For over a year, his diagnosis was kept out of the public eye. But after agonising over the decision, he told his story to BBC Radio Lancashire in August.
And he could never have imagined the response.
BBC Sport visited Johnrose at home and he told us how life has changed since he spoke out about his diagnosis.
Family reaction
It has been like a pressure release. It had become a taboo subject and I needed to speak out.
The support we have had has been unbelievable and overwhelming. It has given us all a lift.
Beforehand, my wife, Nadine, didn't want to speak about it at all. I didn't think she was going to listen to it but I went out one day to pick my daughter up. When I came back, she had listened to it and said she thought it was incredible. She has totally turned.
Living with MND
You wake up some days and things don't work quite as well as they did before. Thumbs, hands, legs. The legs are the last thing to go. My hands and arms are getting gradually weaker.
You don't really notice until you go to do something you could do a couple of days ago and, suddenly, you can't. For breakfast I have to put my spoon between my forefinger and my little finger but now they are getting weaker as well. The spoon shakes as I am trying to feed myself.
I can make a cup of tea, although it is a struggle. But carrying the cup two metres my hands are shaking, so I have to use both. You notice little things like that.
We have spoken about moving but the area is so nice and our neighbours are incredible. We have spoken to the council about adaptation and getting lifts in and changing the bathroom. We have a downstairs bedroom already.
I have already applied for a wheelchair because I know it takes months. It shouldn't take months to get a wheelchair. Some people don't live that long. Some people are completely housebound.
I am going on a cruise. We are looking at adapted cabins because I don't know what I am going to be like in January or February.
Raising awareness
I didn't realise I had that voice. I finished playing football a million years ago and did not envisage receiving the support I have.
I can't think of a worse disease than MND. With most diseases there is a little bit of light at the end of the tunnel. With this one there really isn't; there is no cure.
I know I am not going to win this fight. That is why it has been so difficult mentally. That is why I sank into some really dark places. But there are people worse off than me. There are people who don't survive six months.
Out of the thousands of message I have had, two have been negative. Not negative to me, but just saying it is a rubbish disease and nothing else. I have tried to contact those people because it felt like a cry for help.
I am aware there are harder times to come. I am OK with that. While I can still try to make a difference, I will.
Falling down

On 4 November, Johnrose posted on social media that he had fallen down some stairs in Sports Direct. For someone whose body needed to be in the peak of condition during the early part of his working life, was this crushing for him?
It's no more difficult for me to admit it than anyone else.
I genuinely don't want what I can't have - I never have. I am aware of my limitations.
I used to go on 60-mile bike rides. I do miss it but I am not envious of those who still can. You just have to adapt.
I fell down some stairs. I was OK. Nobody died.
Jumping out
On 2 December, Johnrose is going to do a charity parachute jump in aid of the Motor Neurone Disease Association.
I don't want to sound like some sort of hero. I am not. I want to do stuff that is worthwhile but I am not so super generous that I am only thinking of others.
I have always wanted to jump out of a plane. I told everyone so my wife couldn't stop me.
My daughter asked if she could do it with me but she is only 15 and not old enough. I have had six or seven people say they want to do it with me. I don't even know some of them.
It sounds maudlin - although it isn't to me - but I genuinely am not afraid of dying. We are all going to die. It is when and how that is the unknown.
Obviously you have to think about the people around you. That is what hurts me more than anything.
But if you don't do things that have a little bit of risk you don't do anything, do you?
Big weekend
On 11 November, a charity match between Burnley Legends and Swansea Legends at Bamber Bridge raised almost £10,000 for the Len Johnrose Trust. Only 24 hours earlier, he had renewed his marriage vows with Nadine.
The game was quite emotional. My old class were there. I had no idea. It was brilliant because I love those children and I really miss them.
Renewing our vows was something we thought about a long time ago, pre-diagnosis. We had been married for 17 years in June.
It was just family and friends, people we had known for a long time. There was a guy called Malcolm Gray, who used to pick me up when I was playing junior football at 10 and 11 because my family didn't have a car. I have stayed friends with him forever. I would never have been a footballer if it had not been for him. You don't forget stuff like that.
Family from London I had not seen for years came too. My brother [Johnson] who lives in Barbados - I have probably seen him five times in my life.
My sister, Hilda, is in a wheelchair. She has ME (myalgic encephalomyelitis). She is a tough cookie. She came to the reception even though it meant her being carried up some stairs.
It was great to see mates from my old life and my current one. For them to do that for me was completely overwhelming. I wanted it to be a celebratory weekend and that was a celebration.
Poignant messages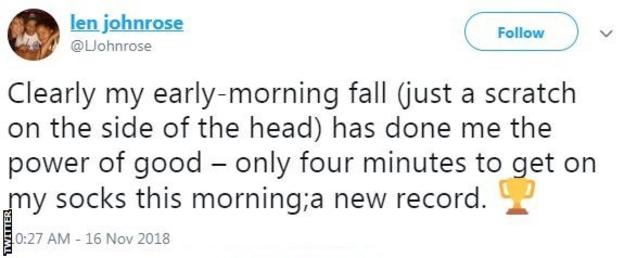 The reality is I don't think the true nature of MND will hit home with my kids until I am gone. The thought of leaving them is the hardest thing.
I read about someone who had written birthday and Christmas cards until their kids were 21. That is something I want to do. I will have to print them, then sign them because I can't write properly. That will be hard work. I will do that on a day when I am on my own, no-one is coming round and I can shut myself in a room.
It is about trying to make as many memories as we can. Watching my lad play football or my daughter play jiu-jitsu are things I have not been able to do in the past.
Picking them up from places, or dropping them off. Most parents complain about being a taxi. I love it.
Len Johnrose was speaking to BBC Sport's Simon Stone.