George Cox: Brighton youngster was told he could die during heart operation
Last updated on .From the section Brighton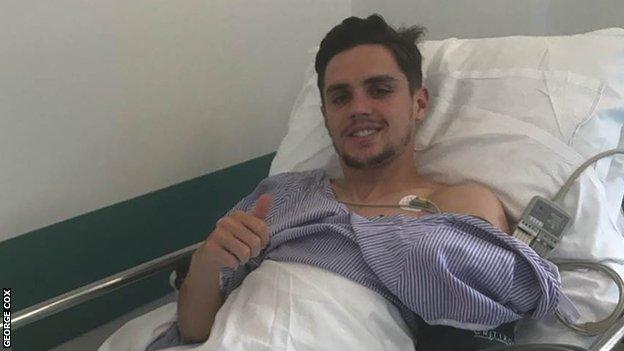 George Cox's summer started with a call to train with Brighton's first-team squad. Within a month he was lying on a hospital bed being told the heart surgery he was about to have could kill him.
Another four months on, the 20-year-old is trying to rebuild a career that saw him identified as a Premier League "wonderkid" last year, but was put on hold because of the diagnosis of a problem he did not know he had.
"I met the surgeon the day before my procedure," said Cox. "He told me he could puncture an artery in my groin and it could affect me playing but he also said he had done a lot and had a 100% success rate.
"The next day another surgeon came down, about 15 minutes before I was due to go in. He said there was a chance I could die or have a heart attack. I thought, 'are you joking?' I nearly burst into tears. I was panicking so badly."
It had been three weeks earlier - on 2 July - when Brighton got the first sign something was wrong with Cox's heart.
Routine screening had picked up an irregular heartbeat; further scans and tests showed 18,400 of his 115,000 beats a day were abnormal.
Cox did not feel a thing. But without a corrective procedure, there was a very real risk he would have a heart attack during training or a match.
Adam Brett, Brighton's head of medical services, said: "We cardiac screen all our players during pre-season. George had been screened in the morning and was due to join us for first-team training.
"We had to tell the manager George wasn't coming out following the anomalies being highlighted - no risk could be taken, no matter how small."
For Cox, the news was devastating.
Entering the final year of his contract, his plans for the next few months did not extend much beyond spending time with girlfriend Britney and agreeing a loan move that would be a crucial next step in his dream of becoming a Premier League player.
Emotions were running high.
"It was a mixture of disbelief and disappointment," he said. "It was hard to comprehend I had been playing with this issue and not felt a thing.
"I was pretty frightened because so many different things go through your head.
"It is a big year for me, so on one level I was wondering whether I would be able to come back quicker and fitter because I was going to miss pre-season. On another I was concerned about my health in general and whether I would even be able to play again."
Cox, a defender, had to remain awake during the procedure to allow the surgeon to find the inconsistent beats, as they went away when he was asleep.
He said: "I had something over my face and the bed sheets were pulled up so I couldn't see down. I felt them cut my groin and I remember seeing the surgeon talking to someone and he had my blood all over his fingers. I was like, 'nah, this isn't happening'."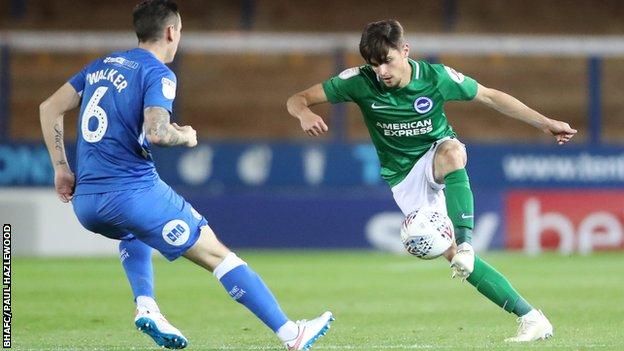 Cox had to rest for two weeks before he returned to Brighton to start working on his fitness, initially in a very closely monitored environment.
Four weeks after that, on 14 September, came the treadmill test that would determine whether the procedure had been successful and his heart was working properly.
Cox said: "I was sweating before that test. Proper nervous. I was looking at the monitor to see if my heartbeat was OK.
"I had seen my previous scan and could tell I had the inconsistent beat because it would just stop and then carry on as normal. This one was consistent. Then I saw it change and I thought, 'oh no, it's not happened again has it?'"
It was one irregular beat. Not 18,400. The procedure had been a success.
Cox had been suffering from the same issue that affected Manchester United midfielder Michael Carrick.
Unlike Carrick, who was at the end of his career and played just four more times after revealing his diagnosis, Cox is at the start of his.
Had he been born even 10 years earlier, like former Bolton midfielder Fabrice Muamba, he may not have been so lucky.
Since Muamba suffered a cardiac arrest on the pitch at Tottenham in March 2012, screening has improved. Players are now checked every year, rather than at 16, 18 and 20 as was the case with Cox.
He is slowly getting his match fitness back - completing the full 90 minutes of Brighton's 3-2 EFL Trophy win at MK Dons on Tuesday - and hopes January will bring the loan move he wanted in the summer.
"I like to consider myself as being pretty positive and I can't thank my girlfriend and my parents enough for the support they have given me," he said.
"It wasn't ideal, but if you think about it it is a small amount of time for something that could change my career."