Being an amateur referee: your stories of threats and attacks, but a love of the game
Last updated on .From the section Football400
Every week, thousands of referees oversee grassroots matches - for the love of football and the reward of enjoying the match, but often for little financial return and a risk to their safety.
While many will encounter no serious problems, others face verbal or even physical abuse by players and spectators.
Republic of Ireland Combined Counties League referee Daniel Sweeney was assaulted last week after an amateur game - an attack that left him with a broken jaw.
This prompted us to ask an open question: "Are you a referee? Tell us your experiences."
The vast majority of replies were not positive - perhaps skewed by the recent assault on the Irish referee.
These are your stories...
'Threatened to rape my wife, kill my children, then kill me'
I was a referee. A player who had injured himself, while trying to make a violent tackle on another player, threatened to come to my house, rape my wife, kill my children then kill me.
When I reported him to the county FA they asked if I'd booked or red carded him at the time, I said no as I was alone and he was with his team-mates.
They said in that case they would take no action but should he [the player] make contact with me or my family to let them know. I never refereed again.
Peter, Wiltshire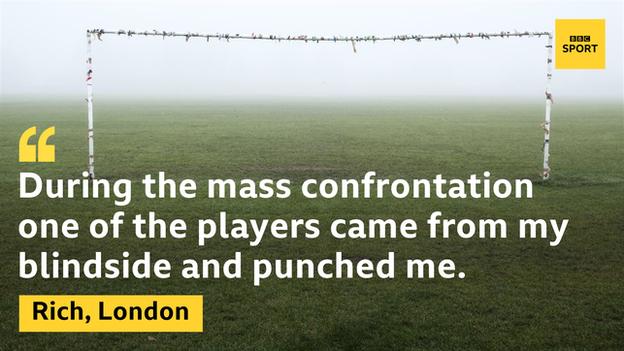 'Respect for grassroots referees?'
I'm a referee who has not re-registered with my county FA. I was assaulted during an adult Sunday League game. I had sent off a player for violent conduct and he was the player who assaulted me.
There is no respect for grassroots referees at all, whether that be from spectators, players or managers. The FA's Respect Campaign, in my opinion, has been an absolute failure.
Verbal abuse is the most prevalent, but this is something that is seen week in and week out in the Premier League, yet the referees do not sanction any of the behaviour. Grassroots players, therefore, see this as acceptable.
Thomas, Sheffield
'Club manager came to attack me'
I was an amateur referee until 2010 when I stopped because the risk is too high and there is no protection from anyone. Not even the league. I was harassed and almost beaten three times - twice from the same team and once from another team.
My size probably stopped them from real physical attacks. On one occasion the club manager was coming from behind to attack me, but thank God for my intuitiveness.
Ronald, London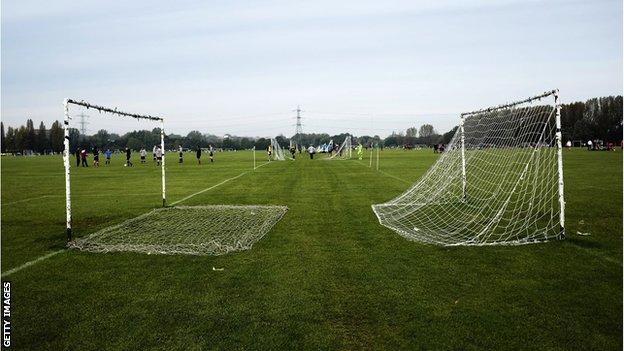 'Trouble with two sets of parents'
This kind of behaviour does not surprise me. l have given refereeing up now, but during my time l found that the parents were the worst.
The only game that l was scrutinised on turned into a mass riot between two sets of parents. l was only asked to do the game because the manager of one of the teams assaulted a woman at a match the previous week.
I had been involved in the game up to that point for 40 years, as my playing days were over and l thought l would give something back to stay involved. But after repeats of players and parents alike reacting like this, l walked away from the game completely.
Stephen, West Midlands
'Girl ran up and slapped ref'
I dismissed a player for his violent conduct. The game finished a few moments later and as I walked to collect my flag with my assistant, a girl came running up behind us shouting. He [the assistant] turned around and asked: "Did you want to speak to me?"
With that she slapped him with the palm of her hand, which really shocked him. Is it any wonder that it is proving very difficult to encourage people to take up refereeing?
Name withheld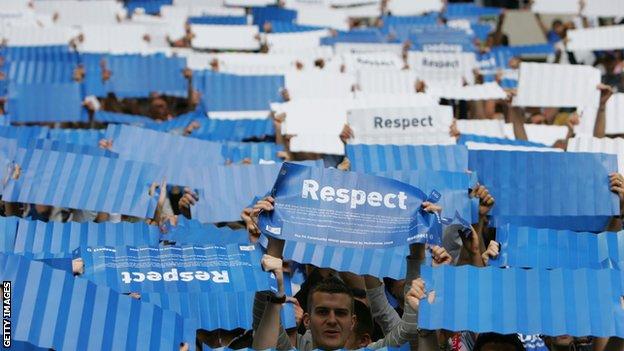 'Part and parcel of the job?'
Referees get verbal abuse on a weekly basis, I guess it is part and parcel of the job. Physical abuse is on the rise and it is just unacceptable. I have been put in headlocks, punched and even had my car vandalised after games.
The FA has a Respect programme and I see it work very well in youth games, and it is improving in adult grassroots football. But I feel more needs to be done within the professional game that will feed down to grassroots.
Abuse, whether verbal or physical, would not be tolerated in any other sport - why is it in our national sport?
Connor, Derbyshire
'A 22-woman brawl'
I once refereed a game as a 16-year-old where 22 ladies started fighting over nothing and afterwards proceeded to threaten me.
A few weeks later, I was refereeing a game at a park when on the pitch next to me a fight broke out. Three police vans arrived as a result of one player and his father being chased by 10 lads to the car park. This was all somewhat a baptism of fire to my refereeing career.
Daniel, West Midlands
'Threatened nine months after red card'
While trying to get a player to come to me so I could speak with him, he refused so I issued a yellow card. He immediately went into a tirade of foul and abusive language directed towards me.
I then produced a red card, at which point he came at me (he was built like a bodybuilder). Players from his team were trying to restrain him but he continued to come towards me in a threatening way. The match was abandoned and the player was banned by the county FA.
Nine months later, I was in a petrol station and he was there and as we passed each other he said: "If you think I have forgotten, well I haven't".
Allan, Hampshire
'Players tried to kick door down'
After refereeing a youth football match in Belfast where three players were sent off, I was forced to lock the door of my changing room after a number of players attempted to gain entry by forcibly kicking the door down.
Later, upon leaving the changing room, I was met with a hail of verbal abuse and told that if I were to referee one of the teams again I would get my head kicked in.
Chris, North Yorkshire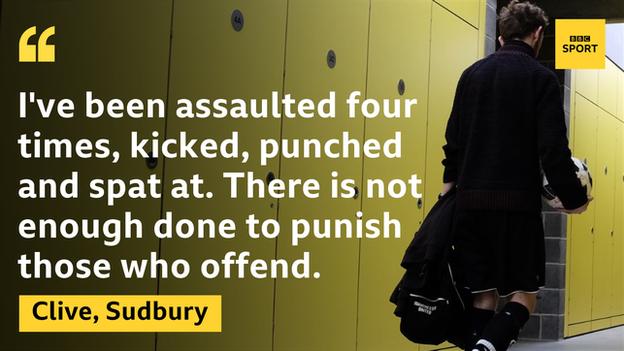 'My wife was targeted'
I retired from refereeing after officiating a cup match back in the early 1990s. I was threatened and jostled after the game, but it was five days after the game when two of the players threatened me and abused my wife when we were out for a night on the town.
I was aware of the risk of abuse from players, but when my wife was targeted, that was the line that could never be crossed. The county FA were just not interested in anything that happened away from the field of play. I did referee again, but not in that county.
Anti, Brisbane
'How can this be acceptable?'
The manager began to question my decisions from the sideline, I spoke to him and asked him to stop, but it continued and when I confronted him about it the second time he kept trying to argue. As a result, I sent him to stand with the parents. At the end of the game, I had to caution one of the players as he had been questioning my decisions and committing fouls throughout the match. Shortly after, his father came and confronted me.
I decided to bring out my card holder so I could write down what he had said. However, he presumed I was going to show him [the parent] a card, so he threatened me. I genuinely feared for my safety and at no point did anybody come and offer me any support.
How can this be acceptable for a 16-year-old referee to be confronted and threatened by two fully grown men?
Ali, Suffolk