Equatorial Guinea captain rues lost preparation time
By Mohamed Fajah Barrie
BBC Sport, Sierra Leone
Last updated on .From the section African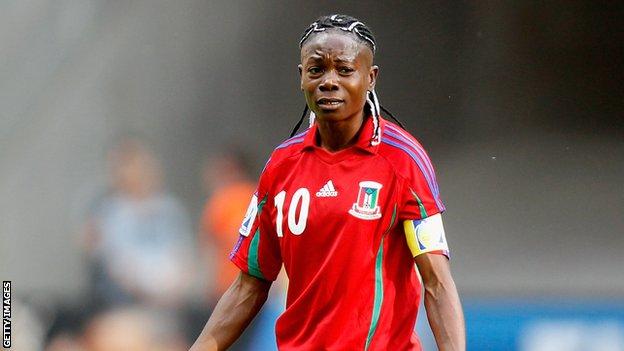 Equatorial Guinea captain Genoveva Anonman Nze has admitted that it will be tough for them at the Women's Africa Cup of Nations in Ghana because of the limited time they have had to prepare for the event.
The two times African champions were only reinstated to the tournament by the Confederation of African Football (Caf) a week ago after they won an appeal.
The eight-team championship kicks-off on 17 November in Ghana.
Equatorial Guinea were excluded after Caf upheld a protest from the Football Kenya Federation (FKF) over the eligibility of Annette Jacky Messomo who played in the qualifiers.
Caf overturned the ruling and stated that Messomo was "eligible to play for the national team of Equatorial Guinea."
"It's true that we have little preparation time and it will not be easy for us," 29-year old Anonman Nze told Equatorial Guinea's Football Association.
"But we will go with the mentality of making good matches."
"We have a new team and young players eager to compete," the 2012 African women's player of the year added.
Equatorial Guinea have won the Women's Africa Cup of Nations on the two occasions when they served as hosts in 2008 and 2012.
Anonman Nze is regarded as the most high profile player in Equatorial Guinea women's football history having also played at the 2011 Fifa's Women's World Cup.
She scored Equatorial Guinea's two goals at that World Cup, in a 3-2 defeat to Australia, and she was included in the All-Star team becoming the first African player to achieve such a feat.
Anonman Nze, who now plays for local team Leones Vegetarianos, has seen her club career take her to countries including Germany, Spain, USA, South Africa, Israel, and South Korea.
She was the first foreign player to win the Bundesliga golden boot award when she scored 22 goals for her first German club USV Jena in the 2011-12 season.
She is one of 25 players who are currently training under coach Severino Besecu in Malabo from where they will depart for Ghana.
The 2018 Women's Nations Cup also serves as qualifiers for the World Cup with the top three finishers reaching France 2019.
But even if Equatorial Guinea finish in the top three, they would not qualify following a ruling by Fifa in 2017.
Equatorial Guinea are in group B alongside defending champions Nigeria, South Africa and Zambia who they will face in their opening match on 18 November.
Equatorial Guinea squad:
Goalkeepers: Lucredia Bobuiche Boabaila (Estrella de Rebola), Dolores Hernández Mansogo (Super Leonas), Emiliana Nchama Ndong (Evina Yong)
Defenders: Marie Cruz Mangue Oburu, Esperanza Mbang Mba and Inmaculada Avelina Abang Ndong (Leones Vegetarianos), Naah Ghyslaine Salome Nke (Ewaiso Ipola), Cecilia Akeng Nengono (Evina Yong), Darine Nina Chuigoue (Logrono, Spain), Leatitia Chapeh Yimga (Lille Metrople, France)
Midfielders: Jacky Mossomo Anntie (Dallas Spurs), Diana Meriva Bileu (Atletico Malabo Feme), Celestina Manga Besecu, and Diala Blesing (Spuer Leonas), Elena Obono Nkuamdum (Estrella de Bumudi), Catana Andeme Engoga Mangue (Evina Yong), Ramona Mibuy Ndong (Leones Vegetarianos), Milagrosa Mecheba Ebako (Fuensalida), Crystel Nyepel (Ewaiso Ipola)
Forwards: Genoveva Anonman Nze and Luz Milagros Obong Obiang (Leones Vegetarianos), Jade Boho Sayo (Logrono, Spain), Gloria Okoro Chinaza (Ewaiso Ipola), Berla Melania Okomo Ochaga (Atletico Malabo Feme), Eugenia Bokoka Mosua (Real Dona)