Kenya file late appeal over Women's Nations Cup exclusion
By Matthew Kenyon
BBC Sport
Last updated on .From the section African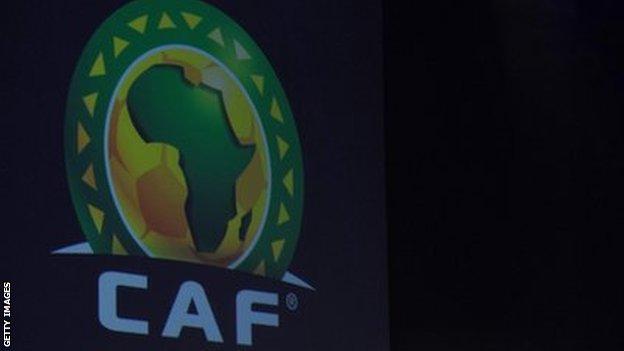 Kenya's Football Federation (FKF) says it has filed an appeal to the Court of Arbitration for Sport (CAS) on Wednesday, in a late bid to reverse their exclusion from the Women's Africa Cup of Nations, which starts on Saturday.
But a Confederation of African Football (Caf) tribunal overturned that punishment on 7 November, reinstating Equatorial Guinea.
"They included us in the draw and in the fixtures, so we prepared our team," FKF president Nick Mwendwa told BBC Sport.
"For them to make a decision nine or 10 days to the event, is why we are in the problem we are in.
"If they came back to us one month ago, then we would have had enough time - but they did not," said Mwendwa.
Kenya had announced an appeal last Thursday but, on Tuesday this week, CAS confirmed to the BBC that they had not received it.
With just three days to go before the tournament kicks off in Ghana, Mwendwa is hoping that any appeals decisions are made swiftly - even if they are in Kenya's favour.
"We can get to Ghana on Saturday. But we expect that if CAS would make such a decision, then we would go back to Caf and say this is what it is and we need about two days to get there. They will have to rework something."
If the appeals go against Kenya, Mwendwa has confirmed they will seek a financial settlement.
"If the court says we're out - then we have no recourse - but I can tell you we will pursue compensation if that happens.
"If the court says we have a case, and they want to remove Equatorial Guinea or even include us as the ninth team, which we have said is a possible scenario, then we are ready to go to Caf and say 'here's a decision, how do we proceed?'
"It's not just about money, there is a lot at stake. I need our argument understood. We are saying that in terms of procedure, Caf did not inform us when an appeal was filed by Equatorial Guinea, and therefore we did not defend ourselves at the appeals committee.
"They went ahead and gave us fixtures which caused the whole country to prepare - not just the team but the whole country. So we're saying it's unfair for them to remove us at this stage."
Mwendwa confirmed to the BBC that the FKF had informed Caf of their decision to go to the Court of Arbitration for Sport, but had not yet heard back from African football's ruling body.