Susanna Dinnage: The 10 challenges facing the new Premier League boss

By Dan Roan
BBC sports editor
Last updated on .From the section Premier League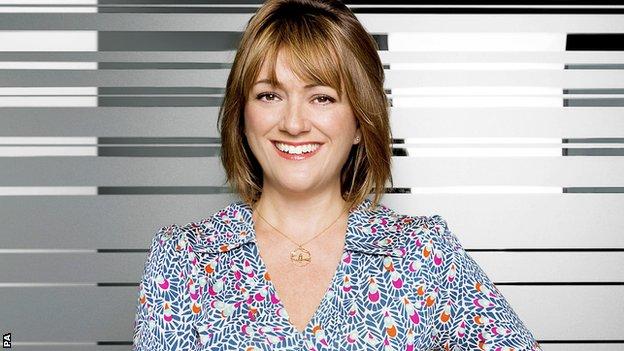 TV executive Susanna Dinnage will soon become the first female chief executive of the Premier League, taking up her role in the new year. But what will be top of her in-tray? BBC sports editor Dan Roan takes a closer look.
Super League breakaway
Amid renewed talk of a possible breakaway to form a European Super League, and recent pressure from the biggest clubs for a greater share of the overseas TV rights revenue, one of Dinnage's biggest tasks will be to keep the league together and maintain the collective-selling strategy that has proved so successful.
The 'Big Six' - Manchester United, Manchester City, Liverpool, Chelsea, Arsenal and Spurs - got their way in June, and proceeds from international broadcasters will now be distributed according to league position, but that is unlikely to satisfy the clubs' overseas billionaire owners long-term.
Brexit
The Premier League has been in negotiations with the government to secure an exemption that would not just allow freedom of movement for European players after Brexit, but even remove restrictions on permits for all overseas footballers offered a contract.
But in return for this, the Football Association wants a significant increase in the minimum number of homegrown players that have to be in any squad, using it as an opportunity to boost the presence of British talent, something which could cause friction with the clubs. Negotiations are at a delicate stage.
TV deals
Dinnage's experience as a TV executive should equip her for the all-important negotiations with broadcasters for the rights deals that have transformed the Premier League into one of the world's richest sports leagues, and a commercial phenomenon over the last quarter of a century.
The most recent domestic live TV deal suffered a significant dip in value however, and amid changing audience habits, the rise of social media and online viewing, and new digital challengers to the established duopoly of Sky and BT, brokering new partnerships with media organisations could be her number one priority.
As well as being exceptionally well-connected in the media industry, Dinnage has already shown she is a tough negotiator, standing up to Sky - (which has enjoyed a vastly lucrative relationship with the Premier League since its creation in 1992) - and threatening to pull 12 Discovery channels from its platforms in 2017 in a dispute over fair pricing, before reaching a deal.
Her familiarity with former Discovery colleague and ex-Eurosport chief Peter Hutton, now head of sport at Facebook, could also prove useful if the digital giant looks to acquire Premier League football rights like Amazon already has.
Grassroots
The collapse of the FA's proposed sale of Wembley to Shahid Khan and with it a £600m windfall for the country's dilapidated grassroots facilities, put renewed focus on whether the Premier League should contribute more of its vast wealth to the hard-up amateur game, where many matches are cancelled each winter because of the state of grass pitches and a lack of 3G alternatives.
Dinnage will be made aware by her new staff that the organisation already gives a £24m annual contribution to the Football Foundation, part of a wider £100m-per-season investment in community facilities, sports participation programmes and education projects. But she may well come under renewed pressure from politicians, the media and the public to share even more.
Fan relations
Some of football's traditional match-going fans, often annoyed by the way fixtures are moved to suit broadcasters' schedules, will be concerned at the appointment of a media executive rather than a figure from the football industry. And part of Dinnage's challenge will be to convince the wider footballing public that they matter to her and the clubs, and will not be exploited or priced out of the game.
News of a proposed £5million bonus for outgoing chief executive Richard Scudamore has only served to reinforce the impression held by some that top-flight football has ceased to be 'the people's game', and has created a culture of greed and excess when it comes to salaries.
Dialogue with the Football Supporters Federation - which is merging with Supporters Direct - will be important if Dinnage is to address that image-problem..
Safeguarding and Player-welfare
Dinnage will be at the Premier League helm when the FA's long-awaited independent inquiry into the historical child sex abuse scandal that rocked the sport over the last two years is finally published.
Leading the clubs' response to any criticism or recommendations will be a major challenge, and one on which she will be judged. As well as safeguarding, there is also renewed scrutiny on the top clubs' record when it comes to anti-discrimination, inclusion, duty of care towards trainees and players rejected by academies, mental health and the management of head injuries.
Agents
More money is going into agents' pockets than ever before in English football, with Premier League clubs paying them £211m in the past year, an increase of £37m, and officials seem intent on a crackdown, aware that the exorbitant fees do little for the clubs' reputation among the public.
Dinnage will be at the heart of the drafting of new regulations, and will need to work closely with the FA and Fifa on the issue.
Safe-standing
Dinnage will want to contribute to the government's review of the ban on standing at Premier League matches, a policy that has not been reviewed since 1992. The ban was imposed following the recommendation of Lord Justice Taylor in his second report into the 1989 Hillsborough disaster, and has been the subject of fierce debate from both sides.
In the summer, the man she will replace, Richard Scudamore, said each club should be allowed a choice as to whether to introduce safe-standing, but a final decision on this highly emotive issue is still some way off.
Gambling
Nine of the Premier League's 20 clubs have gambling companies on their shirts this season, and there is a growing debate about the close relationship between football and the betting industry.
If there is a change in government, this could become a major priority for Dinnage, with Labour calling for a ban on gambling advertising during live sporting events and threatening to take legislative action to force clubs to end sponsorship deals with betting firms.
Talking of sponsors, it will be interesting to learn what Dinnage makes of Der Spiegel's recent revelations about Manchester City and allegations that the club deceived Uefa over the value of its sponsorship contracts to get round Financial Fair Play regulations.
VAR
After being used relatively successfully at the World Cup in Russia, and following trials at simultaneous matches in England, clubs could soon vote to fully introduce Video Assistant Referees (VAR) next season, by which time Dinnage will have settled into her new role. Overseeing the bedding-in of what will inevitably be a controversial new system will be another challenge.