Liverpool goalkeeper Alisson Becker 'working to be perfect'
Last updated on .From the section Liverpool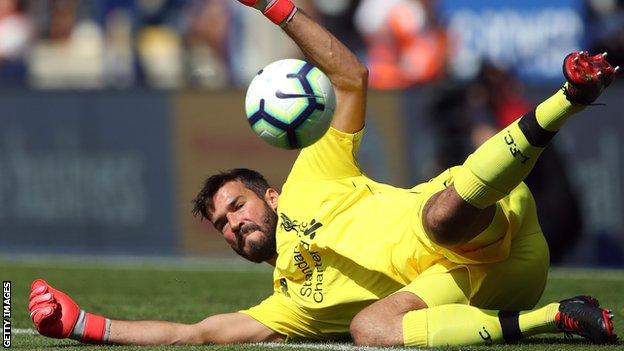 Liverpool's Alisson Becker says he is working hard to be the "perfect" keeper that people expect him to be after his £66.8m move from Roma in the summer.
The fee for the 26-year-old Brazil international was a world record until Chelsea paid Athletic Bilbao £71m for Kepa Arrizabalaga.
"I came here for a high price and some people expect to me to be perfect," said Alisson.
"It is not easy but I'm trying. I'm working to be better."
Alisson is in his country's squad to play Uruguay at the Emirates Stadium on Friday.
He has seven clean sheets in 12 Premier League appearances for Liverpool.
But he was caught out when trying a trick against Leicester as he conceded one of the five top-flight goals he has let in, although the Reds still won the game 2-1.
"It is really early to say if I'm satisfied with how I'm playing but I'm working to be perfect," he added.
"I am really happy with my move to the Premier League. I'm working really hard to help Liverpool to achieve their goals.
"The Premier League has great intensity, you have to be really focused all the time.
"One thing that is important here is the concentration and focus. They are asking me to be really mentally strong.
"My team have a really great defence so it is not often the ball comes near my net but I have one or two opportunities to show my quality, so I need to be focused all the time."