Richard Scudamore: Premier League clubs asked for £250,000 towards £5m bonus
Last updated on .From the section Premier League1324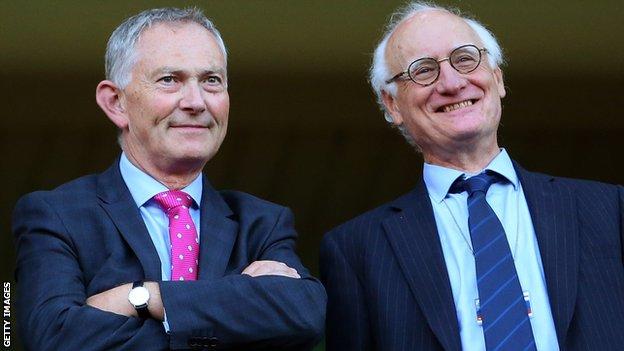 All 20 Premier League clubs have been asked for a £250,000 contribution so that the league's outgoing executive chairman Richard Scudamore can be given a £5m farewell gift.
The clubs were asked for the money before a meeting on Tuesday.
It is expected they will agree to Chelsea chairman Bruce Buck's request.
Scudamore, 59, who is reportedly paid £2.5m per season, is stepping down next month after 19 years at the organisation.
The league's UK television rights were valued at around £670m when he joined, and the last deal was worth £5.14bn.
Buck, who has developed a close friendship with Scudamore since becoming Chelsea chairman in 2003, received backing from top-flight clubs during a meeting at Premier League headquarters in London.
Should every club contribute, the outgoing boss will receive an additional £5m windfall as a token of appreciation for his successful tenure.
On Tuesday the Premier League announced that Susanna Dinnage will be its new chief executive.
Dinnage joins from media organisation Discovery, where she was the global president of the Animal Planet channel.
Scudamore joined the Premier League in November 1999 as chief executive before becoming executive chairman in June 2014.
The top-flight clubs have agreed to split his role and will now search for a non-executive chair.