Andreas Cornelius: Denmark striker has no regrets over Cardiff City spell
By Rob Phillips
BBC Sport Wales football correspondent
Last updated on .From the section Welsh
Denmark striker Andreas Cornelius says he has nothing to prove when he returns to Cardiff City Stadium for Friday's Nations League game against Wales.
Cardiff owner Vincent Tan later called manager Malky Mackay an "idiot" over the affair.
"Yes, I ended up being a waste of money for him but that may be his [Tan's] own fault," said Cornelius.
"He should have just waited.
"I am all good. I have moved on, taken my career to even bigger clubs than Cardiff."
Cornelius lasted only six months at Cardiff - then a newly-promoted Premier League club - before returning to Copenhagen in January 2014.
He is on loan at Bordeaux from Italian club Atalanta and is part of the Danish squad vying with Wales to top their Nations League group.
"It was a big deal, I had just turned 20 and came straight from the Danish League to the Premier League, it's a very big step," the 25-year-old added.
"So it can take time and that is just normal. If you sell a young player after half a year it is not good business, I think."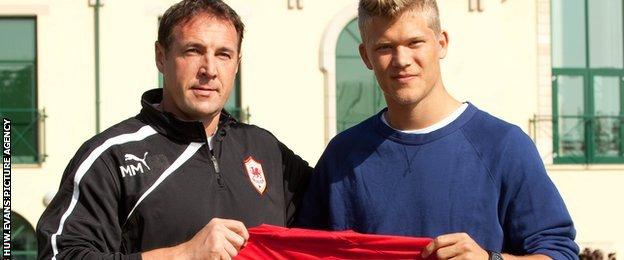 The striker has no worries about returning to Cardiff City stadium, adding: "I don't think it will be a big deal for me.
"It is five years ago since I was here, I have moved on in my career. I think it is going to be a game like every other game.
"As a footballer it is going to be up and down. It was not really a bad period. I like being here for the short time that year. For that half year I remember it was not so bad."
Cornelius felt injuries at Cardiff contributed to a "mix of different things" which marred his spell.
"I am strong now. It is five years ago, I have moved on," he said.
"I have played in big leagues and played in the Champions League, the World Cup, played in Serie A last year and I am now playing in the French League."
'Great place, great city'
Denmark assistant coach Jon Dahl Tomasson, the former Newcastle striker, said Cornelius had progressed well since his time at Cardiff.
"Everybody has to remember he was a youngster, a talented player and I think that season Cardiff did not perform at all," said Tomasson.
"Not only Cornelius had a difficult time, but the whole team."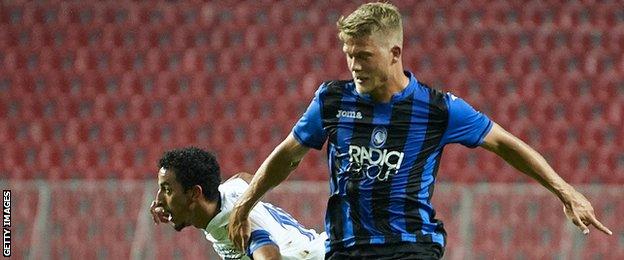 And Cornelius says he has no great desire to return to the Premier League as he operates in France's Ligue 1 with Bourdeaux.
"It's a great place to be, a great city," he said.
"I am really happy the league is good, it's the right place for me right now.
"In my opinion there are other big leagues and may be even better than the Premier League, so I am not locked on that."