Chris Gunter: Reading defender on the verge of Wales milestone
By Dafydd Pritchard
BBC Sport Wales
Last updated on .From the section Welsh37
International friendly: Albania v Wales
Venue:
Elbasan Arena, Elbasan
Date:
Tue, 20 Nov
Kick-off:
19:00 GMT
Coverage:
Live on BBC Radio Wales, BBC Radio Cymru, BBC Sport website and BBC Sport app, plus live text commentary; also highlights on BBC One Wales from 22:40 GMT.
Chris Gunter does not like to make a fuss. So when it came to his moment of history, it was no surprise that it was so low-key.
Wales were playing Denmark in the Nations League on Friday when their left-back Paul Dummett had to leave the field with an injury.
Wales did not have specialist cover on the bench but they did have Gunter, usually a right-back but the ultimate professional who, without a second's thought, ran on to defend against a Danish free-kick.
It seemed like any other 39th-minute substitution: a ripple of applause, a tactical tweak and on with the game.
Only that this time Gunter was etching his name into Welsh football history, equalling Neville Southall's record of 92 caps.
The fact was not lost on Wales' loyal supporters who had packed the Cardiff City Stadium but, in keeping with Gunter's modest nature, there was no fanfare to mark the landmark.
"For something you get so much joy from doing and such an honour, it almost feels like you don't deserve the support," the 29-year-old said after the game.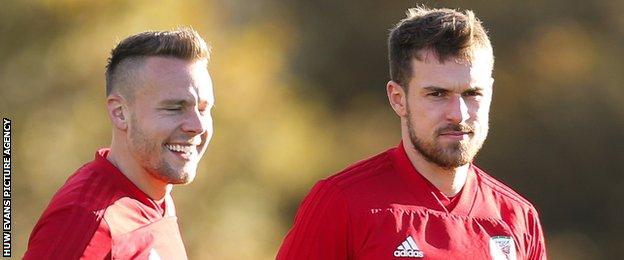 "I've always said it's not about caps, it's the team. I could have broken every single record under the sun but the only thing that would bother me would be the result."
Such selflessness is no surprise from Gunter, a pragmatist who has resisted the gung-ho trends of modern full-backs by sacrificing his attacking instincts for the defensive good of the team.
What was unusual about his appearance against Denmark was that it came from the bench.
Until September's victory over the Republic of Ireland, Gunter had started a staggering 63 consecutive matches for Wales, a sequence stretching back to 2010.
At just 29 years old, it seems a matter of time before he becomes the first male player to win 100 caps for Wales.
And having matched Southall's mark of 92, Gunter will claim the record outright on Tuesday, after manager Ryan Giggs confirmed he will start the friendly match in Albania.
It seems apt that such a momentous occasion should come thousands of miles from home, against unglamorous opponents ranked 60th in the world.
But such is Gunter's standing among Wales fans, it is estimated around 2,000 of them will be making the journey to Elbasan to pay tribute to their cult hero.
"It's fitting in a way to do it in front of those fans," the Reading player says.
"A lot of those who will be in Albania have been to far and wide places where I've picked up a lot of my caps.
"To do it in front of those fans who spend their hard-earned money getting to all these places would be a huge honour."
Borrowing Bale's private jet
Gunter knows better than most what it means to be a Wales fan - because he is one himself.
He was a Cardiff City season ticket holder before he started his career with them, and he watched Wales matches home and away.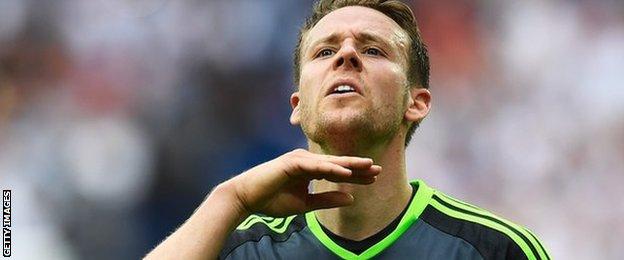 Gunter has retained a special bond with the country's supporters, illustrated by the 'chin-up' gesture he made to them following the last-minute loss to England at Euro 2016.
It promises to be a memorable occasion for the former Tottenham player in Elbasan and, with a little help from a famous friend, he hopes to have his family with him for the celebrations.
Gunter has been struggling to find flights for them to Albania, but his team-mate and Real Madrid forward Gareth Bale might be willing to lend him his £9.35m private jet.
"I'll ask Gaz if I can borrow his plane," Gunter says.
"It's not the easiest place to get to, but if the Welsh fans can do it I'm sure I can find a way.
"I'll be trying to get some family over there. But I know they'll be watching somewhere even if I can't because they've done that throughout my career."
Back to the beginning
A lot has changed for Gunter and Wales since he started his senior international career with a 2-2 draw against New Zealand back in 2007.
Wales have plumbed the depths of world football - languishing outside the top 100 as recently as 2011 - and then scaled delirious new highs, reaching the semi-finals of a major tournament for the first time during their momentous Euro 2016 campaign.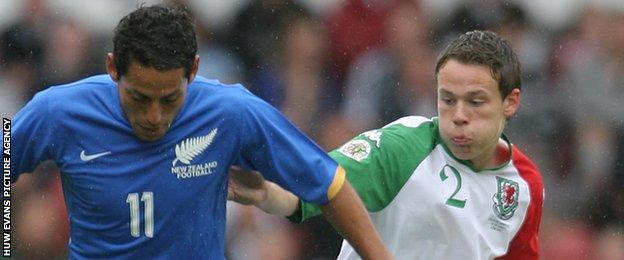 Throughout a time of wildly fluctuating fortunes for Welsh football, Gunter has been a constant.
And like Wales, he has changed too, as Danny Gabbidon can attest. The former Cardiff and West Ham defender was in the Wales side the day Gunter made his debut 11 years ago.
"He's a freak of nature to be fair, how he's grown, not just as a player but as a person," Gabbidon says.
"Making his debut as a 17-year-old, he was stick-thin, he was really quiet and didn't say too much.
"To see how he's developed and grown, as a player, as a person, he's one of the leaders in that dressing room now."
The challenge from the new generation
Until his superhuman run of 63 consecutive starts came to an end two months ago, it seemed Wales' right-back berth would be Gunter's for eternity.
But the man who has been holding up his march to the record, Connor Roberts, has been one of the breakthrough success stories of Giggs' tenure.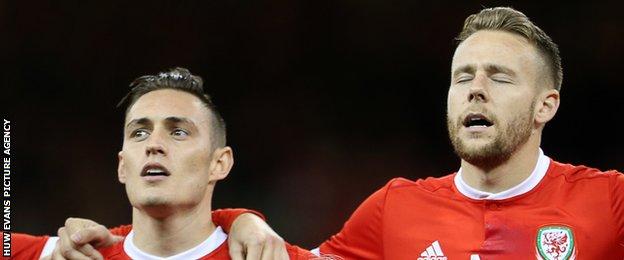 The 23-year-old barely figured for Swansea City last season but a string of sparkling attacking displays for club and country have thrust him ahead of Gunter in the right-back pecking order.
"The game I played against Ireland [September's 4-1 win], a lot of people didn't expect me to be there," Roberts says.
"I performed fairly well and scored a goal, but it's just about learning from those players.
"I'm not saying I'm going to come here and get more caps than Gunter because that would be a hell of an achievement. I'd be happy if I could make half the appearances he's made for Wales.
"I can keep on learning from him, Ashley Williams and Gareth Bale and Aaron Ramsey."
'A great professional, brilliant player, great character'
It is telling that Roberts mentions Gunter in the same breath as those three totems of recent Welsh success.
Gunter, after all, has been a mainstay for Wales during the most glittering period in the country's footballing history.
He has seldom been the centre of attention, and is still without an international goal despite over a decade of dutiful service.
But he has been a pillar of Wales' golden era and, even though he may no longer be guaranteed his starting place, a Wales squad without Gunter still seems unthinkable.
"He's a great professional, brilliant player, great character and someone who deserves all the plaudits he gets," says Giggs.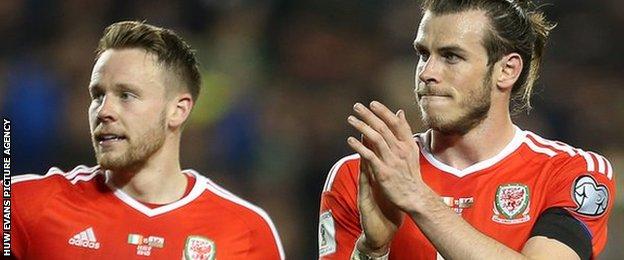 "He's not been starting a lot of games recently but, for me, he's been brilliant to have around the squad because he doesn't throw his toys out of the pram. He just gets on with it.
"When he beats the record, it will be a fantastic achievement."
It is a mark of Gunter's longevity that his debut came a week before Giggs' final appearance for Wales.
From his first steps as an international footballer as a callow teenager at the Racecourse in Wrexham, to his next as the most capped man in Welsh football history: Gunter, whether the bashful full-back likes it or not, is a Wales legend.
"It's been an unbelievable ride, especially over the past couple of years when I've been equalling and surpassing certain names I used to come and watch as a boy," he says.
"It's hard to explain what that means, and also the fans and the reaction I get.
"It's something I'm really thankful for and, hopefully if I do it on Tuesday, it will be a really special night for me."