That Peter Crouch Podcast: Your football confessions - vote on who should be forgiven
Last updated on .From the section Football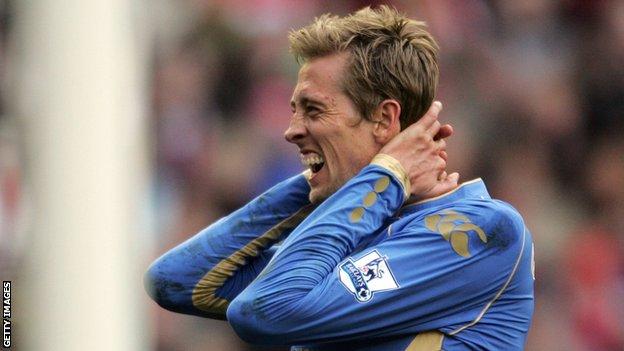 In this week's episode of That Peter Crouch Podcast, we look at the unique world of footballers getting stick from the terraces.
"I don't mind a bit of creative abuse, something that's quite funny," said Crouch. "It's the mindless stuff, when people just shout obscenities, that's not so good."
Sometimes you just need to say sorry. So that's why the show asked listeners to send in their own confessions - in the hope of absolution.
Here's the pick of your Crouch confessions. You can hear whether Peter and the boys granted forgiveness in this week's episode.
You can also vote at the bottom of this article for who you feel should be let off.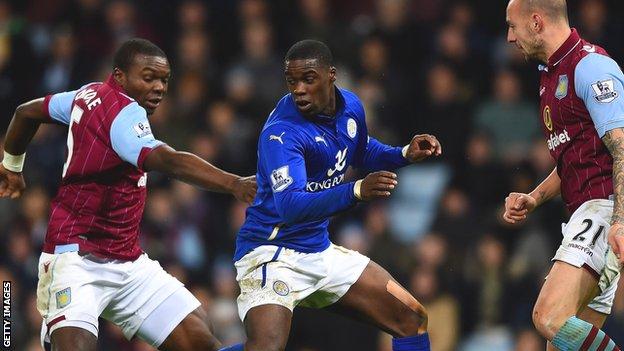 Instant karma with Jeffrey Schlupp
I used to have season ticket front row of the Trinity Stand at Aston Villa. We were playing against Leicester; Jeffrey Schlupp was playing up and down the wing in front of me, had made a bad challenge, and I got into him.
I got his attention and we exchanged a few choice words before I gave him the bird as he jogged off. About five minutes later he scored and celebrated in front of me while holding eye contact with me the whole time. Not really much I could say at that point...
Tom from Stafford
'Your dad's rubbish at advertising'
Hi Peter - I work in advertising and know your dad Bruce slightly. When you were on loan at Norwich, you came up to Deepdale. You were in the Preston box and I was behind the goal.
I shouted out something along the lines of, "You're rubbish and your dad's rubbish at advertising." Because it was obvious that I must know your dad in some capacity you lost concentration and scanned the crowd for a moment.
Just so we're clear: your dad was a great creative. I was saying it to put you off.
Mick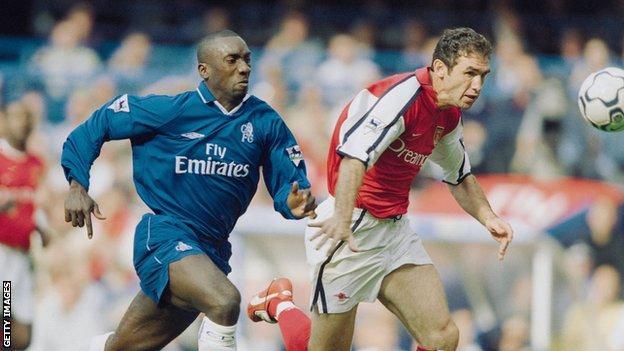 Hasselbaink handbags
I was at Chelsea v Arsenal when the away fans were down the side of the main stand.
Jimmy Floyd Hasselbaink came over to get the ball and my mate shouted, "Oi Hasselbaink, your backside is massive in those shorts!" - just as there was a lull in the singing, and everyone heard it.
The stand seemed to laugh and I laughed out loud too but just as I laughed, Jimmy looked round and stared straight at me with those massive eyes.
He stayed there staring for what seemed like minutes. I kept pointing to my mate but he wasn't having any of it. Jimmy shook his head and I felt that my days were numbered.
Jonathan
Wiki woe
A couple of mates and I went to Oxford v Cambridge at the Kassam Stadium. In the second half, we were standing near the Cambridge keeper of the time, Chris Dunne.
One of my mates had his Wikipedia page up on his phone and we were giving him abuse based on his playing stats over the years, saying stuff like: "What happened at Yeovil in 2013-14, Chris? Why weren't you good enough to play?"
After 20 minutes of our heckling, he dropped the ball and got it taken around him by a striker.
Although the striker hit the bar we still believe that we broke him down mentally and caused that mistake.
James
Squeaky voice time
I was 15 years old, and we were at a non-league game at Altrincham FC. The goalkeeper was getting abuse hurled at him from behind the goal all game from about 200 fans. I decided to get involved and picked out one of his weaknesses, and I plucked up the courage to hurl my witty abuse.
I shouted at the top of my voice: "Keeper, you've got small feet!" As I did, the whole stand went quiet and everyone heard me say it. Even the keeper turned round as my voice, which hadn't yet broken, went as high-pitched as humanly possible, not helped by the realisation of how rubbish my insult was.
Safe to say, I shrivelled into a cocoon and have never publicly insulted a player at a football match again.
Chris
Giving Uriah heaps
When at a Stockport County game some years ago, I stood up in the main stand as the players went into the tunnel at half-time and shouted towards the referee, Uriah Rennie: "It's because of performances like that, you're reffing in League Two!"
He stopped shy of the tunnel, looked at me with genuine sorrow, then looked down at his feet and trudged into the tunnel.
I've never been able to forget his hurt expression. Sorry Uriah.
Phil from Hazel Grove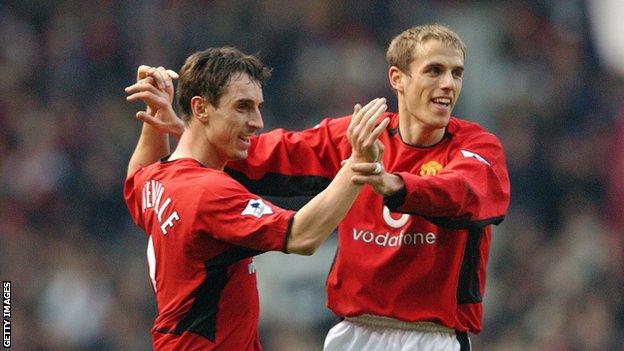 Rebel Neville
I need to apologise to the Neville brothers. During their time playing for Manchester United together, my football club, Blackburn Rovers were also playing in the Premier League. I sat in the Jack Walker Stand, lower tier, pitch side. Impeccable seats.
For whatever reason, Sir Alex Ferguson opted to play Phil on the right wing, with Gary behind him at right-back. The Neville right-side double.
And so for the entirety of the second half, with both players in front of me as Gary overlapped Phil, I sang the Chuckle Brothers theme tune to the Neville brothers.
I genuinely feel like I put them off their game. Without doubt they recognised the chant, as I was acknowledged while Gary took a throw-in. Phil, especially, played dreadfully.
I'm not sure if Phil ever played on the right wing again. I do know that shortly after, he was shipped off to Everton. I would like to think that game alone didn't have anything to do with the decision to let him go.
Thank you for this opportunity.
Josh
Bolton boo-boys
After spending a season at Bolton Wanderers in their Championship relegation year, I'd like to apologise to David Wheater and Dorian Dervite for suggesting that the defence would have put up more of a fight had they stabbed a pair of upside-down broomsticks into the turf and hung shirts on them.
Having said that, they would have at least held a decent defensive line.
Craig Thompson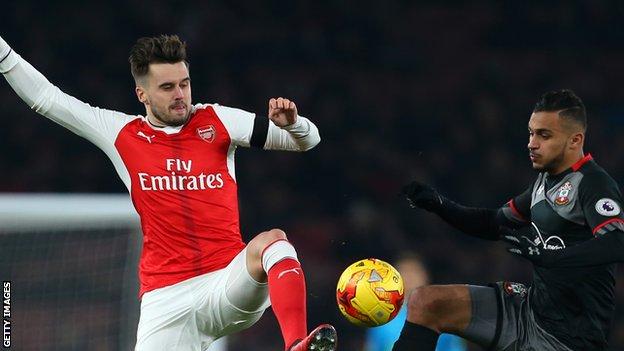 Jeers for Jenko
Wanted to take the opportunity to apologise to one of my favourite Arsenal players, Carl Jenkinson. We love him because he's a fan and chose to have the same number as Kanu.
I was at a League Cup match, Arsenal v Southampton, and I was sitting at the side where Jenko was having a poor game. Forgetting how close I was, I shouted, "Jenko! Bloody play better!"
I did not realise quite how close I was and he looked up at me, visibly upset. Which made me feel terrible.
What followed was Mathieu Debuchy getting rushed back from injury and getting hurt again, eventually leaving after very few Arsenal games, and Wenger saying to the press that Jenko has lost confidence (he then didn't play for Arsenal for two years).
I feel so bad that I ruined potentially two players' Arsenal careers, and would like to apologise to Jenko and Debuchy. If nothing else it's nice to get it off my chest.
Harry
Two faces
My apology is for Ben Garratt, who plays for Crewe Alexandra.
On 26 August 2017, I watched Port Vale lose to local rivals Crewe. I spent 90 minutes berating Ben, the Crewe 'keeper.
After the game, I bumped into him in the car park. My reaction was to compliment him on his performance, have a photo with him and wish him well for the season.
This was a totally natural reaction after having spent the previous few hours screaming all sorts of expletives at him.
Ed (From Stoke but a Vale fan)
Two faces, part two
In the late 1990s (I'm now 41) I used to give the Middlesbrough goalkeeper Ben Roberts a really hard time from the stands.
Later on that season I managed to go along for a few trial games for Middlesbrough. The goalkeeper in the two games I played was Ben Roberts. Being a central defender, I was in close proximity to Ben for all of the two games and I felt really guilty for having slagged him off from the terraces only a few weeks earlier as he was genuinely a nice lad and tried to help me out in the games.
The only opportunity I got to speak with him really after the game. So I found myself over compensating and being over friendly with Ben Roberts in the showers. Must have been a bit weird for him, as it was for me too.
I didn't make it as a footballer. I'm now a civil engineer.
Alan Robinson
Ouch for Crouch
This has been eating away at me for years. It was Old Trafford, England v Poland. We'd just qualified for Germany. Sven was in charge and Becks wasn't playing. The game was cracking. Lamps and Owen scored if I remember correctly.
Somehow my friends and I were sitting pretty much next to Sven and the bench. So while everyone was watching the exciting game we noticed Sven getting ready to make his notorious, game killing substitutions. So we started shouting "Noooo!" and then "Booo!"
Unfortunately the crowd around us caught on just as Peter was preparing to come on and suddenly everyone was booing Crouchy.
I always felt guilty for starting the booing which was never intended to be aimed at Peter. Crouch, you are a legend.
David in Worcester
If you are viewing this page on the BBC News app please click here to vote.