Republic boss O'Neill expects to feel 'occasional pang' of confliction against NI
Last updated on .From the section Republic of Ireland
Republic of Ireland manager Martin O'Neill has admitted he may feel the "occasional pang" of confliction when his side take on Northern Ireland.
O'Neill won 64 caps for NI and captained them at the 1982 World Cup, when they reached the quarter-finals after famously beating hosts Spain.
The two sides meet on Thursday in a friendly in Dublin ahead of their final Nations League matches.
"I naturally had a great time with the North," O'Neill said.
Asked if he would be conflicted at any point, he said: "Having spent that time in the North, having been capped 64 times, I think there'll be the occasional pang, yes.
"We had a very, very fine side way back, particularly in 1982, and the night in Valencia will be forever remembered.
"It was really great, beating the host nation, Spain, and getting to the quarter-final."
O'Neill also revealed that he plans to speak to winger James McClean ahead of the match following the headlines generated by the Derry-born winger again choosing not to wear a Remembrance Day poppy.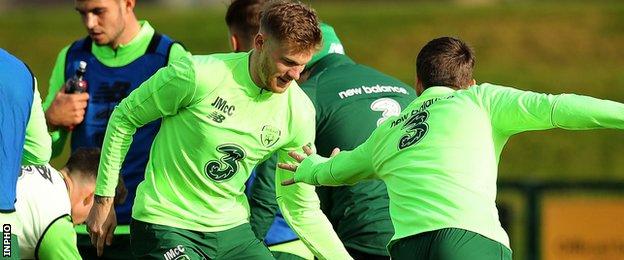 McClean avoided sanction from the Football Association following his angry social media response during the build-up to Armistice Day.
Campaigners have since called on the football authorities to stamp out what they term anti-Irish racism in the game in the wake of incidents involving McClean and Hibernian boss Neil Lennon.
Asked if he feared it could be an issue, O'Neill said: "James had an illness in the family yesterday, so I wasn't able to get a chance to speak to him.
"He has just come in this morning and trained - I will speak to him over the next 24 hours.
"Naturally, I'm hoping that it won't be an issue, but I don't know."
O'Neill has lost striker Shane Long to injury and has included Long's 18-year-old Southampton team-mate Michael Obafemi, who also qualifies for England and Nigeria, in his final squad.