Slavisa Jokanovic: Why Fulham manager deserves more time - Alan Shearer analysis

By Alan Shearer
Match of the Day 2 pundit
Last updated on .From the section Fulham

Statistically, Fulham are one of the worst teams in Premier League history - but I still believe they should stick with their manager Slavisa Jokanovic and give him a chance to turn things around.
Form-wise, things are pretty grim for the Cottagers, who lost 2-0 to Liverpool on Sunday and remain bottom of the table with the worst defensive record in any of Europe's top five leagues after a sixth straight Premier League defeat - a club record.
Since the Premier League began in 1992, only two teams have had fewer points or a worse goal difference than Jokanovic's side after 12 matches, and only once has a side conceded more goals.
Premier League - worst starts after 12 games

Fewest points

Worst goal difference

Most goals conceded

4 Everton (1994-95)

-26 Barnsley (1997-98)

35 Barnsley (1997-98)

4 QPR (2012-13)

-21 Derby (2007-08)

31 Fulham (2018-19)
5 Fulham (2018-19)
-20 Fulham (2018-19)

31 Leeds (2003-04)
Many managers have been sacked for less - and I understand why clubs panic and make changes when there is an international break - but there are still reasons Jokanovic should get more time.
He was given more than £100m to build a new team over the summer, so 12 games in seems very early to decide he is now not good enough.
Jokanovic has a track record of improving after slow starts too - last November, the Cottagers were 17th in the Championship after winning only four of their first 17 games, but they went on to win promotion.
By the sounds of it, the Fulham fans are still behind him, and another encouraging thing is who they are up against in the battle to stay up.
Although Fulham look like a very poor team at the moment, there are six others of a similarly low standard at the bottom of the table - so you cannot write any of them off.
Premier League - bottom seven

Position/Team

P

W

D

L

GD

PTS

14. Newcastle

12

2

3

7

-6

9
15. Burnley

12

2

3

7

-13

9
16. Crystal Palace

12

2

2

8

-9

8
17. Southampton

12

1

5

6

-13

8
18. Cardiff City

12

2

2

8

-14

8
19. Huddersfield

12

1

4

7

-16

7
20. Fulham

12

1

2

9

-20

5
Saints game could decide Jokanovic future
It does not help Jokanovic is that he clearly does not have a clue what his best team is yet - he has chopped and changed players for every game so far.
But you could not fault their effort against the Reds, and there were some encouraging signs in that game despite the result.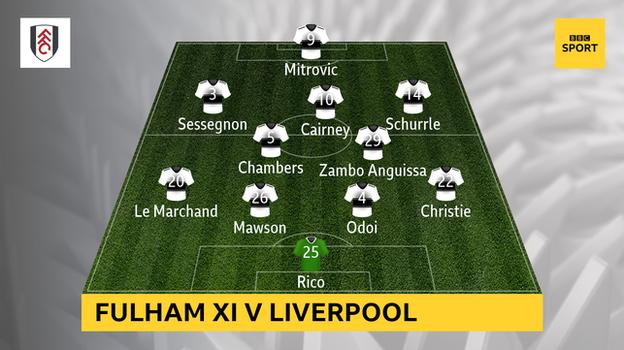 Defensively, they definitely looked a better side than when I have seen them before this season.
They created chances too, but it is not much good if you are doing all of that and still being beaten.
It is refreshing that no Premier League clubs have changed their managers yet, but clearly Jokanovic's future depends on results improving quickly.
He is not the only one. Fulham's next game is at home to Southampton on 24 November, and Saints boss Mark Hughes is also under pressure.
That is a massive game for both clubs and both managers and if the Fulham board are considering Jokanovic's position, then I think it is one he has to win.
At last Fulham find a formation that works?
Southampton boss Hughes felt a big decision went against his side when they had a goal disallowed in their draw with Watford on Saturday and Jokanovic was also unhappy with the way his side fell behind at Anfield.
Jokanovic had a point too. The officials were right to disallow Aleksandar Mitrovic's header because he was just offside - by his shoulder - but Liverpool's goal 14 seconds later should not have stood either.
The ball was still rolling when Alisson took the free-kick to launch the attack that ended with Mohamed Salah scoring and, if we had video assistant referee (VAR) in the Premier League, that would have been spotted.
So Fulham were unlucky to fall behind, especially after looking far more solid than usual up until then, and frustrating a strong Liverpool forward line.
Calum Chambers was sitting in front of another new-look back four playing together for the first time, but looked like a more settled unit.
If Jokanovic is trying to find a formation that works defensively, then that was probably the biggest positive he can take away from the game.
At 0-0 they had some chances at the other end too, the best one falling to Ryan Sessegnon who ran clear but shot wide.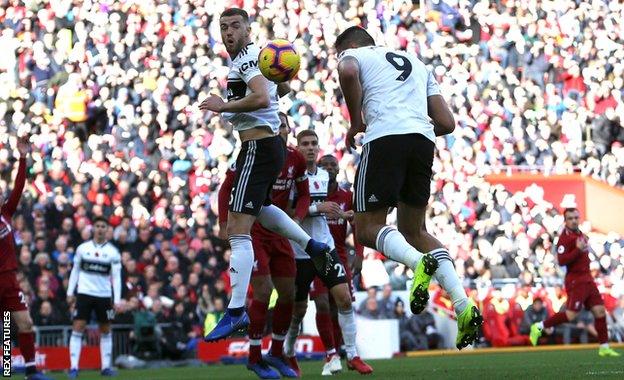 Creating opportunities is one thing, though, and taking them is another.
The Cottagers have now failed to score in their past four matches and scoring goals is becoming just as much of an issue for them as stopping them has been.
It is obvious they have been working on things at the back, because they made a slight improvement in that department at Anfield - now they have got two weeks to get better in attack too.
Everyone at the bottom has got their own problems
Despite their awful run, Fulham are only three points below Crystal Palace in 16th place, and everyone else down at the bottom of the table have got their own problems too.
Newcastle have had two great wins to climb the table but before then they were struggling for goals, just like Crystal Palace and Saints.
Burnley were shipping goals all over the place until their 0-0 draw with Leicester on Saturday and although Cardiff and Huddersfield are triers, they lack quality.
Looking at the table and what we have seen already this season, it is any three from the bottom seven who will be going down.
Just above them, I think Wolves, Brighton and West Ham have got enough about them to stay out of trouble, but it is going to be a real scrap for survival for the rest.
Things like confidence and momentum will play a big part, as we have seen in the past couple of weeks.
Newcastle have gone from 20th to 16th after taking seven points from their past three games - but even one win is huge when you are desperate for points.
It is the same with Cardiff's win over Brighton this weekend, and the belief that they and the Magpies have got right now is the biggest difference between them and Fulham going into this international break.
Things are even tighter at the bottom of the table than they are at the top, and this is a battle where nobody is going to be sure of safety until the very end of the season.
Alan Shearer was speaking to BBC Sport's Chris Bevan.