Man City 3-1 Man Utd: 'Jose Mourinho deluded if he can't see gulf in class'

By Phil McNulty
Chief football writer
Last updated on .From the section Premier League632
Manchester City's cursory dismissal of Manchester United simply confirmed their status as the Premier League's outstanding team - and reduced Jose Mourinho to the ranks of the deluded.
Pep Guardiola's reigning champions also finished off Manchester United's own title aspirations for this season as City's 3-1 win opened up a 12-point gap between these neighbours that no realist can seriously see being bridged.
Mourinho's excuses a poor disguise
It may have taken until Ilkay Gundogan's goal four minutes from time to confirm City's win and give the scoreline an appearance the hosts' superiority deserved but the gulf in class and quality had been spread all over Etihad Stadium for the previous 86 minutes.
Manchester United defied logic by staying in the game until that closing phase, Anthony Martial's penalty offering faint hope - very faint hope - of a repeat of last season's derby here when they overturned a 2-0 lead to delay City's title celebrations.
And while Mourinho, deprived of injured Paul Pogba, mounted a stout defence of his players, his words came accompanied by the sound of straws being clutched.
He spoke of fear around the stadium when United made it 2-1 - but if there was, and it was a very dubious claim, United did little to increase it as it was City who looked more likely to add to their lead.
If anything, United became even less effective after being given that unlikely lifeline.
Mourinho also pointed out that City had, in his words, "friendly" home games in the 6-1 win against Southampton in the Premier League last weekend and the 6-0 Champions League victory against Shakhtar Donetsk, while United had arduous away games at Bournemouth and Juventus before this derby.
The jibe might have carried more weight had United been inflicting similar damage on opponents this season.
Dig deeper and study Sunday's evidence, however, and the brutal truth is Mourinho fools only himself if he does not accept there is a vast gap between these two clubs.
Mourinho points out the scale of City's investment but he has hardly been living on the breadline himself and is currently behind Bournemouth and Watford in the Premier League table.
United are the only team in the Premier League's top 10 with a negative goal difference, -1, which puts them effectively 32 goals behind City after 12 games. These are damning statistics.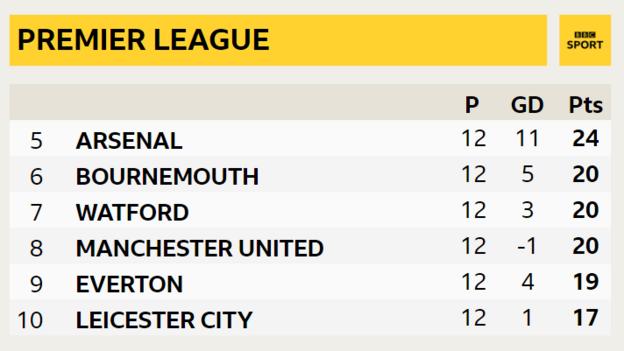 Here, they barely laid a glove on City either side of Martial's penalty. By the time David Silva put City ahead in the 12th minute, United had made only 11 passes, five of which were completed.
Mourinho can forget the Premier League title. They are seven points off Tottenham in fourth, so another pre-season target is also becoming tougher to attain.
While City were swift and slick - Gundogan's goal came after a 44-pass sequence - United were vulnerable in defence, static in midfield and toothless in attack. Outclassed.
Nemanja Matic, Marouane Fellaini and Ander Herrera were like statues as the likes of David and Bernardo Silva moved fluidly around them, the magnificent Fernandinho the glue holding it all together.
Mourinho's selection was an open invitation to City domination and for United's loss of Pogba, Guardiola and City could mention the injured Kevin de Bruyne.
United are 12 points ahead of Cardiff City - in others words as close to the relegation zone as they are to City at the top.
When it was pointed out, Mourinho response was an acerbic: "I think we are not going to be relegated."
True enough - but there is also as much chance of Manchester United winning the Premier League after only 12 games and, after being outplayed in this comprehensive manner, that must hurt a club of such aspirations.
City setting the standard
Manchester City have had a tough week off the field with private club emails leaked by German news magazine Der Spiegel amid allegations that they attempted to circumvent Uefa's financial fair play regulations.
Manager Guardiola reiterated his "trust" in the club's hierarchy - and they can certainly trust him.
This latest peerless display simply underlines the standards Guardiola has set and how he has placed his imprint all over City's football operation.
At this stage last season, after a 2-0 win at Leicester City, Manchester City were eight points clear of Manchester United in second and had a superior goal difference of +33.
Liverpool were 12 points back on 18 November last year and even their 30-point haul in an unbeaten season so far, their joint best at this point in the Premier League era, still leaves them two points behind City.
Jurgen Klopp's side have made an outstanding start to the season but such has been City's own brilliance that we are already at the stage where every single point is precious.
And in their first dozen games City have come through away games at Arsenal and Spurs, where they won, as well as getting a draw at Liverpool. They can also now tick off another potentially hazardous fixture on their schedule against Manchester United while inflicting heavy defeats on those below top-six standard.
Yet still Guardiola demands more from his team, flagging up some first-half deficiencies when City took their foot off the gas after going ahead.
One thing is clear after Manchester City's latest masterclass - if anyone is going to take the title off the team that claimed the crown with a historic 100 points last season, it is going to take a monumental and virtually flawless effort.