Garth Crooks' team of the week: Mohamed Salah, Jordan Pickford, Sol Bamba, Raheem Sterling

By Garth Crooks
Football analyst
Last updated on .From the section Premier League

Manchester City maintained their unbeaten start to the season and took the derby honours by beating Manchester United, while Tottenham continued their impressive away form with victory at Crystal Palace.
Newcastle made it back-to-back wins with a victory against Bournemouth while Cardiff City left it late to defeat Brighton.
Meanwhile, Liverpool kept up the pressure on league leaders Manchester City with victory against Fulham.
But which players shone to make it into my team of the week?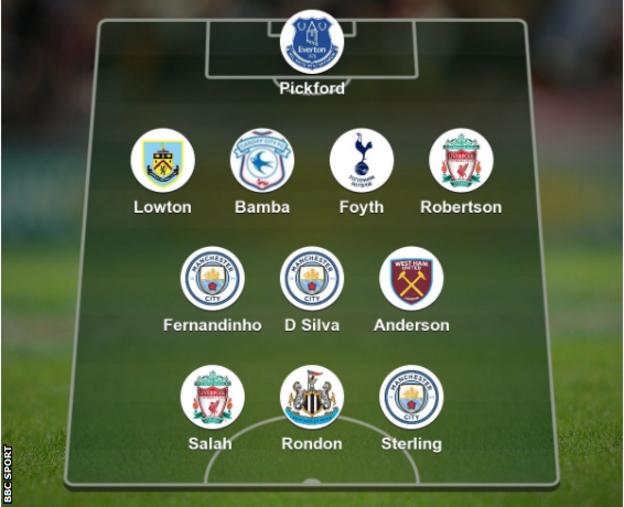 Goalkeeper - Jordan Pickford (Everton)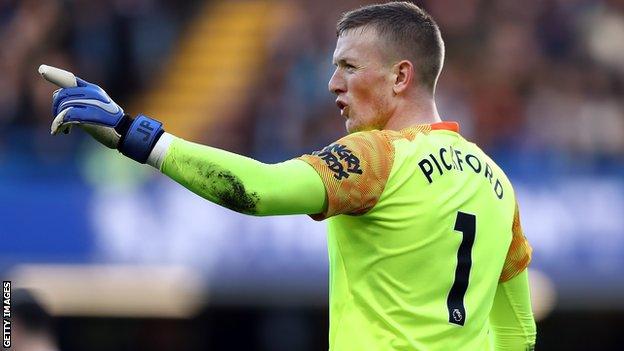 The save from Marcos Alonso by England's number one goalkeeper was world class.
In fact, Jordan Pickford went on to make a number of first-class saves to keep Everton in a game that could, with a bit of luck, have gone their way due to his brilliance.
I said last week that Everton were looking good but against Chelsea the Toffees played the best football I've seen them play for some considerable time. They are looking like a proper team.
Did you know? As well as making four saves and keeping a clean sheet at Chelsea, Pickford's 21 completed passes was his highest tally in a league game this season.
Defenders - Matthew Lowton (Burnley), Sol Bamba (Cardiff), Juan Foyth (Tottenham), Andrew Robertson (Liverpool)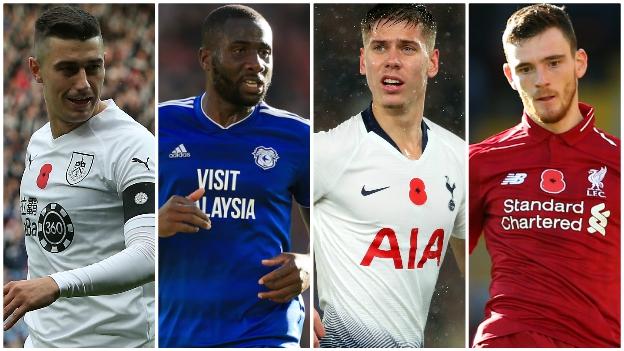 Matthew Lowton: I've seen him make extraordinary clearances off the line before so these occurrences are not happening by accident.
This time it was against Leicester and what a clearance it was too. The ball came at him like a rocket from a Jamie Vardy shot.
Even BBC commentator Guy Mowbray exclaimed "what a block". It was the turning point in the game.
Did you know? Lowton made more recoveries (eight) and had more touches of the ball (78) than any other of his team-mates against Leicester City.
Sol Bamba: The overhead kick by Sol Bamba was brilliant and it provided the opening for his goal.
Cardiff just about deserved this victory but what cheek their players showed in remonstrating to the referee about Brighton's Dale Stephens' tackle on Greg Cunningham which led to a red card. They should have known better. I have seen some awful tackles dished out by Cardiff players and they have stayed on the pitch. Come on lads, what's sauce for the goose is sauce for the gander.
Did you know? In addition to his late winner, Bamba made more tackles (three), clearances (three) and blocks (one) than any other Cardiff player against Brighton.
Juan Foyth: I couldn't believe Mauricio Pochettino decided to start the game with this lad after he gave away two penalties against Wolves.
What faith the manager must have had in him and what belief the player must have had in himself. After a shaky start, Foyth was brilliant, showing vision, composure and foresight and he got the winning goal his courage deserved.
Did you know? Juan Foyth is the third Argentine player to score for Spurs in the Premier League, after Erik Lamela and Mauricio Taricco.
Andrew Robertson: This lad has come a long way since his days of playing in front of a few hundred people at Queen's Park.
Robertson has come through the ranks the hard way, also playing for Dundee United and Hull City before joining Liverpool and making a name for himself. I'm not entirely sure his left foot is as good as 1970s Liverpool legend Alec Lindsay's but the cross he provided for Xherdan Shaqiri to score looked pretty special.
Did you know? Robertson made more successful passes in the opposition's half (42) and attempted more crosses (eight) than any other player in Liverpool's win over Fulham.
Midfielders - Fernandinho (Man City), David Silva (Man City), Felipe Anderson (West Ham)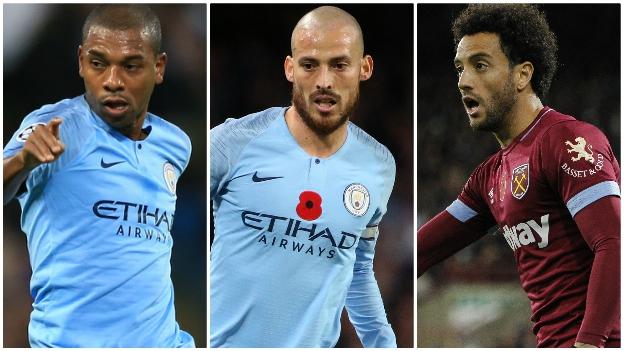 Fernandinho: Regular readers of my Team of the Week will know how I adore Fernandinho. There cannot be a manager in the Premier League who would not want him in his side.
There was a priceless moment in the Manchester derby where Fernandinho grabbed Riyad Mahrez by the scruff of the neck (in a Dave Mackay-Billy Bremner fashion) because he was forced to run past Mahrez in order to make a tackle when United appeared to be getting back into the game. Mahrez was substituted shortly afterwards, probably for his own safety.
Did you know? Against Manchester United, Fernandinho had more touches (103) than any other player, and won more duels (seven) than any of his team-mates.
David Silva: He doesn't score many goals but when he does they are either immensely important or spectacular. Silva's goal in the Manchester derby was certainly important.
The little Spaniard was superb in the first half and even better in the second. What a time to take Manchester City two points clear at the top of the Premier League table just before the international break.
Did you know? David Silva has scored in three consecutive home games in all competitions for Manchester City for the first time.
Felipe Anderson: It became very clear to me in the early exchanges against Huddersfield that the Brazilian had developed a taste for scoring goals after his double against Burnley last weekend and so it proved against the Terriers. Anderson spent the entire game looking for goals and could have had a hat-trick. The one he settled for wasn't bad either.
Did you know? Felipe Anderson has scored three goals in his past two Premier League games for West Ham, as many as he managed in his previous 24 appearances in the big five European leagues.
Forwards - Mohamed Salah (Liverpool), Salomon Rondon (Newcastle), Raheem Sterling (Man City)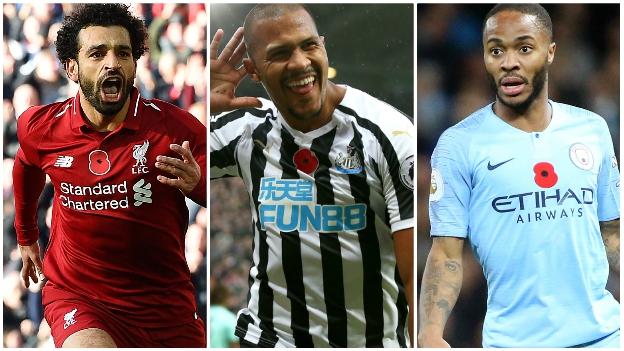 Mohamed Salah: This wasn't Liverpool at their exhilarating best but if you want to see a team transition from defence to attack seamlessly then there is no-one better. What makes matters worse for the opposition is they have Mohamed Salah, who is as fast as a hare, to put the finishing touches to the move.
Fulham were right to feel aggrieved about their disallowed goal for a dubious offside decision. Sadly for Fulham the ball from the subsequent free-kick ended up in the back of their net.
Life just isn't fair sometimes.
Did you know? Mohamed Salah has scored against 19 of the 21 Premier League opponents he's faced with Liverpool, failing only against Manchester United and Swansea.
Salomon Rondon: I saw a lot of Salomon Rondon at West Brom and I came to the conclusion that here was a willing runner who was a little goal shy. Well, against Bournemouth the Newcastle striker put that notion to bed with two well-taken goals.
His second was especially impressive, although he should have had a hat-trick. I also noticed that the Venezuela international is sporting a new figure. A much leaner and meaner Rondon.
Rafael Benitez appears to have got hold of the striker and put him through a serious fitness programme. It looks like it's working.
Did you know? Against Bournemouth, Rondon scored more than once in a Premier League game for just the second time in his career (also three versus Swansea in December 2016).
Raheem Sterling: Last week I implored Raheem Sterling to sign the extension offer on his contract, not for the money but because it was the best move for his long-term career. Sterling has now settled that issue and signed.
His performance against Manchester United epitomised a player who is destined to win trophies and be the best. This Manchester City team is a bit special but to prove it they must win the Champions League and Sterling suddenly becomes world class.
Did you know? Sterling has won more fouls (20) than any other Manchester City player in the Premier League this season - no other City player was fouled more than the forward against Manchester United.
Now it's your turn
You've seen my picks this week. But who would you go for?
Pick your XI from our list and share with your friends.
Pick your Team of the Week
Pick your XI from our list and share with your friends.
The Crooks of the matter
On Final Score Paul Ince and I were thrown into the debate over Charlie Austin's disallowed goal against Watford. We were both highly entertained by the striker's post-match rant and agreed that the decision to rule the goal offside was badly misjudged. In fact, referee Simon Hooper's nightmare started much earlier when he waved play on despite Ryan Bertrand scything down Nathaniel Chalobah in the penalty area to the utter amazement of Chalobah and his Watford team-mates.
Mark Hughes went one step further by stating that Hooper (having admitted the error) did not meet the standard required by the Premier League and there was plenty of evidence on the day to support the argument . However, it was the suggestion by Paul that referees should openly admit when they had made a costly mistake that left me perplexed. Why? We have the irrefutable evidence of the television camera to tell us the truth. You now want to humiliate the referee by insisting he explain his incompetence?
If the game starts forcing referees to clarify their errors, or worse apologise, you immediately make their jobs infinitely more unpalatable and risk discouraging talented referees to do what is fast becoming an almost impossible job. No, the referee's decision is final even when it's wrong. A tradition that was instituted long before Paul Ince or I entered the soccer scene and hopefully it shall remain long after we've left it.