James McClean: Stoke City winger apologises to 'vast majority' of fans
Last updated on .From the section Stoke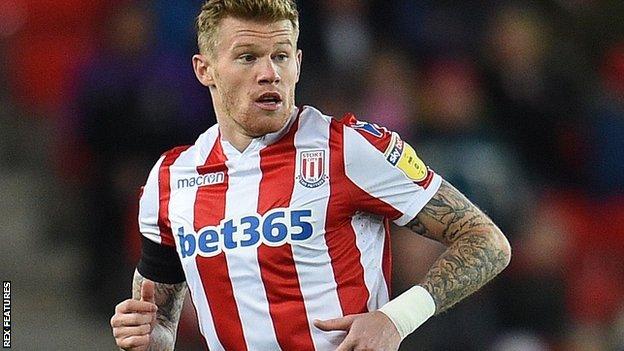 Stoke City winger James McClean has apologised to the "vast majority" of the club's fans after he called some supporters "uneducated cavemen".
But the 29-year-old said he would not be saying sorry to those who abused him over his decision not to wear a poppy.
On Monday, he was warned by the Football Association for using an offensive word in the Instagram post.
Stoke said they had dealt with McClean "under the terms of the club's disciplinary procedure".
"At last Saturday's game, a section of our supporters threatened and abused me because of my religious beliefs and upbringing," the Republic of Ireland international told the Championship club's website.
"I am certain that no fair-minded person would regard that as acceptable but I recognise that as a professional footballer, and therefore a role model, I'm expected to tolerate it.
"Whilst I do not believe it is appropriate for me to apologise to those fans who abused me, I do want to whole-heartedly apologise to the vast majority of Stoke City fans who, although they may have different views to myself, are decent and respectful.
"I sincerely apologise for any offence that I caused them with my comments and posting on Instagram."
McClean is from Derry where British soldiers shot dead 13 civilian protestors during 'Bloody Sunday' in 1972. A 14th person died later in hospital.
Stoke issued a statement before Saturday's goalless Championship draw against Middlesbrough confirming his stance on wearing a poppy had not changed.
Following the game, McClean posted: "Your abuse, your throwing things, your booing, do your worst."
But he also thanked those Stoke fans who "are actually educated and support me".