Raheem Sterling: Manchester City forward signs three-year contract extension
Last updated on .From the section Man City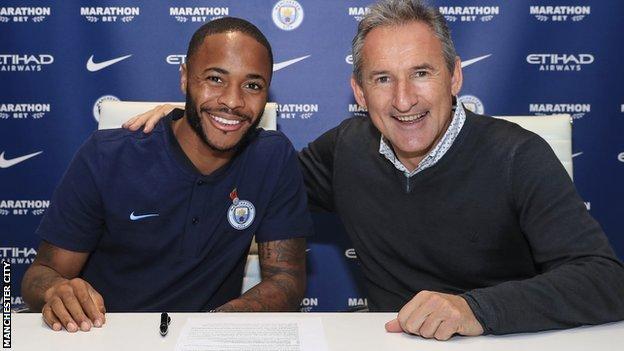 Raheem Sterling has signed a three-year contract extension at Manchester City, committing him to the club until 2023 in a deal worth up to £300,000 a week.
The 23-year-old England forward's previous deal at Etihad Stadium was due to expire at the end of next season.
It is understood the new contract will make Sterling one of the best-paid English players in the Premier League.
"I'm delighted to sign. My development here has been incredible," said Sterling.
"I felt from the minute I got here it was the right choice for me. It's paid off and I'm really grateful."
Sterling, who has scored seven goals for the club this season, joined City from Liverpool in a £49m deal in 2015.
He scored 23 goals last season as the Blues won the Premier League and Carabao Cup.
Capped 46 times by England, he scored twice against Spain last month - his first international goals for three years.
City director of football Txiki Begiristain said: "This is a significant moment for the club. Raheem has improved dramatically in the past two seasons and is now one of the Premier League's best attacking players. His statistics tell their own story.
"He's quick, strong and excellent in front of goal - everything a modern-day forward needs to excel."
The new deal comes in the week that German news magazine Der Spiegel alleged City overvalued sponsorship deals to help meet Uefa's Financial Fair Play (FFP) rules.
City said they will not be commenting on the claims and that the attempt to damage their reputation had been "organised and clear".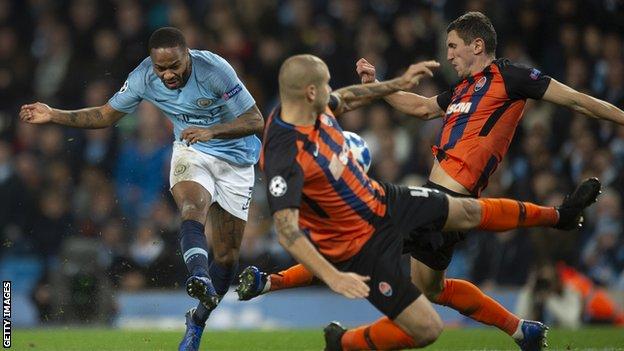 Sterling on scoring, team-mates on the future
In an interview with the club's City TV, Sterling talked about aspects of his game.
Scoring: "With time and watching myself over on clips, I started to realise what I was doing in front of goal. I stopped rushing, took my time and started being more ruthless and not thinking about it too much and do what you do every day on the training pitch."
Team-mates: "It's a club where you are expected to challenge on all fronts, you know you are expected to win stuff. You enjoy that but at the same time it is a bit of pressure. Players like David [Silva] and Sergio [Aguero] have done it year in year out, not just for their club but for their countries."
Life at City: "It's massive, that's one of the reasons I came here - seeing the vision. Playing against City in the past the way they moved the ball then was scary. The vision the club gave me sold me straight away. How we've developed with Pep with and without the ball, it's always nice for attacking players to have as much possession as possible, It's been a real joy."
The future: "There's definitely a lot more (to come), there's stuff I'm still working on, there's never a time where I feel this is where it stops, I always want to get better and get my numbers up, score more goals and get more assists. If I'm producing and other players are producing that will only help the team."