Nations League 2019: How did the group stage finish?
Last updated on .From the section European Football119
England clinched their place at next year's finals in dramatic style, while Scotland were promoted to the second tier. Elsewhere, Northern Ireland joined Germany in being relegated.
With the group stage now over, all 28 group winners, promotion and relegation places have been decided.
England won their group on Sunday after a late turnaround in their winner-takes-all match against Croatia to join Portugal in next year's finals. Switzerland had an even more remarkable turnaround, coming back to beat Belgium 5-2 to take the third final spot.
Virgil van Dijk's 90th-minute equaliser against Germany ensured the Netherlands took the fourth and final place at the finals.
Northern Ireland and the Republic of Ireland both drop into the third tier, while Scotland move up in the other direction. Wales remain in League B after finishing second in their group.
In the bottom tier, Belarus clinched a Euro 2020 play-off place - and Kosovo joined them.
Who is in the finals? Who is going up? And who is going down?
League A
Booked place in June 2019 finals and Euro 2020 play-offs - Portugal, England, Switzerland, Netherlands
Relegated to League B - Germany, Iceland, Poland, Croatia
League B
Promoted to League A, and Euro 2020 play-off spot - Ukraine, Denmark, Bosnia-Herzegovina, Sweden
Relegated to League C - Northern Ireland, Republic of Ireland, Turkey, Slovakia
League C
Promoted to League B, and Euro 2020 play-off spot - Finland, Norway, Scotland, Serbia
Relegated to League D - Lithuania, Slovenia, Estonia, Cyprus
League D
Promoted to League C, and Euro 2020 play-off spot - Georgia, Belarus, Macedonia, Kosovo
England

England were five minutes away from being relegated to League B - but instead finished top after their thrilling win over Croatia.
With 12 minutes remaining, Croatia looked set to win the group as they held a 1-0 lead at Wembley. Jesse Lingard's equaliser put Spain back into top spot in the group but in the 85th minute Harry Kane fired England to the top - and relegated Croatia.
England will be in a group of five, and not six, teams for Euro 2020 qualifying. The Nations League finalists will all be in smaller groups because they will not be free in June for qualifiers.
Wales and Republic of Ireland

Denmark's 2-1 win over Wales on Friday saw them win promotion and relegate the Republic of Ireland.
Wales would have been promoted had they beaten the Danes but finished in second place - which means they will remain in League B.
They could still reach the Euro 2020 play-offs, depending on who qualifies next year.
The Republic of Ireland needed Wales to win to keep their survival hopes alive, but they dropped to League C.
If Nations League group winners qualify for Euro 2020 through next year's qualifiers, their play-off spot goes to the next highest-ranked team in their league who did not.
Northern Ireland

Northern Ireland finished bottom of their group without a point after an injury-time defeat by Austria in their final game.
Michael O'Neill's side had been relegated when Austria drew 0-0 with promoted Bosnia-Herzegovina.
They could still end up in the Euro 2020 play-offs if most of the other teams in League B qualify automatically for the tournament next year.
Scotland

Scotland were promoted to the second tier of the competition - and guaranteed a Euro 2020 play-off spot - after they came from behind to beat Israel in their final match.
If they do not finish in the top two of their qualifying group, there is now a safety net.
Scotland have now secured a one-legged Nations League play-off semi-final against Finland at Hampden in March 2020, with the winners potentially facing either Norway or Serbia in the final.
A ballot or toss of a coin before the League C semis are played will decide who is at home for the final.
Albania avoided relegation because of a quirk in League C's set-up.
That is because Group C1 is the only one in League C with three teams - all the rest have four. While the bottom sides in Groups C2, C3 and C4 are definitely relegated, the fourth relegation spot to League D goes to the worst third-placed team across the four groups (excluding results against fourth-placed teams), rather than automatically to the bottom team in Group C1.
How about the big teams?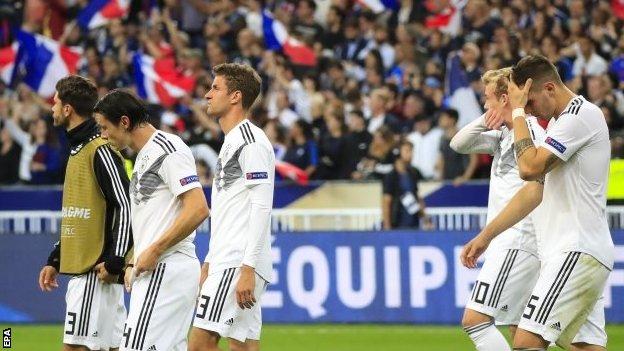 England, Portugal, Switzerland and the Netherlands have qualified for next year's finals, which will be held in Portugal.
Portugal's 0-0 draw in Italy took them through, with Poland relegated to the second tier.
Germany were relegated to League B after picking up only two points from four games - their fate confirmed by the Netherlands' 2-0 win over world champions France.
The Netherlands' draw with Germany in their final match saw them top the group ahead of France.


England's 2-1 win over Croatia relegated the World Cup finalists, while Spain are neither in the finals nor relegated.
Switzerland needed four goals to progress when they trailed 2-0 to Belgium - and they scored five to overtake the Red Devils for top spot and a place in the finals.
Ukraine, Bosnia-Herzegovina, Denmark and Sweden were promoted to the top division.
And what about the bottom division?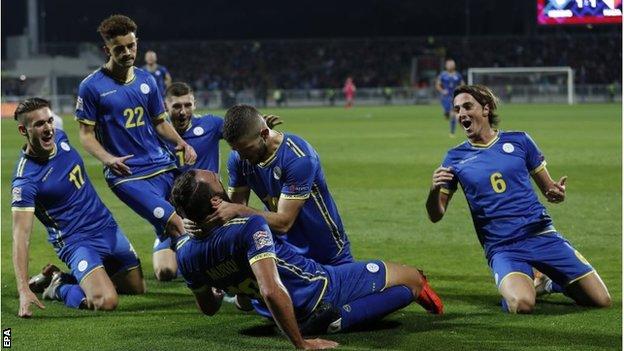 The unique way the Nations League is run means four of Europe's bottom 16 will be in the Euro 2020 play-offs - and one will qualify for the tournament.
Georgia, Belarus, Kosovo and Macedonia are the four teams who will battle it out.
San Marino are the only team in the bottom league not to pick up a point, but relegation is impossible as there is no fifth league for anybody to drop into.
A reminder of how it all works...
This is a very quick recap as there are many dedicated articles available on how the inaugural Nations League works.
The winners of all 16 groups go into the Euro 2020 play-offs, unless they qualify through the regular qualifiers next year, in which case the next best team in their league take a play-off place.
There are four Euro 2020 places up for grabs via the Nations League, with the winner of each tier's play-off taking one of them. For the most part, play-offs are held among teams in the same tier - so giants will face giants, minnows will face minnows etc.
The teams who win the four divisions in League A go into a four-team knockout final tournament in June 2019 to decide the winners of the Nations League.
Countries who win the groups in the lower three tiers all get promoted to the higher division for the 2020-21 event. Teams who finish bottom in each group are relegated (except those in the bottom division - and, as it has turned out, Group C1).
Teams level on points are separated by head-to-head record before goal difference - for a more detailed breakdown, read below
How teams level on points are separated
(Article 15.01 of 2018-19 Uefa Nations League regulations)
a. higher number of points obtained in the group matches played among the teams in question;
b. superior goal difference from the group matches played among the teams in question;
c. higher number of goals scored in the group matches played among the teams in question;
d. higher number of goals scored away from home in the group matches played among the teams in question;
e. if after having applied criteria a) to d), teams still have an equal ranking, criteria a) to d) are reapplied exclusively to the matches between the remaining teams to determine their final rankings. If this procedure does not lead to a decision, criteria f) to l) apply in the order given to the two or more teams still equal;
f. superior goal difference in all group matches;
g. higher number of goals scored in all group matches;
h. higher number of away goals scored in all group matches;
i. higher number of wins in all group matches;
j. higher number of away wins in all group matches;
k. lower disciplinary points total based only on yellow and red cards received in all group matches (red card = 3 points, yellow card = 1 point, expulsion for two yellow cards in one match = 3 points);
l. position in the Uefa national team coefficient rankings