Manchester United: Jose Mourinho says his side need to grow up
Last updated on .From the section Man Utd454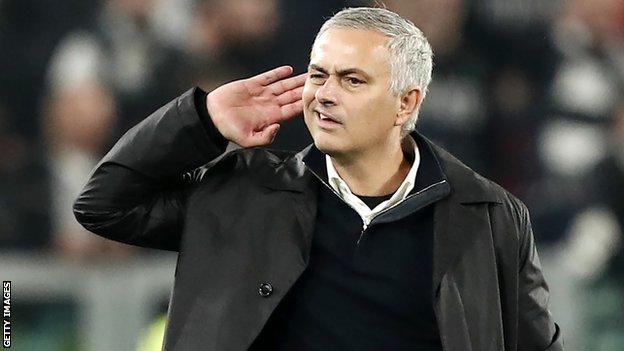 Manchester United will lose more matches if they do not "grow up" and "start well", says boss Jose Mourinho.
United rallied from 1-0 down to beat Juventus 2-1 on Wednesday - the fourth time they have come from behind to avoid defeat this season.
Mourinho's seventh-placed side face Premier League leaders Manchester City at Etihad Stadium on Sunday.
"If we keep conceding goals before the opponent, there will arrive the day where we cannot come back," he said.
United were 2-0 down to Newcastle in their Premier League match on 6 October but won 3-2. Two weeks later they conceded the first goal against Chelsea but fought back to draw 2-2.
Against Bournemouth last weekend, Marcus Rashford's 92nd-minute goal gave them a 2-1 win after conceding in the 11th minute.
In Turin on Wednesday, Cristiano Ronaldo put Juventus ahead but an 85th-minute free-kick from Juan Mata and an Alex Sandro own goal four minutes later saw United complete a famous Champions League comeback.
"We are not a team that gives up," said Mourinho. "We are a team that always finds a way to fight back.
"We have to make sure that we grow up, not just in our approach, because I think it is clear that the team is growing up, but we also have to grow up in our compactness and to start matches well."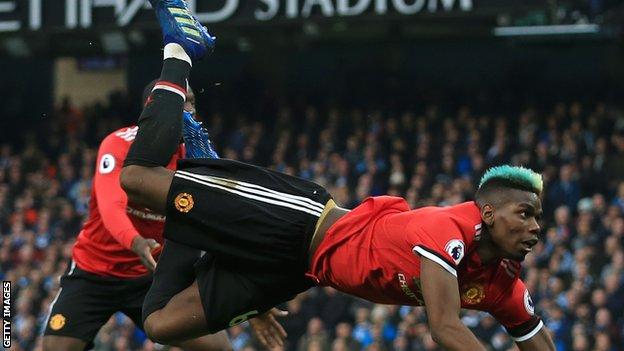 United could be bolstered by the return of Romelu Lukaku for Sunday's derby, with the Belgium striker missing the Bournemouth and Juventus games because of injury.
"Lukaku is training with the team this morning," said Mourinho. "If the answer is positive and we have, of course, one more session tomorrow, but if the answer is positive then he is ready."
United finished second in the league last season - 19 points behind City. This season They are seventh, nine adrift of Pep Guardiola's side.
The last meeting between the sides in April saw United come from 2-0 down at half-time to win 3-2 and delay City clinching the title.
Mourinho was cautious when asked if his side will go toe-to-toe against City's attack-minded team.
"We are going to try. I cannot say that we are going to be successful in our motivations and desires," said the Portuguese.
"But we played two difficult matches away against two very good teams, Chelsea and Juventus, and we managed to get good results.
"Even if the good results were not in our pockets, the performances were there. The positive attitude was there, so we are going to try.
"I don't think it [the Manchester derby] is special because of what happened last season. It's special because it is a Manchester derby and it means what it means."
'We are both good guys' - Guardiola
Mourinho and Guardiola worked together at Barcelona, as backroom staff and player respectively, but their relationship has been strained at times since turning to management.
But Guardiola said on Friday there is no problem between them: "We are both good guys, more than you expect. It's much better, believe me."
The build-up to the derby has been overshadowed by German news magazine Der Spiegel alleging City - and PSG - overvalued sponsorship deals to help meet Uefa's Financial Fair Play (FFP) rules.
City said they will not be commenting on the claims and the attempt to damage their reputation is "organised and clear".
Guardiola said: "If they want to undermine us, no problem. We live our lives - we will remember in our hearts for the rest of our lives how we played.
"If we have done something wrong we will be punished. The federation has to decide but I trust what the club tell me."
Guardiola says he knows the Manchester derby is "special".
"I understand how important it is but we played quite well [in April's defeat]. In the end we were champions. If we keep getting three points we'll be champions again."