'Referees worried over coin throwing', says ex-official as police warn over anti-social behaviour

By Phil Goodlad
BBC Scotland
Last updated on .From the section Scottish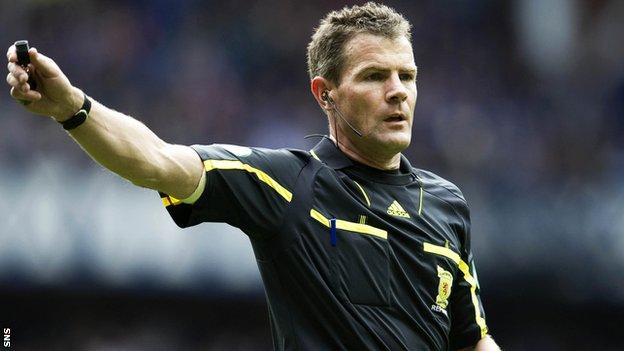 Referees feel "apprehensive" at top-flight games for fear of being struck with a coin thrown from the crowd, says former match official Steven Conroy.
Police Scotland are urging fans who witnesses any act of anti-social behaviour at grounds this weekend to report it.
But Conroy told BBC Scotland that more must be done to protect referees.
"Why should a 51-year-old man feel apprehensive going to his work? It's just not right," said Conroy.
"They certainly feel apprehensive when they're going to games wondering and worrying if they're going to be the next one that gets their head split open with coins.
"During the games themselves you're concentrating so much that it doesn't come into your mind - but it does before and after."
Assistant referee Calum Spence, Hibernian head coach Neil Lennon and Rangers forward Alfredo Morelos have had coins thrown at them in recent weeks.
Greater Glasgow Police divisional commander chief superintendent Brian McInulty told BBC Scotland: "This kind of behaviour is entirely unacceptable.
"We encourage any fans who witness anti-social or threatening behaviour, or someone intending to throw a missile, or indeed throwing one, to report it as soon as possible to a steward, to police in the stadium, or to their club's supporters' association, and it will be investigated.
'Zero tolerance'
"Robust search procedures are in place at football stadia to minimise the risk of prohibited items entering grounds, and officers and staff make use of CCTV as well as having officers deployed around and inside grounds to monitor fan behaviour.
"Fans should make no mistake - if they are observed throwing a missile, they will be arrested. If they are caught with pyrotechnics, they will be arrested. We have zero tolerance for racist or sectarian behaviour and language."
The Scottish Professional Football League, which oversees the Premiership, Championship and Leagues One and Two, said it is "vital that attending SPFL matches continues to be seen as an enjoyable experience that families can attend together in safety".
"We support the efforts of clubs, Police Scotland and other fans to identify and bring offenders to book," the organisation added.
"We will be reviewing whether there is more that we can do to ensure that those who choose to misbehave are identified and punished for their actions."