Premier League: Is it unusual that no manager has been sacked yet?
Last updated on .From the section Premier League229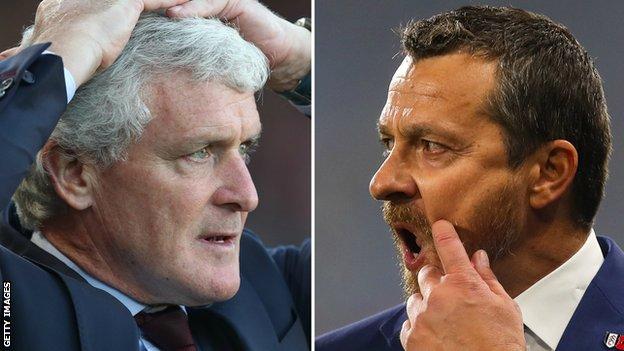 At this stage of last season a quarter of Premier League clubs had sacked their managers.
But fast forward 12 months and not a single top-flight boss has lost his job. Yet.
That is a particularly surprising statistic since the bottom five teams have managed only seven wins between them all season, from a combined total of 60 games.
So, as we enter an international break often referred to as "sacking season", are we witnessing unusual restraint from Premier League clubs' owners?
Bucking the trend
After 12 games of the 2017-18 campaign, Frank de Boer (Crystal Palace), Craig Shakespeare (Leicester), Ronald Koeman (Everton), Slaven Bilic (West Ham) and Tony Pulis (West Brom) had all paid the price for underwhelming starts to the season.
While that might seem like a lot, it was not a record. In three other Premier League seasons there had been six sackings by the end of November.
Factoring in pre-season managerial changes in the summer, four clubs did change their manager for the 2018-19 campaign: Chelsea, West Ham, Everton and Arsenal.
In each of the past three seasons there has been an overall total of 13 changes per campaign, while the lowest tally during the past decade came when just nine changes were made in 2009-10.
We could be on for a lower total this season.
Some bookmakers are even offering odds of 50-1 on there being no Premier League managers sacked this campaign.
But a look at the results suggests that is highly unlikely...
Sides struggling - but managers surviving
At the bottom of the Premier League table, Southampton, Huddersfield and Fulham have each managed just one win.
Fulham, having spent over £100m on new players this summer, are bottom after conceding a league-high 31 goals.
They have managed five points from their 12 games, at an average of 0.42 points per match.
One place in the table above them, Huddersfield have seven points from 12 matches, at an average of 0.58 points per match.
And above them, Cardiff, Southampton and Crystal Palace are averaging 0.66 points per match.
Over the past five years, the lowest points-per-game average returned by a club who just stayed up, finishing fourth from bottom, is 0.94.
It suggests major improvements are required to survive - whether that is inspired by the existing managers or their replacements.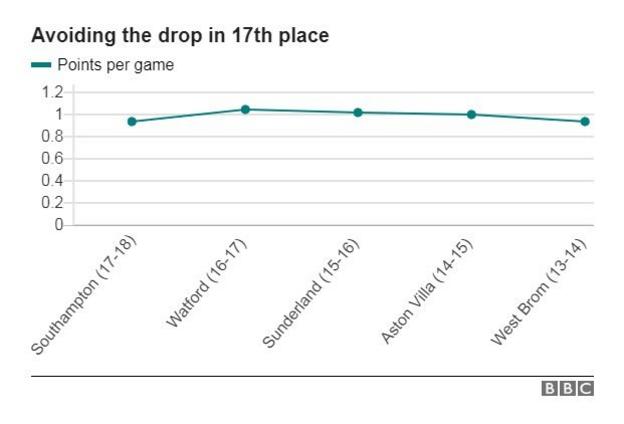 Although, if results continue as they are, the magic 40-point mark for survival can be nearly halved. The struggling sides' current points returns mean 25 points could be enough to stay up.
25!
Should it be time to change?
The October and November international breaks are notoriously popular times for owners to make managerial changes. Enough time has passed for poor results to cause concern, but sufficient time remains to remedy the problems.
And looking back at the past 10 Premier League seasons, in all but one instance where a club sacked a manager (or he resigned after poor performance) during October and November, their average points-per-game return increased over the remainder of the season.
That's 14 sackings/resignations during that two-month period, 13 with an ultimately positive impact.
And interestingly, only one club that has sacked their manager in October or November during the past decade has gone on to finish lower than their position at the time of the dismissal - West Brom last season.
| Manager sacked | Replaced by | Club | Season | Position at time of sacking | Position at end of season |
| --- | --- | --- | --- | --- | --- |
| Juande Ramos | Harry Redknapp | Tottenham | 2008-09 | 20th | 8th |
| Paul Hart | Avram Grant | Portsmouth | 2009-10 | 20th | 20th |
| Steve Bruce | Martin O'Neill | Sunderland | 2011-12 | 16th | 13th |
| Roberto Di Matteo | Rafael Benitez | Chelsea | 2012-13 | 3rd | 3rd |
| Mark Hughes | Harry Redknapp | QPR | 2012-13 | 20th | 20th |
| Ian Holloway | Tony Pulis | Crystal Palace | 2013-14 | 19th | 11th |
| Brendan Rodgers | Jurgen Klopp | Liverpool | 2015-16 | 10th | 8th |
| Dick Advocaat | Sam Allardyce | Sunderland | 2015-16 | 19th | 17th |
| Tim Sherwood | Remi Garde | Aston Villa | 2015-16 | 20th | 20th |
| Francesco Guidolin | Paul Clement | Swansea | 2016-17 | 17th | 15th |
| Craig Shakespeare | Claude Puel | Leicester | 2017-18 | 18th | 9th |
| Ronald Koeman | Sam Allardyce | Everton | 2017-18 | 18th | 8th |
| Slaven Bilic | David Moyes | West Ham | 2017-18 | 18th | 13th |
| Tony Pulis | Alan Pardew | West Brom | 2017-18 | 17th | 20th |
They are statistics that suggest making a change works. Worrying news for the likes of Fulham manager Slavisa Jokanovic and Southampton boss Mark Hughes, the favourites with the bookmakers to be the first to lose their jobs this season.