Man City v Man Utd: What it is like to face Pep Guardiola's side - Darren Fletcher

By Darren Fletcher
Former Manchester United midfielder
Last updated on .From the section Premier League

It is derby day in Manchester on Sunday and Darren Fletcher knows only too well how difficult a trip to Etihad Stadium can be.
The former Manchester United midfielder was thrashed 7-2 there while playing for Stoke last season and, having experienced "one of the most difficult games of my career" that day, is well aware of how not to play against the champions.
He is hardly the only one to have endured a difficult day at the Etihad though - City have only lost twice in 44 home Premier League games under Pep Guardiola, winning 33 of them and scoring 122 goals.
But United are one of the two teams to have won there against Guardiola in the league, thanks to their thrilling 3-2 comeback victory in April, and Fletcher believes there is a way his old side can line up to get another positive result this weekend.
What not to do v City: 'The gaps became huge'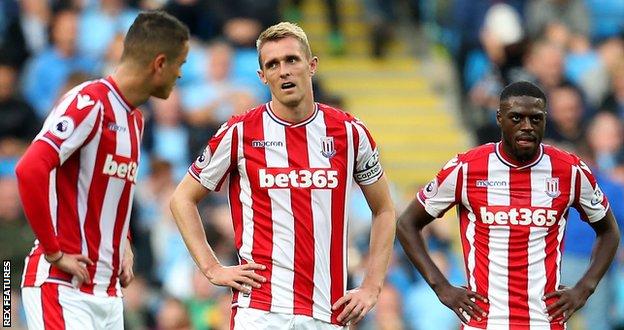 Fletcher on Man City 7-2 Stoke: "We got it wrong that day. We actually tried to press City high up the pitch and the problem was the game became too stretched.
"Not everyone in the team bought into it, and not everyone followed the instructions - and that is when it is dangerous.
"Some of our players pressed, but some didn't and the gaps became huge. It ended up becoming a disaster. There were too many spaces, and also too many players.
"City had all of their players in the midfield area, dropping in between the lines, and we had too many people in areas that could not affect that.
"Stoke had got a point at City the previous season playing the same way but that day we got it wrong and we got punished for it. As a player, to be out there and be part of that, was not a nice place to be.
"It was horrible, actually. Looking back now, it was one of the most difficult games of my career."
What will United do? 'Inbetweeners in a circle press'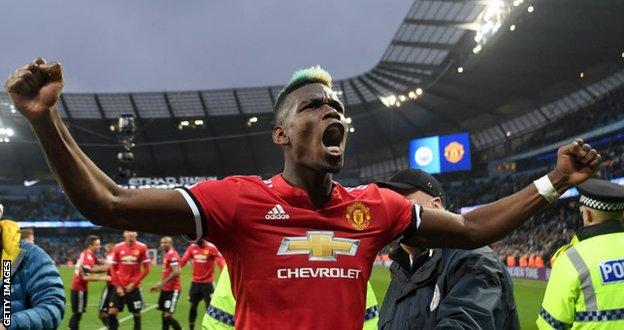 Fletcher: "I am not expecting United boss Jose Mourinho to use a high press like Mark Hughes did with Stoke last season and again with Southampton when City beat them 6-1 on Sunday.
"I think Mourinho will set them up to be very solid, but not to sit as deep as they usually do.
"Instead I think they will use what I call a circle press, or a half-way line press, where you are not too deep but not too far forward either.
"So a lot of your players are maybe 10 yards either side of the centre-circle, which means you are trying to be a little bit brave with your defensive line and you have also got your strikers within a good distance.
"That way, there are no big spaces in the middle of the pitch for City to exploit.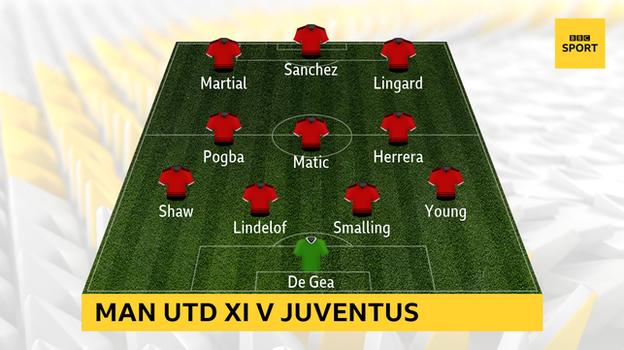 "If United's defence is higher than normal, City can just play balls over the top - so the position of goalkeeper David de Gea is important too.
"His defenders will have to trust him to be in the right places to deal with certain balls so they are not worried about City's forwards getting in behind.
"If it works, United's outfield players will be in a sort of in-between position, where they can be a threat on the counter-attack but also put a bit of pressure on City when they are on the ball.
"That is what they did so well in the second half at the Etihad at the end of last season and fought back from 2-0 down to win 3-2."
Long ball City? 'They like to ping a pass forward'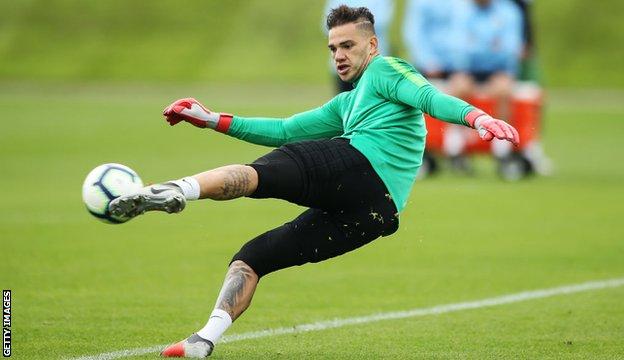 Fletcher: "Whatever your strategy is against City, you have to be careful because they are a very clever team.
"People think they play total football out from the back but their gameplan is actually to get the ball into their front players as quickly as possible.
"And, whatever space there is to exploit out there, they exploit it.
"If you put too many players forward to press, they will play that hard, long and low 'ping' pass forward, which is different to a normal high long ball because it is harder for a defender to get there first. Ederson is a master of it.
"They want their three front players to go one-on-one if they can and, whoever is playing in their attack, they will back themselves to beat their man because they are so fast and skilful.
"Everywhere on the pitch, the balance of when to go hunting for the ball or when to drop deep is so hard to find. If you get it wrong, they will punish you."
City's key man? 'Silva is their Scholesy'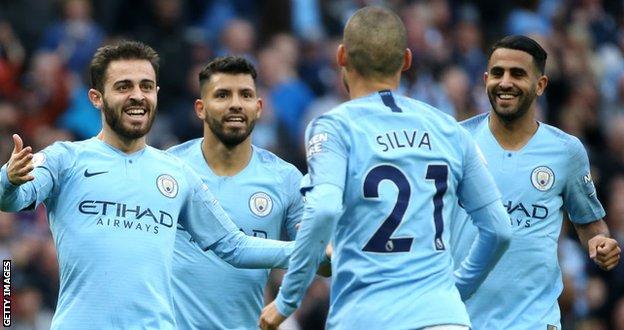 Fletcher: "City have so many fantastic players, but there is one who is more influential than all the others in terms of making them tick - David Silva.
"When you play against them, you can see Silva has got the respect of all the City team.
"I would relate it to how my United team was with Paul Scholes. You would sometimes be in a good position yourself but if 'Scholesy' was there, you would just give him the ball.
"You might think that is crazy for a professional footballer to admit but, when it happens, that is the ultimate respect.
"Everyone did it with Scholesy, not just me. I have seen players like Cristiano Ronaldo and Wayne Rooney do the same if Scholesy was free, and just give it to him.
"It happens naturally when you are out on the pitch, and I see it happen with Silva now.
"Yes, Raheem Sterling is arguably their form player and is so dangerous with his runs, and how he penetrates defences and gets behind them.
"And they have got Sergio Aguero too, who is always such a threat, but Silva is the one for me who is the heartbeat of that team."
How to stop Silva? 'Herrera can be United's hero'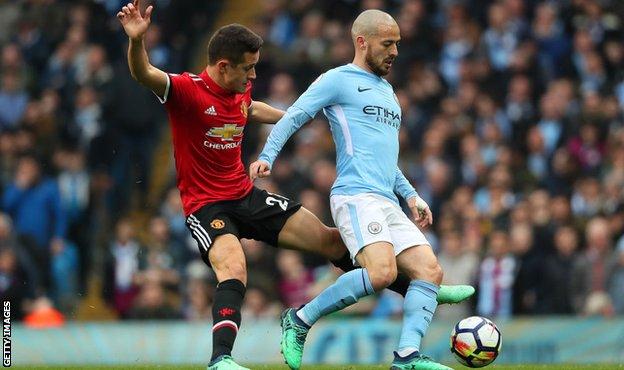 Fletcher: "I quite like man-for-man marking as a way of stopping a key man for the opposition, and it is something I have done myself in my career.
"But I did it against what I would call classic midfielders - players more like Cesc Fabregas, Steven Gerrard or Frank Lampard.
"The problem with doing that against City is that, if you man mark David Silva, he is quite comfortable dragging you all over the pitch, knowing what you are trying to do.
"He will go and stand on the left wing, so you will be playing right back. And then, say, Leroy Sane will come inside and your right-back will be playing in the centre of midfield.
"United have to try to stop Silva somehow, though, and for them to do that, I think Ander Herrera has to play.
"Having been in the United dressing room with him, he is one of those players who remembers everything the manager says, and is constantly reiterating those points to the rest of the team.
"Not every player does that, because some of them are so tied up in the game themselves, but Herrera does not just remember his role, he remembers other people's too.
"He is that influential to the whole team, plus he is aggressive and he can set a tempo for United when they get the ball back.
"I like him and I would have him in the team. He could go up against Silva and make it a difficult game for him, which does not happen very often."