Thierry Henry: How Monaco's fairytale recruit walked into a nightmare
Last updated on .From the section European Football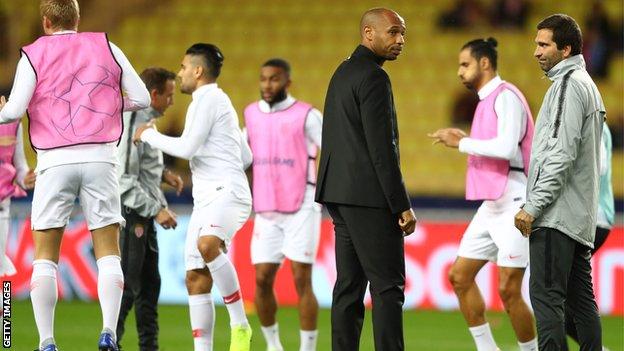 Thierry Henry said it was fate.
It certainly sounded like a fairytale - the 41-year-old was heading back to where he started out as a player, to rescue a club in crisis.
Monaco announced his return on social media by posting an archive picture of their former teenage striker, his trademark grin beaming out beneath a long since discarded fluffy moustache.
A quarter of a century had passed, and the years had been kind to him. A mercurial player, an eloquent pundit, the smart money was on Henry enjoying more success from the dugout.
No-one expected it to be easy, of course. When replacing Leonardo Jardim on 13 October he inherited a team that had won just once in 10 games.
But surely almost nobody would have thought things would turn quite this sour, quite so quickly.
Speaking on BBC Radio 5 live's Football Daily, French journalist Julien Laurens and BBC Sport columnist Guillem Balague discuss the crisis facing former Arsenal striker Henry in his first job in management.
'An absolute nightmare'
"It's just a mess, chaos. I do feel for Thierry because I don't think he realised how bad everything was already," Laurens said.
"And I'm not sure he has the tools to rescue a team that has won just one game all season, back on 11 August.
"I think he could be a good manager but right now, in a situation of crisis, I am struggling to see how he can do better, because the team is destroyed.
"It looked like a fairytale but it's turning in to an absolute nightmare."
Under Henry, Monaco have lost two and drawn three in all competitions. They are second bottom in Ligue 1 and next up are champions Paris St-Germain, who have won 12 from 12.
For PSG, Kylian Mbappe has scored 11 in his eight games and is building an irresistible partnership with the world's most expensive player Neymar.
Meanwhile, on Tuesday, his former club Monaco were beaten 4-0 at home by Club Brugge as they crashed out of the Champions League with their heaviest defeat in the competition. Two years ago Mbappe had fired them to the semi-finals.
"Henry has said maybe it's even better to be out of all European competition so they can focus on the essential, which is staying up," Laurens added.
"Because right now they look like one of the worst teams in the French league. Tactically Henry seems lost, he keeps tweaking the formation and the players, putting more and more young players on the pitch, who are not suited for this situation.
"And if they need new players in January, who would want to go to a club that is second bottom in the table?
"One of the question marks we had was how will he deal with problems with adversity, and right now it looks like he is struggling.
"You wonder if he is still in the mode of being a player and not a manager."
A crisis deepens off the pitch
Speaking after Tuesday's defeat, Henry himself said: "Right now I'm telling myself the worst is possible."
He may well have been right to do so. Defeat by Brugge was a result that left his team without a win in 15 games, defender Kamil Glik's injury had added to an already long list of absent senior players, but still there was worse to come.
Because the crisis at Monaco looks to be running even deeper off the pitch.
On Monday, the club moved to deny allegations they had cheated Financial Fair Play rules, following claims made in Der Spiegel's reporting of leaked documents it says it acquired from whistleblowers.
On Wednesday, the German news magazine also alleged Monaco's owner Dmitry Rybolovlev, a Russian billionaire, personally profited 124m euros (£108m) from the 180m euro (£156m) sale of Mbappe to PSG - which the club also denied.
Later that day, Rybolovlev was placed under investigation by Monaco police on separate allegations, relating to a major fraud case.
"You need different types of coaches in these situations," Balague said.
"Someone who perhaps has lived through a crisis at a different club and knows how to hold on to what is important here.
"But also a really important point is that the board should be helping too. The first thing they have to do is change the targets for Henry, change the expectations for the season ahead.
"Someone should come out and say: 'OK let's just try to save the season, and then let's rebuild'.
"If they do go down this season, and let's not forget they were relegated as recently as 2011, it will be very hard for Henry to overcome that damage to his reputation as a winner."