Marko Arnautovic: West Ham striker on London knife crime & avoiding 'easy' path to trouble
Last updated on .From the section West Ham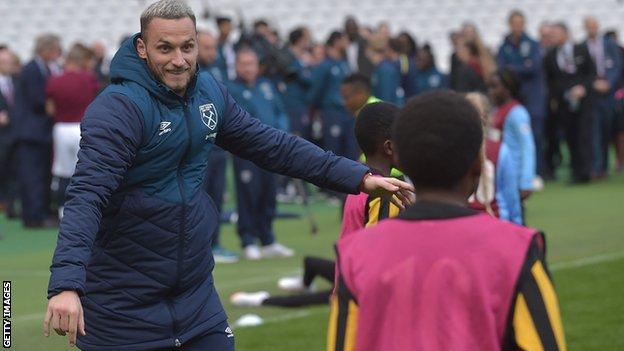 West Ham striker Marko Arnautovic says memories of childhood friends being sent to prison are behind his attempt to guide young people away from knife crime.
London Mayor Sadiq Khan claims it will take 10 years to solve knife crime in the city - with five people, including three teenagers, being killed in the space of a week.
The Austria forward says he could have followed an "easy" path into trouble during his childhood in a tough area of Vienna.
Now the "kid who was not listening a lot" wants his voice to be heard - through West Ham's new 'Players' Project', in which the club will invest £10m over three years and every squad member is given a specific community project to work on.
Hammers vice-chairman Karren Brady has pledged to provide tangible evidence of the positive impact the club has had in 12 months' time.
"I had a lot of friends who were also football players," Arnautovic told BBC Sport. "Some of them ended up in prison. I think - of my group of friends - I am the only one who is a professional footballer.
"They are out now. They have jobs and families. But they didn't do good things.
"Some guys, when they don't see talent in themselves, they take this way because it is easy. But you get hard punishment. You are playing with your life."
He added: "It can happen to anyone.
"Social media has changed a lot of things. People look at what is on Instagram and say they want money, they want this, they want that. Then they start selling drugs. It shouldn't be like this."
The Office of National Statistics has said knife crime across England and Wales rose by 22% in 2017.
Arnautovic acknowledges the challenge of tackling those statistics, but says "everyone is trying to change this [knife crime] around".
"When I was young, if you had some problems you dealt with it with your hands. No-one had a knife," said Arnautovic, who has two young daughters.
"Now it has changed. There are a lot of mafia movies that show you are a tough guy when you put something in your pocket. But it is very dangerous.
"I urge kids to stay away from that, stay with your friends who are close to you.
"If one of those friends tries to change, talk to him. If he still tries to change, go away from him. It is not the right thing to go through the bad way."