Neil Warnock: Cardiff boss expects lowest Premier League points total for survival
By Michael Pearlman
BBC Sport Wales
Last updated on .From the section Cardiff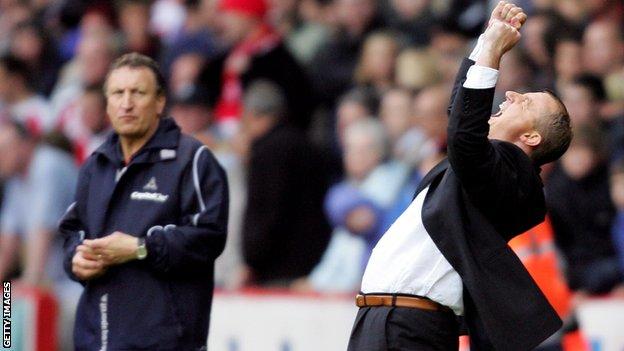 Cardiff City boss Neil Warnock believes a record low points total could be enough for Premier League survival.
The lowest number of points to survive to date was 31 in 2010 when 18th-placed Burnley went down with 30 points.
Warnock's Sheffield United went down with 38 points in 2007, while his Bluebirds side currently have just five points from 11 games, yet they are just one point from safety.
"I think the low points will continue until the end of the season," he said.
"With Sheffield United we went down with 38 points, let me tell you, I would take that now," he continued.
"It does look like the total to survive is going to be low this year doesn't it?
"Brighton are 12th but they will still be looking over their shoulder. They won't be looking up, they'll be looking down at the bottom three.
"This is the first season like this I think, and we could benefit from that more than anyone. Because we are hanging in there."
Warnock believes the low points totals could end up meaning a host of clubs are involved in a relegation battle, with just three points separating Crystal Palace in 14th and bottom-placed Fulham.
"You can't really predict, but it does seem the bigger teams are pulling away. There aren't many shocks anymore are there?" he told BBC Sport Wales.
"There is a wider margin, but I think any club in the bottom half really (could go down). Any club can quite easily hit a bad run. It's wide open down there.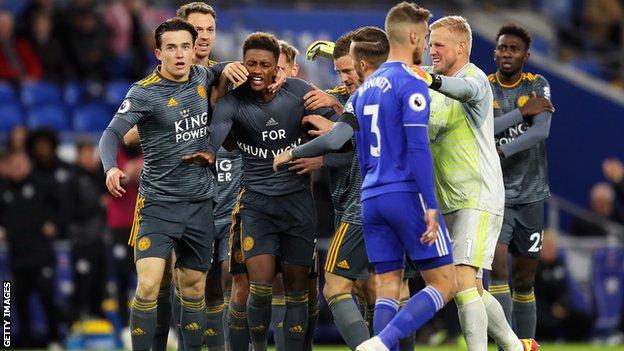 "I do think there are six teams involved in the relegation battle at the moment and we are probably favourites to finish bottom.
"I think we've just got to take it on board and try and give it our best shot, but if I am honest, I think there will be a lot more nerves in other dressing rooms, clubs with bigger expectations than us.
"We are quite capable of picking up points. Apart from the top five teams, every game is winnable, home and away."
Cardiff entertain Chris Hughton's Brighton on Saturday after a difficult game against Leicester last weekend.
Leicester City beat Cardiff 1-0 on an emotional day as the Foxes returned to action for the first time since the death of their owner Vichai Srivaddhanaprabha and four other people in a helicopter crash.
Warnock says he is glad to put the emotionally draining day behind him.
"It was a strange and difficult week for everybody really. To come away with nothing was a huge disappointment if I am honest," he said.
"But there has been no lull in the mood. The team spirit is great and that's the best chance we've got of surviving, to be honest."