Paris St-Germain: Racial profiling claims investigated by French champions
Last updated on .From the section European Football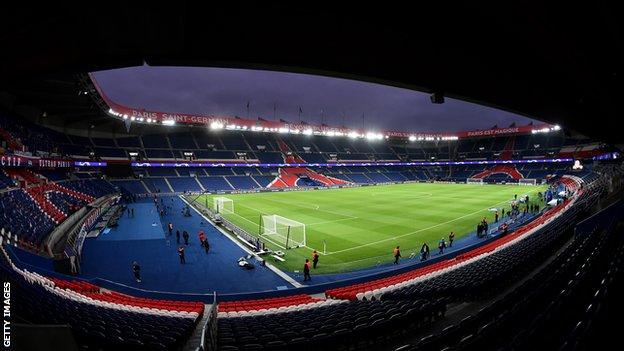 Paris St-Germain are investigating allegations the club racially profiled young players in order to limit their number of black academy players.
French website Mediapart made the claims and published leaked documents.
PSG have said that between 2013 and 2018, their scouting department filled out evaluation forms on some young players, including stating ethnicity.
They are investigating "to understand how such practices could exist and decide what measures must be taken".
PSG general manager Jean Claude Blanc told BBC Radio 5 live he was "shocked" and "felt betrayed".
Social profiling such as that reported by Mediapart is illegal in France.
Paris St-Germain said in a statement the forms were established "purely on the personal initiative of the person in charge of this department".
They added that recruitment is decided only on "skills and behaviour" and that the forms went against PSG's "spirit and values".
According to the documents, obtained from the Football Leaks platform, PSG's former chief scout Marc Westerloppe told colleagues there was a "problem with the direction of the club".
He reportedly added: "There are too many West Indians and Africans in Paris."
Scouts for the Ligue 1 champions were allegedly asked, for every player observed, to choose one of four options on an electronic drop-down menu of French, North African, black African or West Indian.
Mediapart claim an internal investigation was started in 2014 when a scout listed teenage midfielder Yann Gboho, who is a French youth international born in the Ivory Coast, as "West Indian".
They say the scout, Serge Fournier, claimed it was because PSG "didn't want us to recruit players born in Africa, because you are never sure of their date of birth".
He reportedly added: "Instead of French, it should have said white, especially as all the players we recommended were French."
Gboho, 17, now plays for Rennes, where Westerloppe has a youth development role and former PSG sports director Olivier Letang is president.
The latest claims come eight years after Mediapart exposed a 2011 discussion on race quotas in France's youth squads.
Mediapart claimed top officials in French football believed there were "too many blacks and too many Arabs and not enough whites".
PSG are also being investigated following allegations they tried to cheat Financial Fair Play rules.
They were initially cleared of breaking FFP rules in June, but European football's governing body Uefa reopened the case in September.
PSG have filed an appeal to the Court of Arbitration for Sport.