Colin Hendry: Premier League winner plays for Blackburn pub team Moorgate FC
Last updated on .From the section Football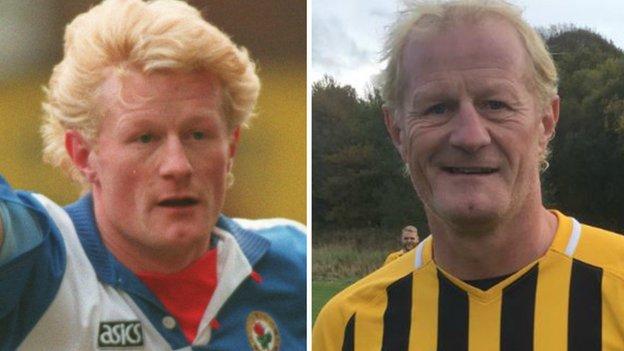 He won the Premier League with Blackburn Rovers, captained Scotland at the World Cup - and now Colin Hendry can add an appearance for pub side Moorgate FC to his football CV.
The 52-year-old turned out for the team in the Blackburn Sunday League first division at the weekend, in the town where he won the Premier League title in 1995.
"I had always wanted to sign a top player for the team," Moorgate FC manager Darryl Hartley told BBC Sport. "He's got a Premier League medal and played against my favourite player - the original Ronaldo - in 1998.
"He [Hendry] is a hero of mine. I watched him at Ewood Park and had his name on the back of my shirt."
The 33-year-old postman had asked Hendry to play via Twitter and the former Manchester City, Rangers and Bolton defender was happy to oblige.
"He was the first at the ground on Sunday," said Hartley. "I sat in the changing rooms with Colin waiting for the other lads and when they turned up he told them: 'You're late'. I don't think the other lads expected him to play."
Hendry, who won a Scottish treble with Rangers, played the full 90 minutes on Sunday in a 3-2 win against Wellington FC, less than 48 hours after playing in a charity game in Blackpool.
"He played in central defence and got stuck in," said Hartley. "The young lads in the league are rapid, but he had no problem dealing with them.
"We were drawing 1-1 at half-time and he gave the team talk, telling everyone what to do. One of the opposition came up to him and said: 'You've made my dreams come true'."
Hendry celebrated victory with the team back at the Moorgate pub, close to Ewood Park, and Hartley says he promised to play with them again.