Mousa Dembele: Tottenham midfielder 'unlikely' to play again in 2018
Last updated on .From the section Tottenham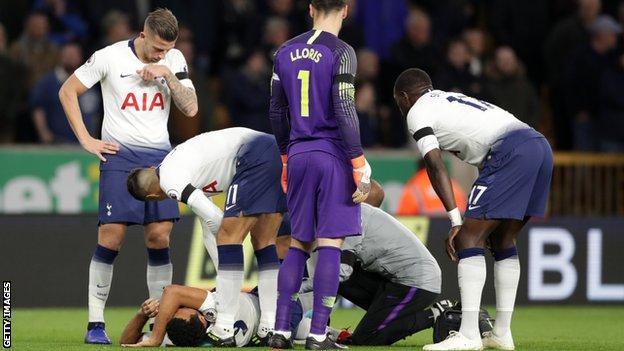 Tottenham Hotspur have said "it is unlikely" midfielder Mousa Dembele will play again in 2018 after suffering ankle ligament damage.
The 31-year-old injured his right ankle during Saturday's 3-2 win at Wolves.
Spurs boss Mauricio Pochettino said: "We hope he will be ready from the beginning of January."
Tottenham visit Crystal Palace on Saturday without injured defender Jan Vertonghen (hamstring) and left-back Danny Rose (groin).
Pochettino, who has been at Spurs since 2014 - has been heavily linked with European champions Real Madrid.
The La Liga giants sacked Julen Lopetegui last month after a 5-1 defeat by Barcelona, with Santiago Solari currently in interim charge.
"I am so focused at Tottenham," the 46-year-old said. "A rumour appears every day.
"The most important is that I am focused on Tottenham.
"Our fans need to know that and, of course, Daniel Levy.
"I am focused on Tottenham. Working hard to achieve what we want. Rumour is a rumour and always happens."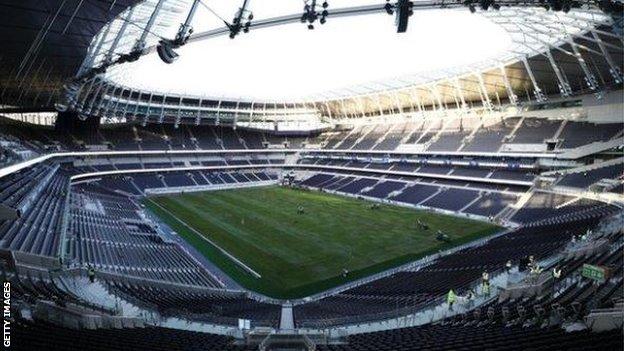 Tottenham have used Wembley as their home since the start of the 2017-18 season, with Pochettino urging fans to be "grateful".
"We need to be grateful for Wembley, because without Wembley now, we play where?" he said.
"Of course, we cannot blame Wembley and I think we need to be grateful because we can compete in London, close to White Hart Lane, close to our training ground and that is a massive advantage for us.
"Of course, after that you feel disappointed because it's not your home, it's not your house.
"But I think the legacy of [chairman] Daniel [Levy] and the board and what the club is doing for the club for the rest of our lives and for the next generation of Tottenham fans, it's massive.
"That's why we need to have patience because if we wait maybe a few weeks more, or months, to finish the stadium."
Spurs' new stadium, on the site of their old White Hart Lane ground, is now not set to open until at least January 2019.
"I think for our fans, they need to start to create in their minds and think that one day more in Wembley is one day less to being in our new stadium," Pochettino added.
"If we're capable of arriving and starting to play in our new stadium in a very good position, being involved in all competitions, I think our fans in our new stadium are going to be key and decisive maybe to try to win something."