Neil Warnock: Cardiff City probably last job as manager
By Rob Phillips
BBC Wales football correspondent
Last updated on .From the section Cardiff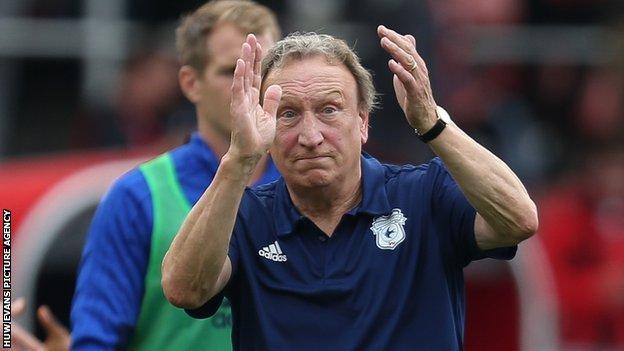 Neil Warnock believes his job at Cardiff City will be his last as a football manager.
The 69-year-old completes a century of games in charge of Cardiff at home against Brighton on Saturday.
Warnock, contracted to the end of next season, said: "I look at the club as a farewell club. I don't think I'll be leaving the club and going to another."
Only Crystal Palace boss Roy Hodgson, 71, is older than Warnock in the top four divisions of English football.
The Yorkshireman is enjoying his 51st season in football in his 17th managerial job in his 39th season as a boss.
He is currently on a stringent fitness regime to ensure he is able to cope with the rigours of management and admits his health - and that of his wife Sharon - will influence how long he continues.
"When you get to my age you can't really look beyond the next few months or weeks, whatever job you are in, not just football," said Warnock.
"Life changes so quickly, you can't really plan ahead. You can hope to plan ahead.
"I would love to keep Cardiff up and stabilise the club next year and keep them up again. Health is so important."
Warnock admitted recent events, including the Leicester City helicopter tragedy which took the life of Foxes chairman Vichai Srivaddhanaprabha and the heart attack suffered by former England manager Glenn Hoddle had prompted him to re-evaluate his priorities.
Asked whether he could be in charge for another 100 games, Warnock said: "I think that might be a little bit difficult. We will see how things go this season.
"Whether my wife will put up with me like that I don't know.
"You have seen things not just at Leicester, but Glenn Hoddle who I think is a fantastic guy. It just brings it home to you really. Its on a thread isn't it really, life?"
Cardiff are 19th in the table and Warnock believes it would be his greatest achievement if he completes the "miracle" of keeping the club in top flight.
He said: "Its been one of the happiest times of my life really. And having thought about retiring two or three times I am really glad I didn't. Because I do feel better for doing what I have done here and I don't think my job is finished yet."