Meet the football player who has the same name as his team
Last updated on .From the section Football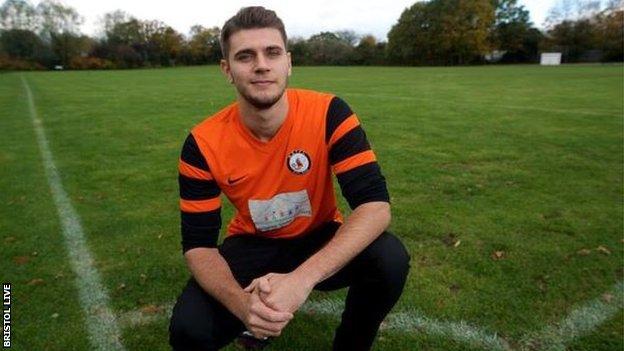 It's not every day you come across a football player who has the same name as the team he plays for.
Meet Bradley Stokes, who plays for 14th-tier side Bradley Stoke Town FC in the Bristol and District League.
Fear not - you are seeing double, but for all the right reasons.
"It's a coincidence I live there, but it isn't a coincidence I play there," the 23-year-old centre-back told BBC Sport.
After graduating with a degree in Business and Marketing from the University of the West of England, Stokes decided to get back involved with football.
"I knew there was an area called Bradley Stoke, so I searched for it online to see if they had a football team because I thought that would be cool," Stokes said.
As if by magic, he came across Bradley Stoke Town FC - just 10 minutes away from where he lives in Bristol.
In September, Stokes, who grew up in Launceston, Cornwall, called the club and arranged to watch the reserve team.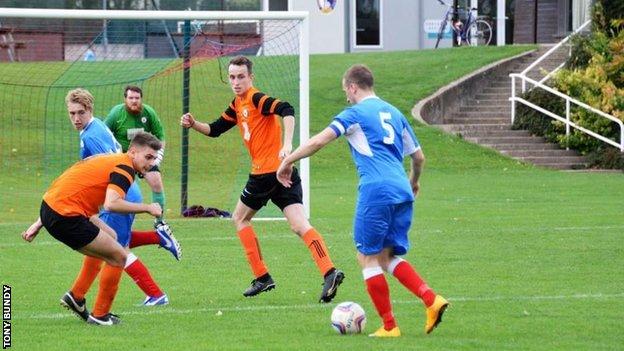 But the new signing was met with initial scepticism from staff and team-mates.
"I told the club secretary my name, and he asked me for ID before I filled in the signing on forms because he thought I was winding him up," Stokes told BBC Sport.
Fast forward two months and Liverpool fan Stokes now plays for the first team.
"I've played football since I was five. I used to play all the time, but then I went to university and I stopped," he said.
"It's my life, so I knew I needed to get back into it.
"I was introduced to my new team-mates in the changing room, and most of them just started laughing at me to be honest, they couldn't believe it. I suppose it is a bit weird.
"I did get a bit of stick for it, but they have been so welcoming. I have made some really good mates through it."
Manager Jon Welsh admitted he also thought Stokes' initial enquiry to sign up was a joke.
"We put out posts on Facebook to attract new players.
"Brad got in touch and said he would like to play. When he told me his name, I thought 'Yeah, get on with it'.
"But he eventually turned up and proved he was who he said he was.
"When I send the scorers' names into the league or do the team sheet, I always expect someone to say something, but no one has questioned it so far.
"He's a very funny lad and has a really good sense of humour, so I think he just intuitively searched his name and then we came up.
"He has settled in very well on and off the field."
Stokes has got off to a blistering start at his new club, scoring five goals from set pieces with the team currently sitting in fourth.
"I guess I am just in the right place at the right time," he added.