Serie A: Juventus official open to league matches being played outside Italy
Last updated on .From the section European Football22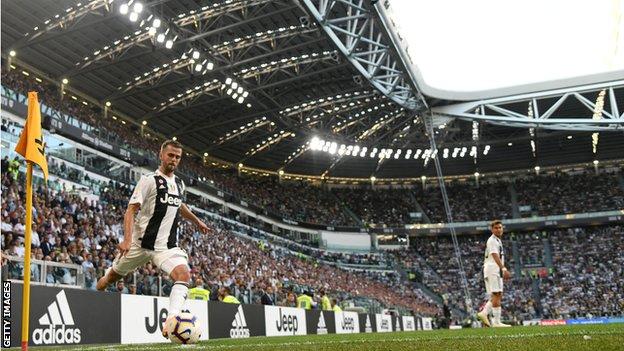 Playing a regular season game abroad would be a "good option" for Serie A, according to Juventus' chief revenue officer Giorgio Ricci.
Juventus were 10th in the 2018 Deloitte Money List but the league itself has fallen behind the Premier League commercially.
The Premier League's overseas TV deal is worth around £770m more per year than Serie A.
"To get the league more global is really important," Ricci said.
"Exporting one of the 38 games is a good option," he told BBC Sport.
Juventus, who beat AC Milan 2-0 on Sunday in one of the showpiece matches of the Italian calendar, will face the same opponent in the Italian Super Cup in Riyadh, Saudi Arabia, on 16 January.
The Italian Super Cup was first played outside Italy in 1993 and has been staged abroad on nine occasions since then.
Exporting a game that is 'not an exhibition'
Barcelona are due to play Girona in a Spanish league game in Miami on 26 January in the first regular-season European club game to be played in the US, although it may not happen as world governing body Fifa, the Spanish FA and the Spanish players' union are all opposed to the idea.
Ricci says Serie A must attempt to keep up with Europe's most commercially successful leagues and understands the thinking behind an overseas game, although he accepts there is a delicate balance to be struck.
He said: "If we look at some other more developed leagues in terms of commercial strategy; the NBA and NFL, they are exporting one or two of their matches abroad, to the UK or elsewhere in Europe.
"I think it is a good strategy. It is a way to export something that is not an exhibition.
"The key is finding the right balance between what the commercial need is and not losing the domestic DNA, which is the essence of football."
The Ronaldo project
In the 2018 Deloitte money list, Juventus' revenue was £232.6m below the total of Manchester United, who were in first place. Their commercial revenue was £181.2m less.
Ricci says it is essential for Juventus to maintain their place among the richest 10 clubs as he says their combined annual income growth rate is 12%, compared to four per cent across the sports and entertainment industry as a whole.
This was a major factor behind Juventus' willingness to pay Real Madrid a club-record £99.2m for Cristiano Ronaldo and give him a four-year contract that expires when the five-time world footballer of the year is 37.
Ricci said: "The whole Ronaldo operation represented the very first activity which shared from the very first stage of the operation, the sports needs and the business needs of the club.
"It is unique in football because it combined a development plan and a return on the plan, both on and off the pitch."