Jose Mourinho: Did Manchester United manager's celebrations go too far or show passion?
Last updated on .From the section Football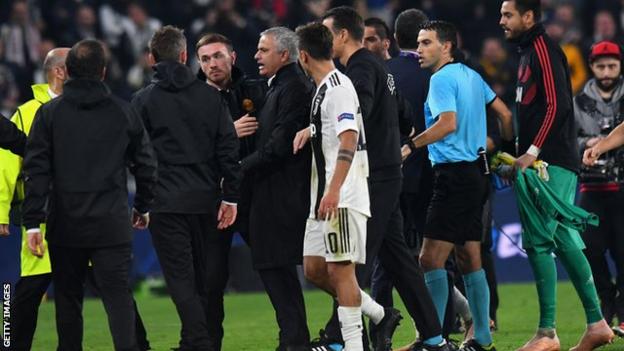 An uncalled for celebration or simply a show of passion?
Juventus centre-back Leonardo Bonucci approached to Mourinho to complain after the full-time whistle, while striker Paulo Dybala also questioned him.
The United boss was then hustled down the tunnel by officials and his coaching staff.
Mourinho said afterwards he has "respect for Juventus" and was reacting to "insults" from the home fans.
"In a beautiful Italian city, they insulted me for 90 minutes," Mourinho, who managed Juventus' rivals Inter Milan between 2008 and 2010, told BT Sport. "I didn't insult them. I just made a little thing.
"I know the millions of Inter fans are happy with that. But I respect Juventus, their players, the manager, the quality they have."
Juventus coach Massimiliano Allegri was not too fazed by it and said "everyone has their own personal reactions".
"I can't say whether he's right or wrong," he added.
'You need to win with a bit of class'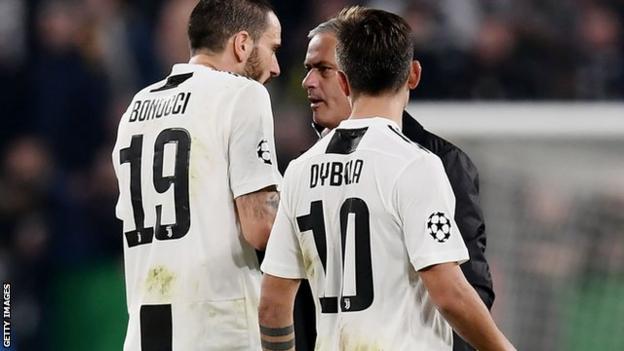 There were mixed reactions from pundits on BBC Radio 5 live and BT Sport.
Former Manchester United midfielder Paul Scholes said Mourinho could have shown "a bit of class", while ex-United striker Dion Dublin said all the attention "turned to Mr Mourinho".
Scholes speaking on BT Sport: "This is everywhere he goes. You need to win with a bit of class sometimes, shake the manager's hand. I don't think there's any need for it but that's the way he is."
Dublin on Radio 5 live: "There was no real need for Jose Mourinho to get involved there. The players were all congratulating each other and some were going over to congratulate Cristiano Ronaldo.
"Then all of the attention turns to Mr Mourinho, he has his right hand to his right ear as if to say to all the Juve fans, 'What have you got to say about that?'"
The Portuguese did get some support from Owen Hargreaves though. The former Manchester United midfielder said it was a "big week" for the club and the celebration was understandable.
Hargreaves on BT Sport: "It's not necessary but it's a remarkable result and it's a big week for United and Mourinho."
Other examples of Jose's celebrations causing controversy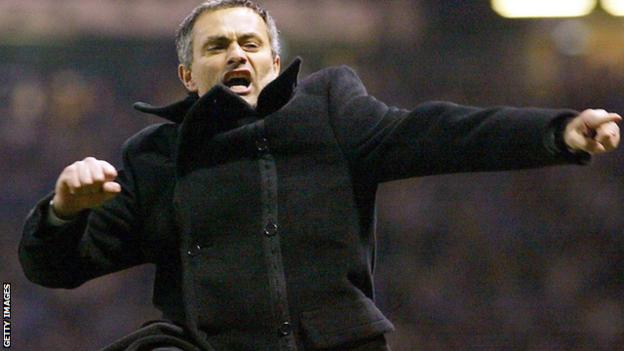 It's not the first time Mourinho's celebrations have caused controversy.
He clashed with the Juventus fans in the reverse fixture at Old Trafford last month when he held three fingers up, in reference to the treble he won while manager of Inter Milan in 2010.
He also famously raced down the touchline when his Porto side knocked United out of the Champions League back in 2004, sliding on his knees.
Mourinho was given a five-match European ban for his conduct after Real Madrid's Champions League semi-final first-leg against Barcelona in 2011 too.
And recently, Mourinho was on the receiving end of some passionate celebrating as Chelsea assistant coach Marco Ianni was fined £6,000 by the FA for his taunts in front of the United manager at the end of their 2-2 draw.
How you reacted on social media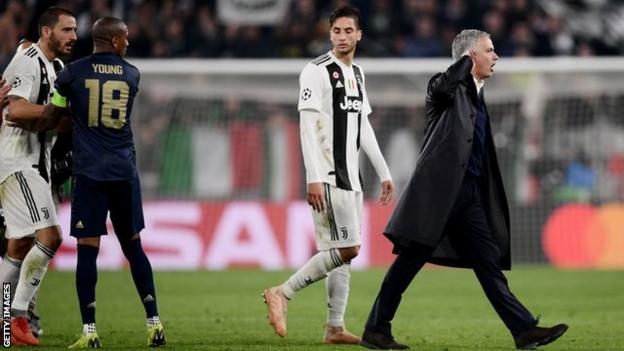 Annette: Once again Mourinho proving he's got no class at the end of the game why does he have to do that!
Harrish Lakka: Mou taking on the supporters reminds me of Hitchens taking on the audience. Something mischievous yet audacious.
Kashyap Savalia: Personally I don't think that was lack of class from Mourinho to celebrate like that. Players do celebrate like that all the time. Also, do you think Juve fans were chanting nice things about him given his Inter connection?! No chance!
Chris AFC: Lucky victory and then Jose Mourinho goads the home crowd with a ridiculous celebration. There is a reason I rarely/never feel sorry for their demise.
Official Mato: Jose Mourinho's celebration is just priceless.
Jim Camina-Carry: Jose Mourinho is savage. That celebration reminds me so much of Juv vs Inter in his early years in Serie A.