Tony Chapron: The French referee who saw the red mist, on that kick
Last updated on .From the section European Football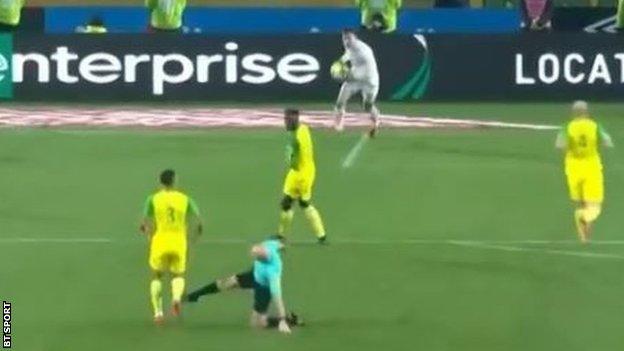 A tumble to the turf, a rush of blood, a lashing out, and a long career unravels in an instant.
Tony Chapron speaks calmly now, as he looks back on the "nightmare" moment that essentially cost him his job as a referee in the French top flight. But he still has regrets.
It all happened back in January, during a Ligue 1 fixture between Nantes and Paris St-Germain.
Kylian Mbappe was breaking clear and everyone was racing back behind him, including Chapron.
He and Nantes player Diego Carlos collided. Chapron was inadvertently knocked over.
Staggering to his feet, Chapron swung a boot at the defender.
Then he sent the defender off.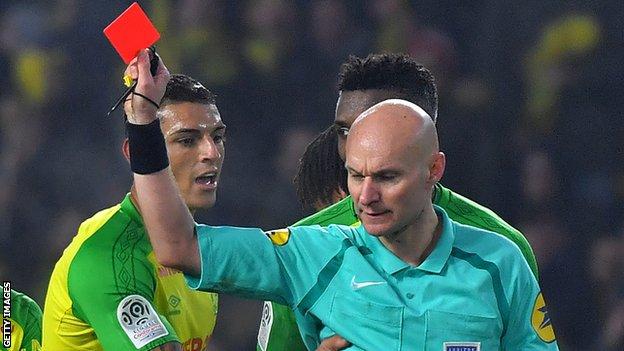 Most likely you will have seen the clip - Chapron says it feels like the whole world saw it.
The footage went viral and he was heavily criticised on social media. He was banned for six months by the French Football Federation and then decided to end his career as referee.
"I didn't want to kick him," he tells the BBC's World Football Podcast.
"It's a pity because I finished my career on this game, on this situation. It's difficult to accept after being a referee for 1,500 matches because in the moment it was just reflex.
"I'm a human and I felt a pain and I was scared. I was tired. It was not aggressive.
"I just fell down, someone pushed me and as a reflex I put my foot out and said, 'Hey guy, take care!'
"In fact, the reaction of the players and the coaches was, 'OK, this guy made a mistake, so what?'
"But for the media and social media it was a big affair. Because the referee should not act like this and I agree and apologise for my reaction."
He says he was treated more harshly than players who have instinctively lashed out, however.
"Just remember when Zinedine Zidane gave a headbutt in the 2006 World Cup final.
"He was a fantastic player, maybe one of the best in the world for many years. And the reaction in this situation with Zidane was not so big if you compare with my situation."
Educating Zlatan
Chapron now works for French media and is free to say what he really thinks about the players he used to referee.
One story stands out.
"He is a very annoying guy, Zlatan Ibrahimovic," Chapron begins. "Not only with referees, he was always blaming his team-mates, always trying to cause some trouble with the opponents.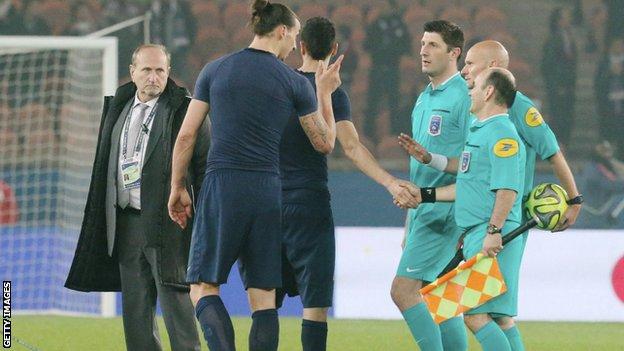 "He was a crazy guy. I think he's a fantastic player, but on the pitch he's someone else. And it was very difficult as a referee.
"I hope for him that he's a kind of actor, because he says so many things, crazy things, I hope he doesn't think what he says."
In 2015, Chapron was in charge when Ibrahimovic scored a hat-trick for PSG in a victory over Lorient.
After the match, the striker approached him. Chapron had the ball in his hands.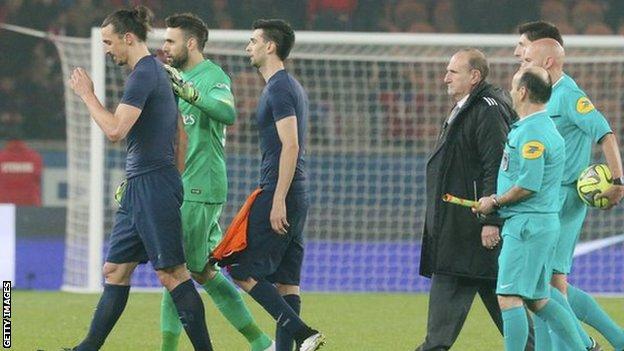 "He arrived close to me he just clicked his fingers and said; 'The ball!'" Chapron says.
"I have four daughters and when we're together and they ask something, if we don't have the word 'please' at the end of the sentence, there is no reaction.
"So, it's the same, it's a kind of education. I think it was a kind of disrespect. There is something wrong with society if we forget the simple things such as 'please' and 'thank you'.
"It was the beginning of the Ibrahimovic show, because nobody says no to Zlatan. I was probably the only one."
Having given up his life as a referee, Tony Chapron remains philosophical when he looks back at his headline-making career.
"Winston Churchill once said, 'Success is to go from failure to failure and to keep smiling'," he says.
"I think this is the way we must think as referee!"