John Askey: Shrewsbury Town's players still fighting hard for under-fire manager
Last updated on .From the section Shrewsbury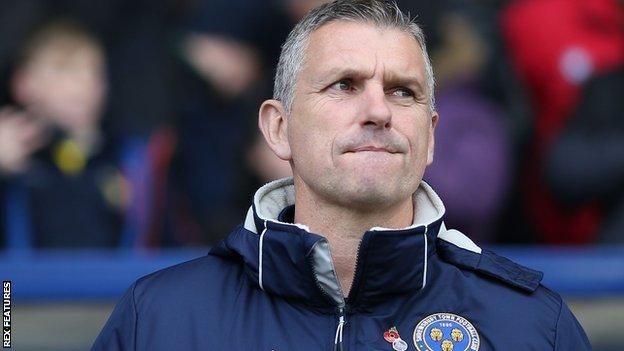 Shrewsbury Town boss John Askey says Saturday's efforts in coming from behind to beat AFC Wimbledon showed how hard his players are fighting for him.
The Town manager has come under fire on social media after winning only four of their first 17 matches - in contrast to last season's two Wembley appearances under previous boss Paul Hurst.
But Askey knows it is deeds, not words, that matter most at any football club.
"If the players are behind you, that's the main thing as a manager," he said.
"The figures show they ran harder in that game than any other and, if you get that response, it's very pleasing."
Askey had admitted that his hopes of keeping his job might depend on "getting a result" at Wimbledon and it looked ominous for him when his side trailed at half-time, but Town rallied to win with two second-half goals from one of his summer signings, Luke Waterfall.
"I put pressure on myself," he told BBC Shropshire. "But when you're under pressure, you've got two choice - you either pack in and go under your stone, or you come out fighting.
"I might not say a lot but I'll always come back having a go. If somebody kicks me I'll kick them harder."
Criticism can make you 'paranoid'
On Sunday, Shrewsbury face an FA Cup first-round tie against a Salford City side who, bankrolled by their 'Class of 92' collection of ex-Manchester United players, are riding high in the National League.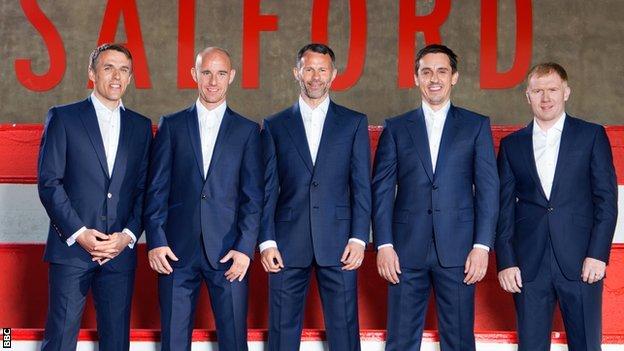 With Town 18th in League One, one national newspaper this week suggested that Askey's fate once again may depend on the outcome, but the Town boss is insistent that the board are right behind him.
"They've been supportive, which is what you need when things aren't going as well as you want," he added. "If they turn round and say 'that's it', it won't sour the relationship. They gave me a chance to manage at this level and I'll always be appreciative of that.
"You're aware more from what people tell you then what you read. If you read everything over the years, you'd be paranoid."
Askey was backed by a statement put out by Shrewsbury chief executive Brian Caldwell on Wednesday, warning of the dangers of what gets said and written in the modern-day game.
"This is the problem with social media," he said. "There are so many rumours and bits and bobs that are put out. None of it is usually true.
"People just put stuff out and then other people start believing it and it starts to grow arms and legs."
Caldwell did tell BBC Shropshire after Saturday's win at Wimbledon that the board had met to discuss the club's position, but also pointed out that it is something they do almost every day.
"You're always looking at things," he said. "We're all feeling a bit of pressure, trying not to think about last season.
"We speak almost daily, on a very regular basis, on how we can improve. We try to support John as much as we possibly can.
"Obviously, it's been a frustration. It's difficult when you play so well against Barnsley, then capitulate the the way we did at Oxford. But you're trying to patient. And, in the second half at Wimbledon, the players showed they're fighting for John. It gives us a bit of a confidence after the disaster we had at Oxford."