Martin O'Neill says James McClean's poppy stance 'should be respected'
Last updated on .From the section Republic of Ireland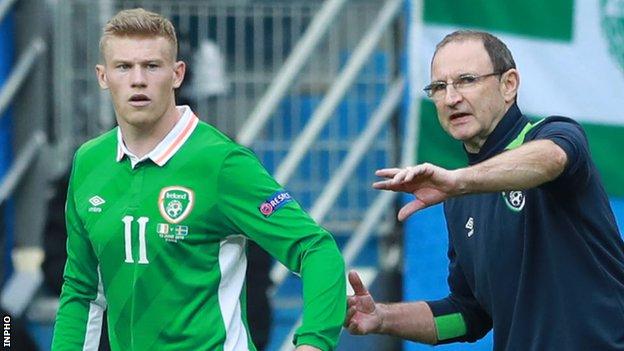 Republic of Ireland boss Martin O'Neill says James McClean's decision not to wear a poppy during the period of remembrance "should be respected".
Derry-born McClean's continuing stance on the issue saw him received verbal abuse from some spectators at Stoke's game against Middlesbrough on Saturday.
His use of an offensive word when describing some Stoke fans then led to a Football Association warning.
"James is entitled to do what he wants. That is the whole point," said O'Neill.
"That's entirely his choice and I think his choice should be respected."
O'Neill, who declined to answer a question about his view on the wearing of poppies, said that the latest controversy about McClean's stance was no surprise to him.
"James always becomes the focus of attention around this particular month. I shouldn't have been surprised at all. Nothing unusual about that."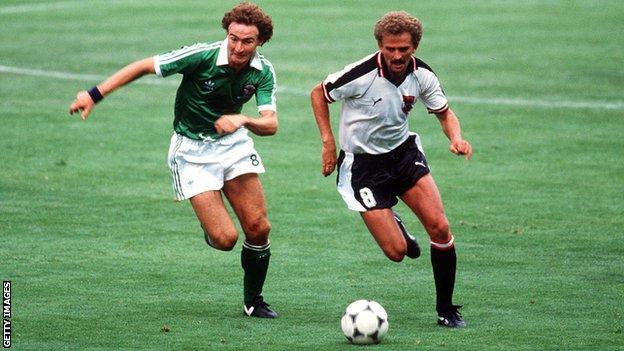 McClean in Republic squad for Northern Ireland game
The Stoke winger, who represented Northern Ireland at youth level, has been named in the Republic of Ireland squad for next week's friendly against Northern Ireland in Dublin and the Nations League game in Denmark on 19 November.
O'Neill, who won 64 Northern Ireland caps and captained his country at the 1982 World Cup finals, acknowledged that he might have considered leaving out McClean for the Northern Ireland contest if it was being played in Belfast.
"If this game was up north and he was going to be subjected to whatever he might be then, at the end of the day, I would certainly have had a look at that."
O'Neill added that he struggled to initially win over the crowd at Windsor Park during the early part of his international career which began in 1971.
"I had to battle through my early days there," said O'Neill.
"There were tough matches with the crowd not accepting me at Windsor Park and things like that but you battle through it.
"I came through it and it was great."
McClean was born in Londonderry, where in 1972 British soldiers shot dead 13 civilian protestors during 'Bloody Sunday'. A 14th person died later in hospital.
On Monday, prior to the news of his FA warning, McClean reacted to news of the investigation by claiming that the English governing body had "turned a blind eye to years of abuse" he had received.
In a further development, the Show Racism the Red Card organisation, in conjunction with the Professional Footballers Association of Ireland, has called for investigations into "anti-Irish" abuse aimed at McClean and Hibernian manager Neil Lennon, who received death threats during his Northern Ireland career.