Paul Pogba: Manchester United midfielder 'unaffected' by removal of vice-captaincy
Last updated on .From the section Man Utd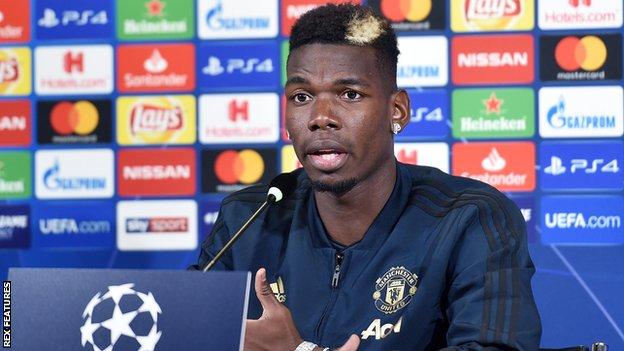 Midfielder Paul Pogba says he has been unaffected by having the Manchester United vice-captaincy stripped from him by manager Jose Mourinho - who he said he plays for with "happiness".
The France World Cup winner, 25, fell out of favour at Old Trafford last season and had his role as deputy taken away in late September.
"If he takes the armband away, it doesn't change anything," said Pogba.
"I just want to play, perform and give my best. It didn't affect me."
The Frenchman took over the captaincy for opening two games of the current Premier League season in the absence of the injured Antonio Valencia, but in September was told by Mourinho he would not skipper the club again.
Despite taking that action, the Portuguese boss has repeatedly said this season that his relationship with the player - signed in 2016 for a then world-record £89m - is not been damaged.
"The press says we have a terrible relationship," said Mourinho, who spoke prior to Pogba's arrival for the pre-match news conference for Wednesday's Champions League match at Juventus.
"Paul some weeks ago said we had a typical coach-player relationship, I think we have a good relationship. I would classify it as a good relationship between a coach and a football player."
Then it was Pogba's turn to be asked about the relationship, after Mourinho had departed the conference.
The midfielder said: "Manager and player. I do as he tells me to do. I enjoy it. I do it with happiness."
Asked about whether he was happy at Old Trafford, Pogba said: "Yes, I'm happy to wear the shirt, playing for this team. On the pitch, always with a smile."
'There was no hint of warmth in what either said about the other'
John Murray, BBC Radio 5 live commentator in Turin
A buzz went around the conference room here in the stadium when word came through that Pogba was the player who would be talking to the media.
However, consistent with Manchester United's 'matchday minus one' policy, Mourinho and Pogba held their briefings separately; first manager and then player. It would have been intriguing to see them sitting next to one another, but naturally both were asked about their relationship.
Mourinho said it was good, coach to player. Pogba said likewise from his point of view and that, effectively, he does what he's told.
The conclusion to draw was that they work together in a professional manner, but there was no hint of warmth in what either man said about the other.