Female referees: What is it like to officiate games?
By Alistair Magowan
BBC Sport
Last updated on .From the section Women's Football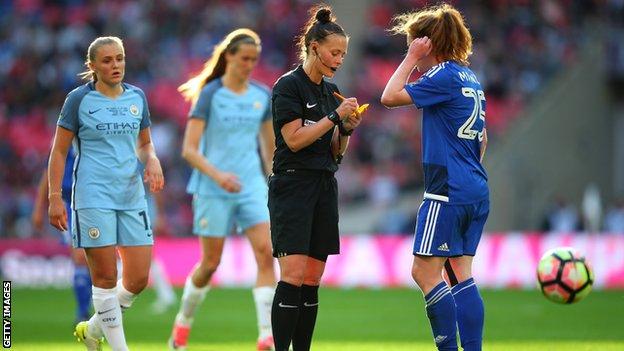 Life as a female referee can sometimes be daunting.
Ask Yeovil Town midfielder-turned-official Stacey Pearson, who sent off an assistant manager two seasons ago for saying she "should be in the kitchen doing the washing up".
Or 16-year-old Caitlin O'Grady, who was refereeing a youth game when a seven-year-old player was reduced to tears while his granddad told her "she had no right to be on the pitch".
Or Rebecca Welch - the top female referee in the country - who juggles men's National League matches for £110 a game with a full-time job in the NHS.
But despite the occasional toils, all three tell BBC Sport they love what they do - and Welch says there has "never been a better time" to join the 1,500 women who have already picked up the whistle.
The Football Association is trying to double that number in the next three years and raise the standards amid some criticism.
England head coach Phil Neville has said he is worried about the refereeing at the 2019 Women's World Cup, saying last month's match against Australia contained "maybe four of the poorest decisions I've ever seen".
Meanwhile, England defender Lucy Bronze says players are "repeatedly let down" by the officiating in the Women's Super League.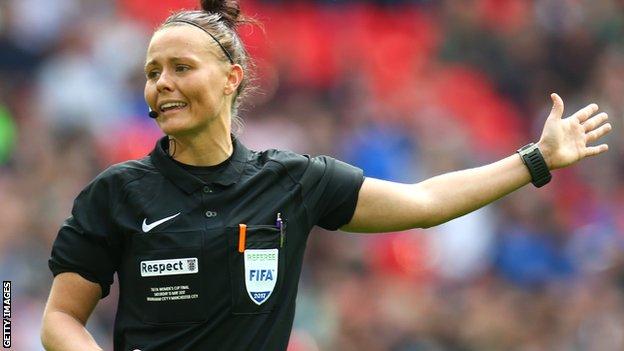 Refereeing an FA Cup final - a 'dream come true'
When Welch has finished refereeing a National League game in the south of England, it can be 2am before she makes it back to her bed in the north-east.
Then she is often up again at 5am for her day job in the National Health Service.
The 34-year-old is hoping to become the first female referee in Football League history, and says being a female referee in men's football can be an advantage.
The level two official says there are times when "you question why you do it", but added that refereeing has "changed her life completely".
Welch tells BBC Sport: "Looking back to when I wasn't a referee, I don't know what I did with my spare time. It's developed me as a person more than any other career would."
In 2017, she was in charge for the Women's FA Cup final, and despite having to warn her proud mother not to wear a T-shirt that said "I'm the ref's mam" in the Royal box, she said it was "a dream come true".
But she is in no doubt that becoming a full-time official would help her development. She has used most of her annual leave from her job on Uefa courses as she seeks to represent England at the 2021 Women's European Championship.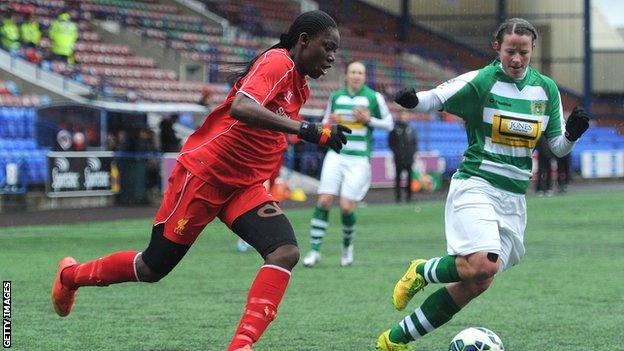 Criticism hurts - but standards are improving
The FA says that since the women's game has turned professional, refereeing has lagged behind - but that it's an issue they are already addressing.
Joanna Stimpson, the women's referee manager at the FA, is aiming to increase the numbers of officials from 1,500 to 3,000 by 2021.
And the body is offering more support by appointing mentors and offering training camps at its St George's Park HQ, which provides fitness testing, psychological help and tips on the difference between managing male and female players.
The support is most welcome, if recent criticism of female refereeing by high-profile figures such as Neville and Bronze is anything to go by.
But Pearson believes standards are already improving and are better in England than in other parts of Europe.
That's because of the sheer volume of leagues, allowing English officials to build up considerable experience before progressing to the next level.
Welch, who has been on Fifa's list of referees since 2015, adds: "Phil [Neville] and some players have asked for full-time referees and I would welcome it, but I don't think it will eliminate mistakes. We are human beings.
"They are entitled to their opinions, but I just think that we are the easiest ones to blame. Some people come across and have a go at the ref as if we don't care.
"I give up 80% of my life to referee, so if I've got something wrong it will hurt me more than any player. I feel it for days, weeks, and even when you go back to the club and it's mentioned again. I don't think people understand that."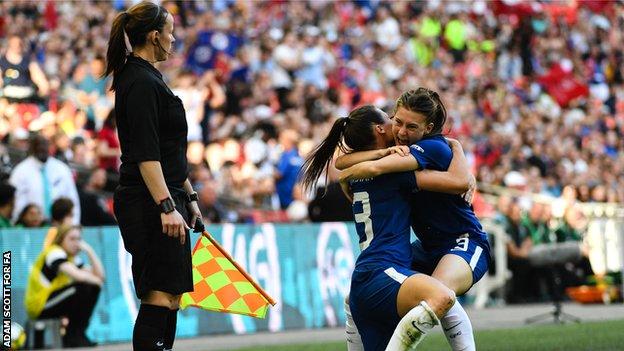 'Are you the physio?'
Welch says she is fortunate that she has never heard any derogatory comments about her gender in the nine years she has been refereeing.
In fact, male referee colleagues have told her they are jealous of the subtler treatment she gets in men's football.
"Whether that is right or wrong, I don't know," Welch says. "But players get to a certain point with me and then they think, 'I can't step over the mark'. If it works in my favour then, fair enough."
She says the surprise of her turning up to referee at games has subsided. But lower down the leagues, problems still exist, according to Pearson.
The former Yeovil midfielder, who is also a PE teacher, is a level three referee and was an assistant at this year's Women's FA Cup final, but says she still gets a mixed reaction in men's football.
"When you turn up to games, club staff might ask, 'Are you the physio?'" the 31-year-old tells BBC Sport. "I don't hear a lot of the comments, but recently I caught something about being a woman and making decisions.
"Two seasons ago, I had to send off an assistant manager who said I should be in the kitchen doing the washing up, not refereeing a football match.
"I just thought, 'Really? In 2016, are those comments still happening?' I told him this game is not continuing until you leave the field. He didn't admit to it, and then his manager told him to go off so it took a bit longer than it should have."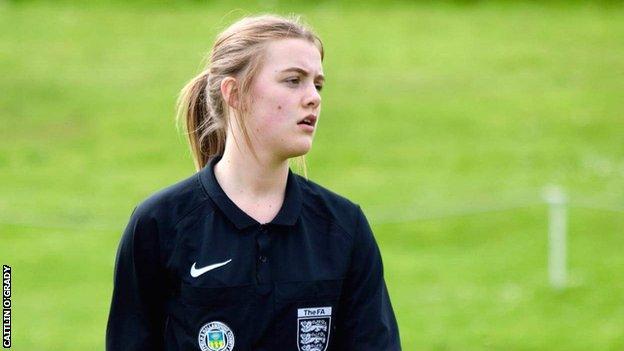 When junior games turn sour
Teenager O'Grady has only been a level seven referee in Sheffield for a year after "falling out" with playing football, but has already had what she calls a "horrible experience".
She is also an assistant referee in the Women's Premier League, but it is the junior leagues that she loves most, where she can coach young girls and boys through a game.
That turned sour when she agreed to help out an under-sevens game as they were short of a referee, but she was left "more upset than angry" after one older man started hurling abuse her way.
"He said I had no right to be out on the pitch and I should have been at home," O'Grady says.
"The whole game had stopped and the seven-year-old boys were just listening to this man. His grandson, who was one of the players, was in tears.
"The teenage boys that I referee are very respectful and you don't get as much trouble - it's more from spectators and parents at younger games. But things are improving. We have a lot more support than referees did in previous years."
Pearson, who says being a former player helps her empathise with those on the pitch, adds: "If you asked any female referee if they'd heard any sexist abuse in their career, they'd probably say yes.
"Two or three times I've come home and thought, why do I bother? But I've had many games where I've really enjoyed it and had positive feedback.
"Sometimes fans might say, 'Oh you're better than some of the male refs we've had'. Obviously, they don't mean to refer to my gender but it would better if they said, 'You're better than some of the other refs we've had'. We're not quite in that place yet."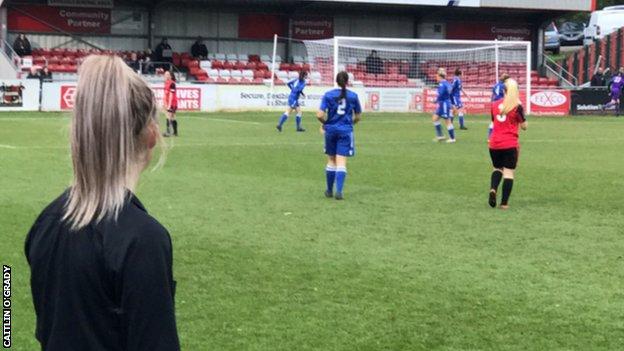 'It will be better for the next generation'
O'Grady says she "feels positive about the future" and has already seen the female refereeing community that is building at St George's Park.
The camps offer a network where referees can come together to share their experiences and hear from more experienced officials such as Welch.
Perhaps Welch can inspire the likes of O'Grady, who says her dream is to referee the FA Cup final.
But Welch says she is reluctant to be regarded as a pioneer. "I get a little bit embarrassed and play it down," she says. "But if I can inspire people and help get more females refs, I don't mind.
"I've been involved for nine years, and the support has been unbelievable, so for the next generation it will be only better."