Juventus: Why Italians are so much more than Cristiano Ronaldo
By Mina Rzouki
European football writer
Last updated on .From the section European Football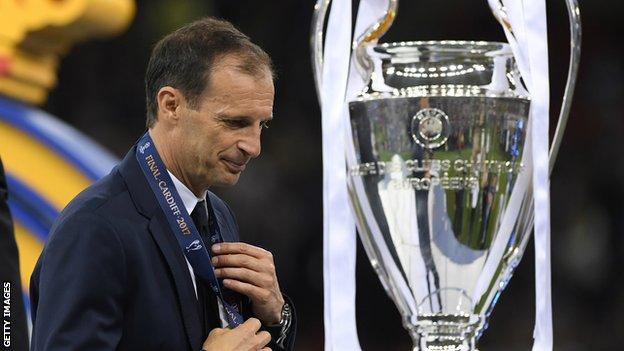 It's the 2017 Champions League final, Casemiro scores Real Madrid's second and Juventus boss Massimiliano Allegri looks at his bench to find nothing but mediocrity.
Mario Lemina, Juan Cuadrado - who was eventually sent off - and Claudio Marchisio, an outstanding player who never looked the same after his cruciate ligament injuries, are the options.
Juventus had once again found themselves on the brink of winning the big one, desperate to prove their time was now.
It wasn't, again. They would go on to lose 4-1.
"We played brilliantly in the first half, but in the second we were beaten up. We found ourselves under pressure and had no solution," remarked Allegri.
He simply didn't have the weapons Real Madrid manager Zinedine Zidane had on the bench.
While the Frenchman could bring on Alvaro Morata, Marco Asensio and Gareth Bale, Allegri had limited resources. Rather upsetting for a coach rated largely for his ability to make the right substitutions at the right time to change the game.
Allegri confessed he found it difficult to continue at Juve after that match. It was draining. You could play the best football, united in a mission and outstanding at the back but lose to a moment of individual brilliance from stars such as Cristiano Ronaldo.
Buying Ronaldo must be the solution then. An Italian giant starving for European honours, Juventus are doing everything they can to win the Champions League trophy they have chased for over two decades and nothing announced that desperation more than the purchase of the reigning Ballon d'Or winner, a 33-year-old CR7.
Costa the truffle hog searching for delicacies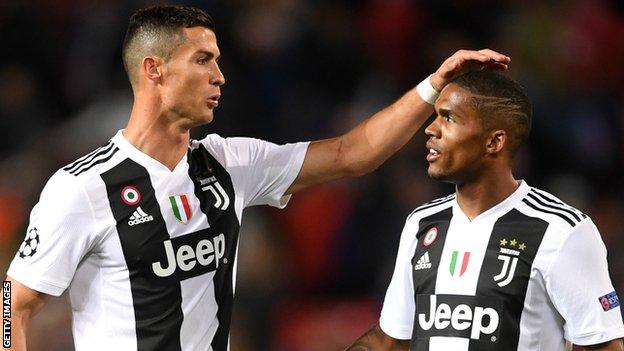 The world's best player's arrival in Turin certainly stole the headlines and Juventus have had their best start to a Serie A season, winning every game in every competition except for one. But in truth, Ronaldo is the icing on the cake, not the whole cake.
Rather than depend on Ronaldo - sent off in Juve's opening match and without a goal so far in this Champions League campaign - Federico Bernardeschi dazzled and Miralem Pjanic converted against Valencia and Paulo Dybala hit three alongside Mario Mandzukic against Young Boys.
No Mandzukic against Manchester United? No problem. Dybala started alongside Cuadrado and Ronaldo and all three combined to score the only goal of the game.
When Allegri looked at his bench in search of solutions that fateful night in Cardiff last year, few presented themselves. This season, he's simply overwhelmed by his options, all capable of changing the game.
At Old Trafford, he introduced both Douglas Costa and Bernardeschi from the bench to keep Juve unpredictable at the top. The former has faced a spot of trouble at Juventus this season after spitting at an opponent in the match against Sassuolo but his performances for the Italians prior to that incident has been nothing short of excellent.
Like a truffle hog in search of delicacies, Costa identifies and exploits space at full speed and like no other.
While he once played with his head down and no direction, clinging on to the ball for too long, Costa has improved under Allegri, making clever decisions and an impact off the bench. Brazil coach Tite recognised the quality of the player when he regularly looked at Costa to make the difference at the World Cup.
Introduce him against a tiring opponent and Costa's quality becomes harder to ignore. Gazzetta dello Sport calculated that as a substitute, Costa has secured 15 points for the Bianconeri.
Dybala finally making impact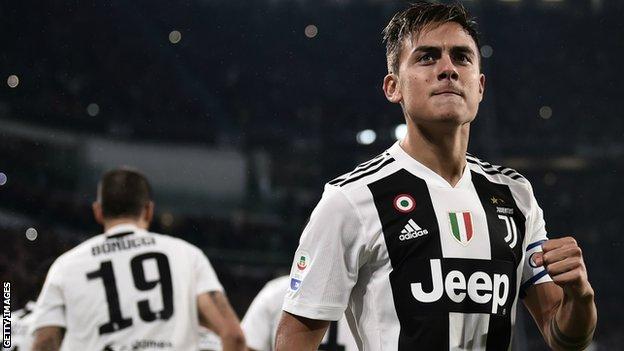 Bernardeschi was the other man chosen to come on against Manchester United. Capable of playing as a winger, in midfield or even as a false number nine as he does for Roberto Mancini in the Italy team, Bernardeschi boasts intellect, speed and insane technique. He simply elevates the level of play in the final third and reads the game well.
Against Valencia, the winger positioned himself well, delivered accuracy, vision and consistent ideas. Against Frosinone, he played in midfield and injected imagination, speed of thought and speed of movement to the game.
Then there's Dybala. A player with infinite potential who has struggled to impress in the big moments when all eyes have been focused on him, but this season he's thriving alongside the many team-mates he knows are competing for a place in the starting XI.
Scoring the winning goal at Old Trafford, Dybala has played in a number of different positions and formations and is slowly learning how to impose his talent whatever the circumstances. Against Cagliari over the weekend, the diminutive Argentine took only 42 seconds to open the scoring for Juventus.
If it's not him starting, then it will be another. Ronaldo brings supreme quality and a winning mentality but the talents flanking him and the club's squad depth is the main reason why Juve could be the team to beat in Europe. Especially when you consider those talents are in the hands of Allegri, the master of substitutions, versatility and balance.
Is there an anti-Juve?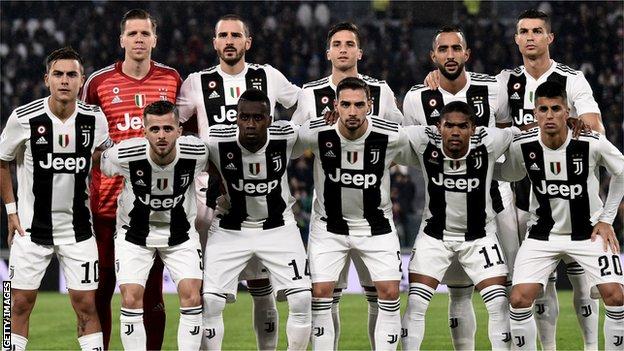 In Italy, the media is obsessed with finding the 'anti-Juve' - the team who journalists feel will challenge Juventus at the top of the Serie A table. Will it be Inter, the physical side that know how to bully and harass and make the most of their chances while securing clean sheets? Or will it be Napoli, the side blessed with technical players who rotate the ball beautifully and ping it from side to side to uncover gaps and opportunities?
The truth is there is no 'anti-Juve' because only Allegri's side can field two separate teams of stars and play both styles of football.
They can deploy Mandzukic and Ronaldo upfront with Emre Can and Sami Khedira in midfield and bully their way from top to bottom, making the most of their aggression, strength and power.
Or they can rely on Dybala and Rodrigo Bentancur who, as evidenced in that match against Jose Mourinho's men, is the master at positioning himself well, cutting out passing lanes and delivering technique and accuracy.
There is a player available for each type of style and football Juve are looking to play.
Beautiful football is not based around possession or fluent interchanging of passes but in executing a game plan perfectly.
Juventus have often been criticised for not playing a particularly exciting brand of football but offer them a challenge this season and they'll present you with arguably the best football in Europe played in a multitude of ways and utilising a full squad of players Allegri is happy to rotate.
Yes Ronaldo is the difference maker, but to focus only on him would be a mistake.