Wolves: Meet the host families looking after Premier League club's youngsters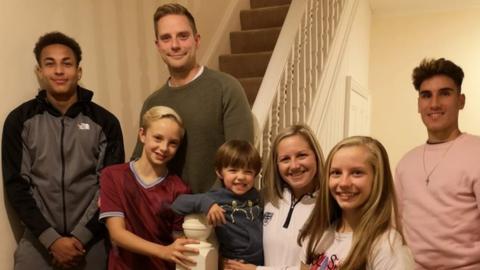 "Here's one of my little boys," announces Ann Schorah excitedly, as she reaches up to hug 6ft 4in Wolves and former England Under-21 defender Dominic Iorfa.
She laughs and adds: "He was that size when he came to us at 14, weren't you?"
Iorfa, now 23, has made almost 100 appearances for the Wolves first team, but eight years ago he was just a hopeful teenager newly arrived from Essex and in need of a home.
Ann and her longstanding partner, Arthur Benton, provided that and more in their role as a host family - an often little understood but integral component of a well-functioning football academy.
Ann and Arthur, both in their 60s, represent one of 12 families used by Wolves to look after and provide the basic needs for players over the age of 14 recruited from outside of the local area.
They take on the role of "second mums and dads" to the young players - helping them, guiding them and sharing in the highs and lows of their career.
For every player who makes it - like goalkeeper Wayne Hennessey, who arrived at Wolves from Wales and went on to become a regular for the club's first team and his country - there are many more who fail to make the grade.
'I still take my washing round'
To appreciate just how vital such families are to the young players at a club you need only hear some of the anecdotes Ann and Arthur can share about those placed under their care.
Like the player who broke two windows by forcing the handles because he couldn't work out how to open them. Or the one who moved out to share an apartment with another Wolves player and they were both found sitting in the dark because of a blown fuse. Neither knew what to do.
They estimate that between 25 and 30 young players have stayed with them at various points - from just the odd day while another family is on holiday, to a few years.
Iorfa was one of their longest-serving and, like many others, still stays in touch. Even when he'd broken through into the first team and moved out, he could be relied upon to bring his washing round.
"It's the washing that's horrendous," says Ann.
"They wear it once - they don't even go out in it - and then they throw it in the wash. We aren't just washing their clothes, we're washing the kits as well. And they stink!"
Kortney Hause, another of their former tenants, says: "I still take my washing round there because Ann does it so well!
"I felt as if I could talk to them. They were like family to me."
Ann and Arthur currently look after four players aged between 14 and 18, and find the work as demanding yet rewarding as ever.
"We're like second mums and dads," says Ann. "The main thing is making them as happy as they can be away from home - because if they're not happy, they aren't going to give their best out on the pitch."
Good role models
Becky and Roy Bayley already had a fair amount to do with three children of their own but have added two young footballers to the mix over the past couple of years.
Both in their 30s - a teacher and a civil servant respectively - they enjoy having a full house and value the example the players provide for their kids.
Becky and Roy's youngest child is just four years old and can't remember a time without the elder of the two players they care for - Lewis Richards and Theo Corbeanu - being in the house.
"One of Lewis' friends came round one day and our youngest ran up to him and said: 'This is Lewis, he's my brother'," says Roy.
Becky adds: "For us, having two sons, it was good to have someone in the house who was a good teenage role model.
"It works really well in our family. The boys go outside with our children and play football. They teach them skills. We all eat together around the dining table and have discussions about school and things like that. Lewis went to school with our daughter so they can talk about teachers. It's just a really nice family dynamic."
Like all teenagers, Lewis and Theo can present occasional difficulties.
"There were a couple of things about behaviour at school but we had a really good link there," says Becky. "We went to parents' evening and had those discussions with Lewis about why school's so important. And obviously as a teacher as well, that's a message I want to get across.
"When he first came he wasn't really independent but we're trying to teach him skills. He does his own ironing now, which is great.
"The washing machine's next, so when they eventually move out they don't just go: 'What is this machine?'"
'We want to give our boys as normal a life as possible'
The host family process at Wolves is overseen by Jennifer Rice, the club's academy operations manager. She's been in the role for 12 years and has seen the number of host families, and the academy as a whole, expand considerably in that time.
An expression of interest is followed by a discussion with Jennifer about what being a host family entails and the club's expectations. The home environment is assessed, with several requirements needing to be met, and DBS checks are carried out. Wolverhampton children's services ensure that everything is above board and the club's contact lines are open if there are any issues from either a player's or a family's perspective.
Families receive expenses to cover the cost of hosting.
"It doesn't work unless the players have got a choice," says Jennifer. "We will initially offer them a place, if we've got it, with two or three different families and they can choose which one they'd like to try out first. But they're by no means stuck there.
"We have reviews every couple of weeks and if it's really not working then we try a different host family for them.
"Some clubs go along the route of having built-in accommodation at their training ground - but we want to give our boys as normal a life as possible."
'If it was up to me, they'd all make it'
Although most of Wolves' host families are couples, they can take different forms, as Ann Watabiki demonstrates.
She was a single mother with a son of her own when she took on young Welshman Hennessey. He went on to play more than 150 games for the club and became a regular for his country, keeping goal as they reached the semi-finals of Euro 2016, before a move to Crystal Palace.
Most didn't make it to the first team though and were let go at the end of their scholarships, or after a year or so as a professional. They're now dotted all over the place.
Cieron and Jordan Keane have a particularly close relationship with Ann. Brothers from a big Irish family, she provided them with a second home as they moved to Wolverhampton in the hope of making it as footballers.
Jordan left Wolves in 2011 and is now with Stockport, while Cieron has found his way to another non-league side, Boston United, having been released in 2014.
Cieron refers to Ann as "mum" and Jordan recently dropped round after an away game at nearby AFC Telford.
Like all host families, Ann and Arthur are invested in the future of the young players to whom they provide a home.
"We do it for the love of the kids," says Arthur. "It's great when you see them make it, and it's heartbreak when they don't.
"If it was up to me, they'd all make it. We'd have about 500 players here. You'd bankrupt the club, wouldn't you?"