Help available to prevent gambling problems, says John Hartson
Last updated on .From the section Scottish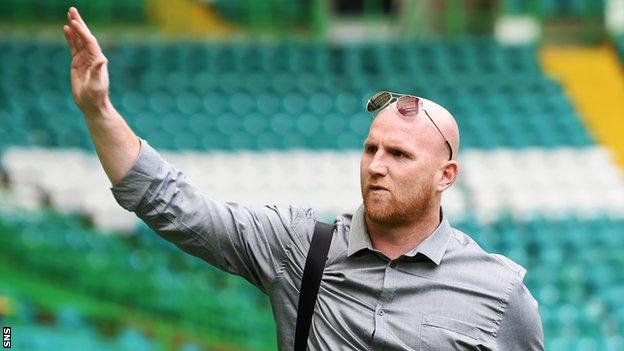 John Hartson believes the "tools" are in place to prevent gambling habits becoming unhealthy addictions.
Former Celtic and Wales striker Hartson has previously spoken about his gambling addiction and is supporting a new campaign by Scottish Professional Football League sponsors Ladbrokes that encourages responsible betting.
"I'm abstinent for seven years," said the 43-year-old. "I plan to remain clear of gambling. That is my choice. It's all about a personal choice. Life is all about choices.
"There is help there. It became a serious problem for me. The message is and the targets for me are to stop people getting to where I was because we're giving them tools and we're giving them an opportunity if the gambling does get out of control, there is help, there's access - you can ban yourself from your local bookmaker, you can take yourself off the internet if you gamble online.
"There are people out there, problem gamblers, and we put the signs in place that if the betting is affecting your home life, your personal life, your health then there are places, there are signs and there is lots of advice.
"There are situations now and places where people can resolve that and become responsible gamblers."
Several players in Scotland have served bans for breaking gambling rules and club officials are also prohibited from placing bets on football matches.
"I'm not here as a former addict telling people to stop gambling," added Hartson. "I am here to help people not to get to where I was.
"It's not for me to tell people to stop gambling. People won't listen to me. If people want to gamble, they'll gamble.
"We're not magicians. It's not a magic wand. If people want to stop, they will seek help. If people don't want to stop, then they just simply won't."