European Super League would damage English football - UK government

By Dan Roan
BBC sports editor
Last updated on .From the section Football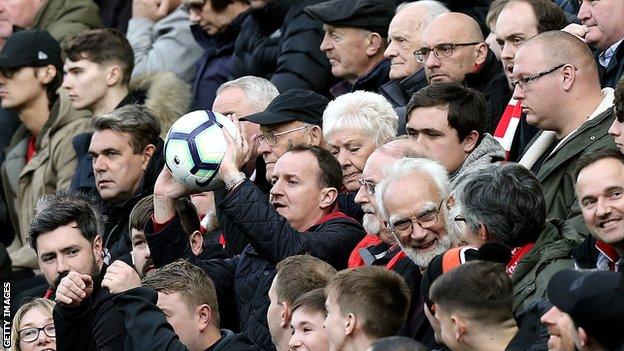 A breakaway European Super League would harm the culture of English football, says a senior UK government source.
The newspaper says leaked documents reveal clubs discussed leaving their national leagues and football associations.
The UK government would oppose any such European Super League.
According to the source, the government was unaware of any talks between the continent's top clubs until Der Spiegel's claims emerged.
It is also thought the Premier League was not aware of any discussions.
However, it would not be possible to prevent the clubs proceeding with such a plan, according to the source, who believes football fans would oppose the move.
Football Supporters' Federation chair Malcolm Clarke said: "Yet again there is a far-reaching proposal being drawn up by big clubs whose primary interest is making as much money as possible without any consultation with fans at club, national or European level.
"Without fans, those clubs are nothing.
"We challenge the five English clubs reported to be involved to properly consult their own supporters and the FSF. We think those fans will reject the idea but there is only one way to find out - ask them."
Der Spiegel listed Real Madrid, AC Milan, Arsenal, Barcelona, Bayern Munich, Juventus and Manchester United as the seven clubs pushing the idea forward but suggested that others, including, Chelsea, Manchester City and Liverpool would enjoy protected status and not face relegation.
Bundesliga champions Bayern Munich have denied the allegations while Manchester United declined to comment.
BBC Sport has contacted the other five 'founder' clubs for a response.
The Association of European Professional Football Leagues, which represents 32 leagues, including England, France, Spain, Germany and Italy, said it had "consistently voiced its strong opposition to the creation of any 'closed and franchised style' Super League".