James McClean: Stoke winger is warned by Football Association
Last updated on .From the section Stoke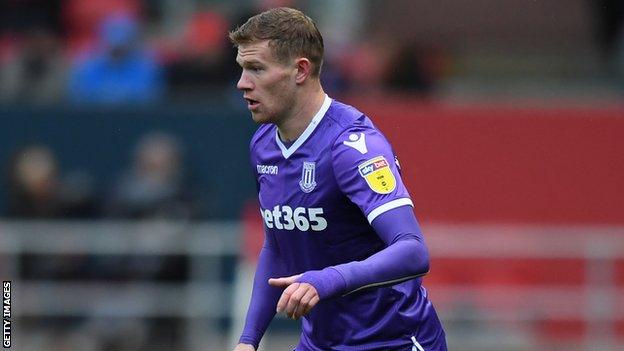 Stoke City winger James McClean has been warned by the Football Association over his use of an offensive word in a social media post.
McClean used the word in a post where he spoke of abuse he has received over refusing to wear a poppy and in which he called some Stoke fans "cavemen".
The 29-year-old also wrote a follow-up post reacting to news the FA was investigating.
In that he wrote: "The FA are investigating, for exactly what?"
Republic of Ireland international McClean also claimed the FA "turn a blind eye" to his "years" of abuse he has received.
"Week in, week out for the past seven years I get constant sectarian abuse, death threats, objects being thrown, chanting which is heard loud and clear every week which my family, wife and kids have to listen to," he wrote.
"They turn a blind eye and not a single word or condemnation of any sort."
McClean wrote the first of his social media posts on Saturday, responding to a section of the home crowd abusing him for not wearing a poppy during Saturday's draw with Middlesbrough.
He has previously explained why he does not wear a poppy, and Stoke issued a statement before Saturday's 0-0 draw in the Championship confirming his stance had not changed.
In his post on Instagram McClean said: "Your abuse, your throwing things, your booing, do your worst."
But he also thanked those Stoke fans who "are actually educated and support me".
McClean was born in Londonderry, where in 1972 British soldiers shot dead 13 civilian protestors during 'Bloody Sunday'. A 14th person died later in hospital.