Premier League stats: Man Utd's striking options, Milner's magic 49 and super subs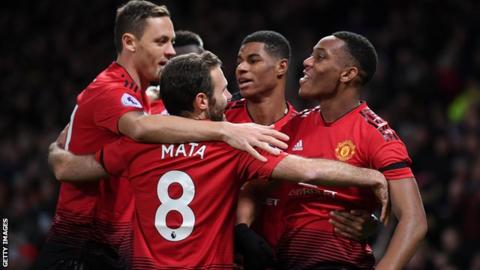 Anthony Martial and Marcus Rashford both scored for Manchester United on Saturday - but who should lead the line in next Sunday's Manchester derby?
By looking at the key Premier League stats from the weekend, BBC Sport looks to provide the answer.
We also look at Arsenal's comeback record, reveal James Milner's incredible goalscoring run and identify the league's long-range specialists.
But first...
Who should play up front for Manchester United?
That's been the question many have been asking this season, due largely to Romelu Lukaku's lack of form.
The Belgium striker has not scored for United since mid-September but Martial has stepped up to the plate - scoring five goals in his past four Premier League outings.
Rashford, another of Jose Mourinho's forward options, also proved his worth on Saturday, as he scored their 92nd-minute winner at Bournemouth.
And who could forget about Alexis Sanchez? A once talismanic figure at Arsenal, he now struggles to hold down a starting berth at United.
Well, if Mourinho wants goals, Martial is his man.
The Frenchman has scored more than any of his team-mates, at the impressive rate of one every 106 minutes, and his shot conversion rate is a whopping 62.5%.
By contrast, Lukaku has scored one fewer than Martial, his strikes have come at almost half the frequency and he only coverts a quarter of his shots into goals.
Martial is also up there in terms of creativity. Only Sanchez has created more chances than the former Monaco man this season, although he is yet to provide an assist.
So, with a tricky Champions League trip to Juventus on Wednesday and the Manchester derby on the horizon, the stats say Mourinho should put his faith in Martial.
Premier League: Comparing Manchester United's four forward options
Player
Lukaku
Martial
Sanchez
Rashford
Games played
10
8
8
8
Minutes played
768
531
439
406
Goals
4
5
1
2
Minutes per goal
192
106
439
203
Shots
20
11
13
7
Shots on target
9
8
7
4
Shot conversion rate (excluding blocked efforts)
26.67%
62.5%
11.11%
33.33%
Chances created
10
12
14
4
Assists
0
0
2
1
Touches
289
336
299
222
Long-range specialists
Wolves midfielder Ruben Neves scored a penalty in his side's 3-2 defeat by Tottenham on Saturday.
Curiously, it was the first league goal he has scored from inside the penalty area in English football, with the Portuguese's previous seven coming from outside the box.
Seven consecutive strikes from beyond the penalty area is a pretty impressive record - and only one man has ever bettered that run in the Premier League, with eight.
Blackburn legend Tugay.
Former Spurs and Portsmouth midfielder Pedro Mendes also makes the list; all six of his Premier League goals came from outside the box.
Premier League: The longest run of goals scored from outside the box by a player
Start of run
End of run
Player
Consecutive goals from outside box
14 Oct 2001
20 Oct 2007
Tugay
8
25 Mar 2006
09 Apr 2011
Phil Neville
7
07 Nov 2009
22 Feb 2014
Tom Huddlestone
6
01 Jan 2005
10 Feb 2007
Pedro Mendes
6
23 Nov 2013
13 Sep 2014
Jonjo Shelvey
6
On the other end of the scale, former Manchester United star Ruud van Nistelrooy scored 95 Premier League goals for the club. Only one of them came from outside the penalty area.
Milner's magic 49
When James Milner scores, he doesn't lose. Simple.
The Leeds-born midfielder scored his 50th Premier League goal during his side's 1-1 draw with Arsenal on Saturday.
Those 50 goals have come in 49 different games, in a career spanning nearly 16 years, and he has not lost a single one.
That makes him the record-holder for that, admittedly niche, record, although he is one of five current Premier League players who make up the top 10.
Premier League: Top 10 players who have never lost when scoring
Player
Games scored in / Goals
Player
Games scored in / Goals
1. James Milner
49 / 50
6. Antonio Valencia
23 / 24
2. Darius Vassell
46 / 52
7. Pedro
22 / 24
3. Dele Alli
33 / 38
8. Lee Sharpe
19 / 22
4. Salomon Kalou
32 / 36
9. John Arne Riise
19 / 21
5. Oyvind Leonhardsen
28 / 30
10. Victor Moses
19 / 20
Interestingly, Milner's 49-game run is only second in terms of longest unbeaten streaks, though.
And he has some way to go before beating Frank Lampard's 67-match spell, which came between March 2003 and January 2010.
Emery's comeback kings
Arsenal came from a goal down to claim a deserved draw with Liverpool on Saturday, meaning they have taken eight points from losing positions this Premier League campaign. No side has managed more.
So, does that reflect the Gunners' strength of character or does it simply highlight their slow starts?
Well, despite the fact that fifth-placed Arsenal have won seven of their 11 games this season, they have never been ahead at the break.
And if the score after the first half had remained the same at full-time in their matches, they would be sitting in 15th place.
However, this trend is not Unai Emery-inspired. Last season, only Bournemouth (21) took more points from losing positions than the Gunners (15).
Perhaps Arsenal's slow starts are a symptom of the previous regime that Emery is yet to remedy.
Can you name the Premier League's top super subs?
West Ham striker Javier Hernandez scored West Ham's fourth goal in Saturday's 4-2 win over Burnley having come on after 61 minutes.
His delightful dink over Joe Hart in injury time marked his 17th goal as a substitute in the Premier League - putting him third on the all-time list.
Can you name the competition's top 14 super subs? Take our quiz and find out.
Can you name the top 14 Premier League super subs?
| Rank | Goals & clubs | Answers |
| --- | --- | --- |
| 1 | | |
| 2 | | |
| 3 | | |
| 4 | | |
| 5 | | |
| 6 | | |
| 7 | | |
| 8 | | |
| 9 | | |
| 10 | | |
| 11 | | |
| 12 | | |
| 13 | | |
| 14 | | |