Raheem Sterling is no longer scared - Man City boss Pep Guardiola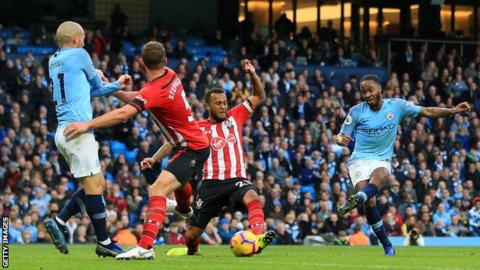 Pep Guardiola says Raheem Sterling is a more mature and less "scared" player than the one he inherited when he first took over as Manchester City boss.
Sterling scored two goals and made two more in Sunday's 6-1 win over Southampton - a result that returned City to the top of the Premier League.
He has scored six times in nine games in 2018-19, having scored 10 in his first season under Guardiola (2016-17).
Asked what had changed in the England forward, Guardiola replied: "His head."
The Spaniard added: "The first season, he was scared. He was looking, who is the guy I am going to pass the ball to?
"We spoke about that and said: 'Try to score goals. Now you have the feeling, where is the goal and go over there.'
"I have the feeling he is now enjoying scoring goals and making assists. He is becoming a winning player. He is stable and is focused on what he has to do to become a better player.
"He is more mature now than he was when we first met at the club. He believes more in himself. Hopefully he can be more ambitious and think he can improve. He is 23 and he can be a better player."
Guardiola was asked if Sterling can now be considered amongst the world's best players, but replied that the England international still has work to do to be ranked as such.
"He is a top player but still is so young to be considered the world's best," said the City boss.
"He is in incredible form, he is sharp, fast, clever, fighting, decisive, he can play both sides and can play in the middle and receive the ball between the lines and commit the centre-backs with a lot of aggressiveness.
"It was an incredible performance but still with the young guys like him and Leroy [Sane] I would feel he can improve.
"Still he loses simple balls, like the Tottenham game, when he made an amazing assist in the first few minutes but then lost a lot of balls."
'We won't win the Champions League defending like that'
Three goals in the opening 18 minutes of Sunday's game - a Wesley Hoedt own goal and finishes from Sergio Aguero and David Silva - put City in complete control before Danny Ings' penalty gave Southampton a lifeline.
However, Sterling's first goal just before half-time set the hosts up for a comfortable second half in which they scored two more - another from Sterling and a Leroy Sane strike.
The win means they hold a two-point lead at the top of the table on 29 points, with Liverpool and Chelsea, who beat Crystal Palace on Sunday, both on 27.
Guardiola was pleased with his side's attacking display but critical of their defensive work - an aspect he feels they need to improve for when they face better opposition.
"We were lucky to score the fourth goal at the last minute of the first half because I had the feeling the game was not over," added Guardiola.
"We played with the ball so good but not without the ball.
"The teams showed me some signals that in some positions we are not stable enough.
"We can improve and that is good. I like to have that feeling that we won 6-1 and are top, but at the same time we have to improve in many situations to be a more stable team.
"When you concede those situations in the next stage of Champions League you are out because the level is higher."
City's next game is in the Champions League, at home to Shakhtar Donetsk on Wednesday, before they host local rivals United in the Manchester derby.