Katie Chapman: Refugee camp coaching 'eye-opening' for ex-Chelsea captain
Last updated on .From the section Women's Football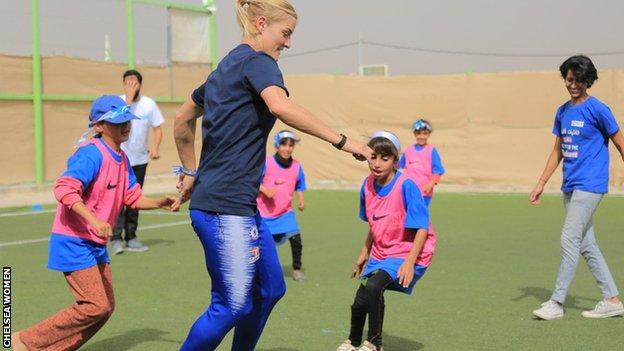 A mother of six children tells the story of her family evading bombs and snipers to cross the Syrian border into Jordan. Katie Chapman has tears in her eyes as she listens to the story, inside the small shelter in the desert that has become their home.
The former England and Chelsea captain says the experience of running coaching sessions for children at the Azraq refugee camp was "eye-opening", after the initial "shock" of seeing the site which is home to 35,000 Syrian refugees.
"Emotionally, I wasn't really prepared for what I was going into," the 36-year-old told BBC Sport, after helping the Chelsea Foundation run 10 sessions at the camp near the Jordan-Syria border in October.
"It was my first time in a refugee camp and it was really tough to witness because they are just people and families trying to protect their children.
"But on the other hand, they're safe now. For me as a parent, it was unbelievably touching to see the children so happy, excited and enthusiastic just to play football."
Chapman, who won 94 caps for England, took on an ambassadorial role with Chelsea after retiring in May.
The former Millwall, Fulham and Arsenal player represented England at two World Cups and three European Championships, reaching the Euro 2009 final.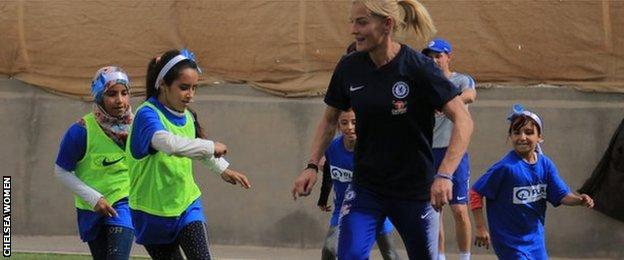 The Chelsea Foundation, working with global children's charity Plan International, provides football kit and training equipment for the children.
Since the conflict in Syria began in 2011, 5.6m refugees have fled the country, including 9,000 who have found shelter at the Azraq Refugee Camp's 'Village 5', where the London club ran coaching session.
"We weren't quite sure what the football pitch was going to look like. The camps are all in the middle of nowhere, in the desert, so there's nothing for miles outside the camps," Chapman added.
"But it was a great facility. They had a small 3G pitch and - most importantly - it was safe for the children to play on.
"Doing this together with Plan International makes it really powerful. It was a great eye-opener for all of us and the kit makes a massive difference for the children over there, who really only have minimal stuff available to them.
"We had a great laugh with the children and it was nice to teach them. I wish I had been out there for longer and I would love to go back to try to help more.
"I'm grateful that I've had the experience, because I'll learn some life lessons, to be more grateful for what I have got. Lessons in the way I live my life and manage my children."
Chapman, who captained the Blues to a domestic league and cup double last season, has received a place to run the 2019 London Marathon for Plan International.
"I'm sure it'll test me to the absolute limit but it's something I've always wanted to do," she added. "I found out just before I went out to Jordan that I'd actually made it in.
"Going out there and seeing the work that's being done for those families just made me want to raise even more money."