Molly Bartrip: Reading defender on overcoming teenage anorexia
By Katie Falkingham
BBC Sport
Last updated on .From the section Women's Football
Ana wasn't a relative of Molly Bartrip's. She wasn't a team-mate and she most definitely wasn't a friend.
Bartrip hates what Ana did to her. She had control of her life and "played her like a puppet" - yet Ana wasn't a real person.
'Ana' was the name Reading defender Bartrip gave to the voice inside her head during her teenage battle with anorexia.
"It was like this evil person on my shoulder who wanted me to fail," she tells BBC Sport.
Now 22, Bartrip is a fit, strong and healthy athlete. But at the age of 14, she "self-destructed" after a torn hamstring and subsequent non-selection for the England Under-15s left her thinking the opportunity of ever representing her country was gone.
For six months, Bartrip did all she could to avoid eating. She would hide her food when her parents weren't looking or throw it out of the window.
But while football was the trigger for Bartrip's demise, "it was also my cure", she says.
This is her story.
Aged 14 - 'Ana' takes control
"Ana told me everything I needed to do. 'You need to go for an extra run today', 'look at the calories in this'. She had control of my life and played me like a puppet," Bartrip says.
"I couldn't fight her back, and I really thought I was going to give up at one point."
Ana was a plague on Bartrip's life, but whatever she said went. It was an incredibly tough time for Bartrip's family but she felt no guilt towards them.
At her lowest, Bartrip was self-harming - she would lock herself in her room, climb under her bed and hurt herself.
"I don't know why I did it - it was Ana," she says.
As anorexia and Ana took hold, Bartrip's decline was rapid.
International hopes slip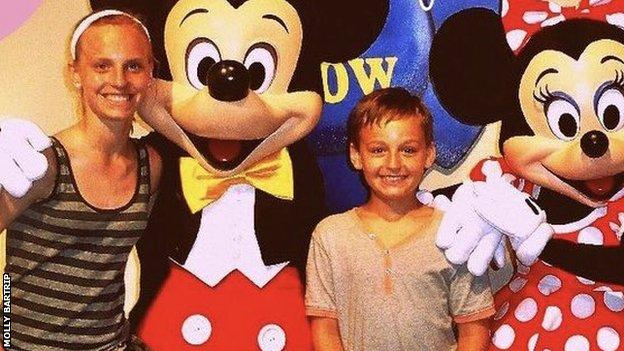 Bartrip has loved football from day dot. After being scouted while playing for a local boys' team, she enjoyed spells at Tottenham, Charlton and Arsenal.
It was during her time at the Gunners that England came calling. But the day before their first game in the Netherlands, Bartrip was injured and was forced to watch the match from the stands, away from her team-mates.
"I remember seeing my mum, dad, brother and grandparents in the stand. I was sat a bit higher up, and my mum turned around to me and was crying, because she wanted me on the pitch," Bartrip says.
She wasn't selected for the next England camp and that's when, Bartrip says, she "lost her head".
"I don't know how to explain what happened at that moment, I just knew I wasn't OK and then gradually started to eat less and less," she says.
"When I didn't get selected, I thought that was the end of the world for me - that was my chance of ever playing for England gone."
Doctors said it was 'obvious' it was anorexia - the diagnosis
Growing up, Bartrip loved food. Bacon and a packet of crisps - though perhaps not together - were her favourites, and her schoolmates would be jealous of her packed lunches.
But after missing out on international selection, she "lost control", eating less and less every day and throwing her lunches away. It was only when her best friend caught her doing so that her mum found out.
"My mum took me straight to the doctors. I'd lost so much weight in about three weeks, and the doctor said it was obvious I had anorexia nervosa," Bartrip says.
Bartrip was "sneaky" in how she avoided eating but her parents had a few tricks of their own, including putting full-fat butter in the tubs of low-fat spread in a bid to help their daughter put on weight.
"Sometimes when I got weighed, I would put extra clothes on so it looked as though I was heavier than I was, or I would put something in my pocket like my phone," she says.
"That was Ana playing me, that was Ana telling me it was fine to do."
Bartrip was at her lowest weight.
Liver failure - and light at the end of the tunnel
Bartrip eventually became so ill that her parents took her to hospital. Her BMI was dangerously low, her liver had started to fail and soft, downy hair had started to grow on her body. Had her BMI been just 1% lower, doctors would have been forced to tube-feed her.
"That was really scary," she says. "I was basically killing myself at the time, which was quite drastic.
"From that moment, I knew I needed to change."
Remarkably, it wasn't that moment that provided the "kick up the bum" Bartrip knew she needed. In fact, it was looking at an Arsenal squad photo that had been posted on Facebook.
"Everyone on it looked huge. I looked at myself at that point and thought 'maybe I'm never going to play football again because I can't play football with those girls'," she says.
"That was the moment I realised I did actually want to be playing, I wanted to reach my dream. It was definitely not a light switch moment, but each day I got better; each day I began to try and eat more."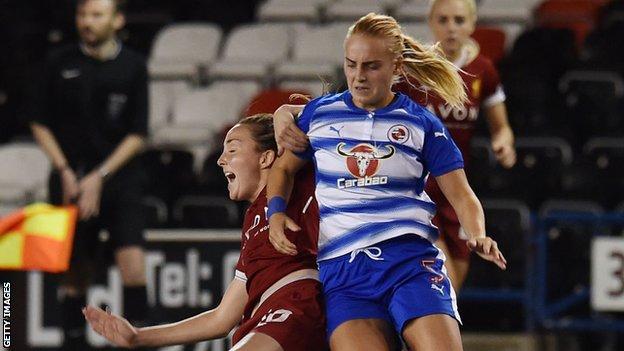 'Dad, I want a curry' - on the road to recovery
"The one question I always feared was 'what is for dinner?' My dad would ask it but I would never answer," Bartrip says.
"But this one day, I suddenly turned around and said 'Dad, I really fancy a curry'. I don't think I've ever seen him run so quickly in his entire life - he was straight down to the nearest curry shop."
Bartrip knew at that point that she was going to get better, that she had the mental strength to beat the illness that for so long controlled her life.
"That was me basically punching this person on my shoulder," she adds.
"I was definitely eating more and Ana got quieter and quieter. That was when I knew I was beating her. I didn't hear her as much and it was the best feeling in the world knowing I could knock that person out."
Such was the damage she had done to her body, Bartrip didn't gain weight for years, despite returning to eating normally.
Not until five years later could Bartrip face eating bacon again, and it was at that moment, aged 19, she knew her recovery was complete.
Since her recovery, she has joined Reading and played for England's youth teams on countless occasions. She screamed when she received her first call-up post-illness.
"I had to be with my family at that point," she says. "I was starting at right-back, I sang the national anthem and I was thinking 'I've done it, I've actually done it'."
Her life since has not been without its ups and downs, however, having faced both anxiety and depression. But for now, Bartip says she feels "on top of the world".
"Right now I feel that I can do whatever I want," she says.
For details of organisations which offer advice and support with eating disorders, visit bbc.co.uk/actionline